Etihad Allows Customers to Book Seats Around Them
This Middle Eastern Airline Is Making Sure You'll Never Dread a Full Flight Again

Knowing you're boarding a full flight is one of the worst things about traveling, especially when you're in it for the long-haul. But one Middle Eastern airline has pulled a move that means you can fly in luxury while knowing you won't have to knock knees with others or unwillingly act as a pillow to sleeping neighbors.
Now Etihad allows you to bid to pay for up to three seats around you in the Economy cabin, so you can really stretch out.
"With our new Neighbor-Free Seat concept, you can enjoy up to triple the space and comfort by bidding for 1, 2 or 3 extra seats which will stay vacant for the duration of your journey," a statement on their website reads. "Whether you're a small family in need of more space for the little ones; a business traveller who wants extra room to relax and work, or traveling alone and looking for a private spot to stretch your legs – simply place your bid and wait to hear from us. Good luck!"
The only downside is now the likelihood of being placed in a seat with a vacant one next to you for free is lower. Why do you think of the new way to upgrade?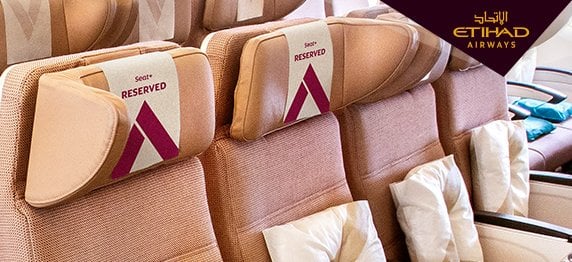 Image Source: Etihad