Everything That's Happened in Qatar So Far
12 Things We Know About The Situation With Qatar So Far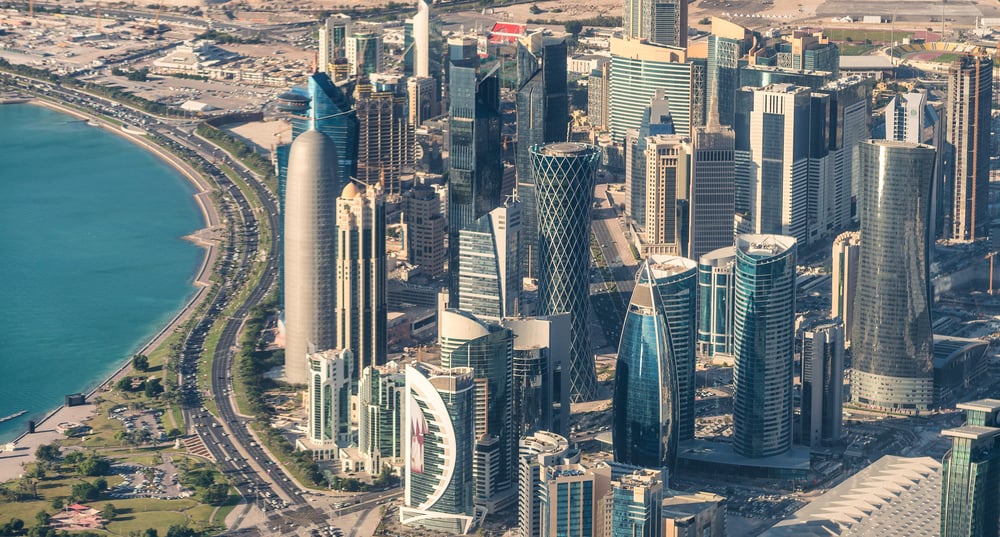 On Monday morning, four countries-- the UAE, Saudi Arabia, Bahrain, and Egypt-- announced that they'd be cutting all diplomatic ties with the State of Qatar. The fallout started immediately, and has escalated throughout the week. Here's everything we know so far.
Soon after the UAE, Saudi Arabia, Bahrain, and Egypt announced that they'd be cutting ties with Qatar, Yemen joined them as well. As of Wednesday morning, 7 nations have cut ties with Qatar: the UAE, Saudi Arabia, Bahrain, Egypt, Yemen, The Maldives, and Mauritania. Libya has also claimed to have cut ties with Qatar despite having no diplomatic representation in the country.
The countries cite Qatar's support of the Islamic Brotherhood as their reason for cutting them off.


Infographics : Cutting off diplomatic ties with #Qatar #MoFAIC #UAE pic.twitter.com/XUcbR9z3To

— وزارة الخارجية والتعاون الدولي (@MoFAICUAE) June 6, 2017

The UAE gave Qatari citizens living in the country 14 days to leave, while Qatari diplomats living in the UAE were asked to leave within 48 hours. UAE nationals are not permitted to travel to Qatar or to pass-through in transit.
The most immediate effect of the move has to do with air travel: hundreds of flights are being rerouted, as Emirates Airlines, Etihad, FlyDubai, and AirArabia all halted service to and from Qatar on Tuesday morning.
Qatar Airways is also barred from entering airspace in the UAE, Saudi Arabia, and Bahrain. Oman and Kuwait remain the only two countries in the GCC open to Qatar Airways. Qatar Airways flies to the US, Europe, Australia, and Asia, and with Eid holidays coming up, many hours will be added onto flight times as Qatar Airways' planes are rerouted to fly over Iran.
"All customers booked on affected flights will be provided with alternative options, including the option of a full refund on any unused tickets and free rebooking to the nearest alternative Qatar Airways network destination," the airline said in a statement. Qatar Airways is working to transfer tickers to their partner airlines, including: airberlin, American Airlines, British Airways, Cathay Pacific, Finnair, Iberia, Japan Airlines, LAN, Malaysia Airlines, Qantas, Royal Jordanian, S7 Airlines, SriLankan Airlines, and TAM Airlines.
Middle East Aviation noted how badly this could affect air travel in the region.


More than 50 #QatarAirways flights will be cancelled daily if the dispute continues

— FlyWithAmman (@flywithamman) June 5, 2017

Food is a major concern for people living in Qatar. Nearly 40 percent of all the country's food comes via their land border with Saudi, which was closed on Tuesday morning. As residents rushed to supermarkets to stock up on essentials, shelves around the country were empty hours after the announcement was made. 80 percent of all of Qatar's food is imported from other countries in the Gulf.
On Wednesday morning, Al Arabiya reported that UAE residents who showed support for Qatar on social media could face anywhere from three to 15 years of jail time, as well as a fine of AED500,000 ($136,124) .
Ships flying the Qatari flag have been banned from entering ports in Fujairah and Jebel Ali in the UAE, as well as in ports in Bahrain, Saudi Arabia, and Egypt. This prevents many items--including food--from being imported to Qatar.
On Tuesday, the main office for Al Jazeera news was closed in Jeddah, Saudi Arabia. Al Jazeera is a Qatari state-owned news outlet, and the electronic editions of Al Jazeera have also been blocked in the UAE. Qatari-owned BeIN Media Group channels have also been blocked in the UAE.
Qatari troops have been removed from Yemen.
Stay tuned as we update this story as the situation unfolds.