Forbes Richest Arabs 2018
The World's Richest Arabs List Is Out but This Year, There's a Twist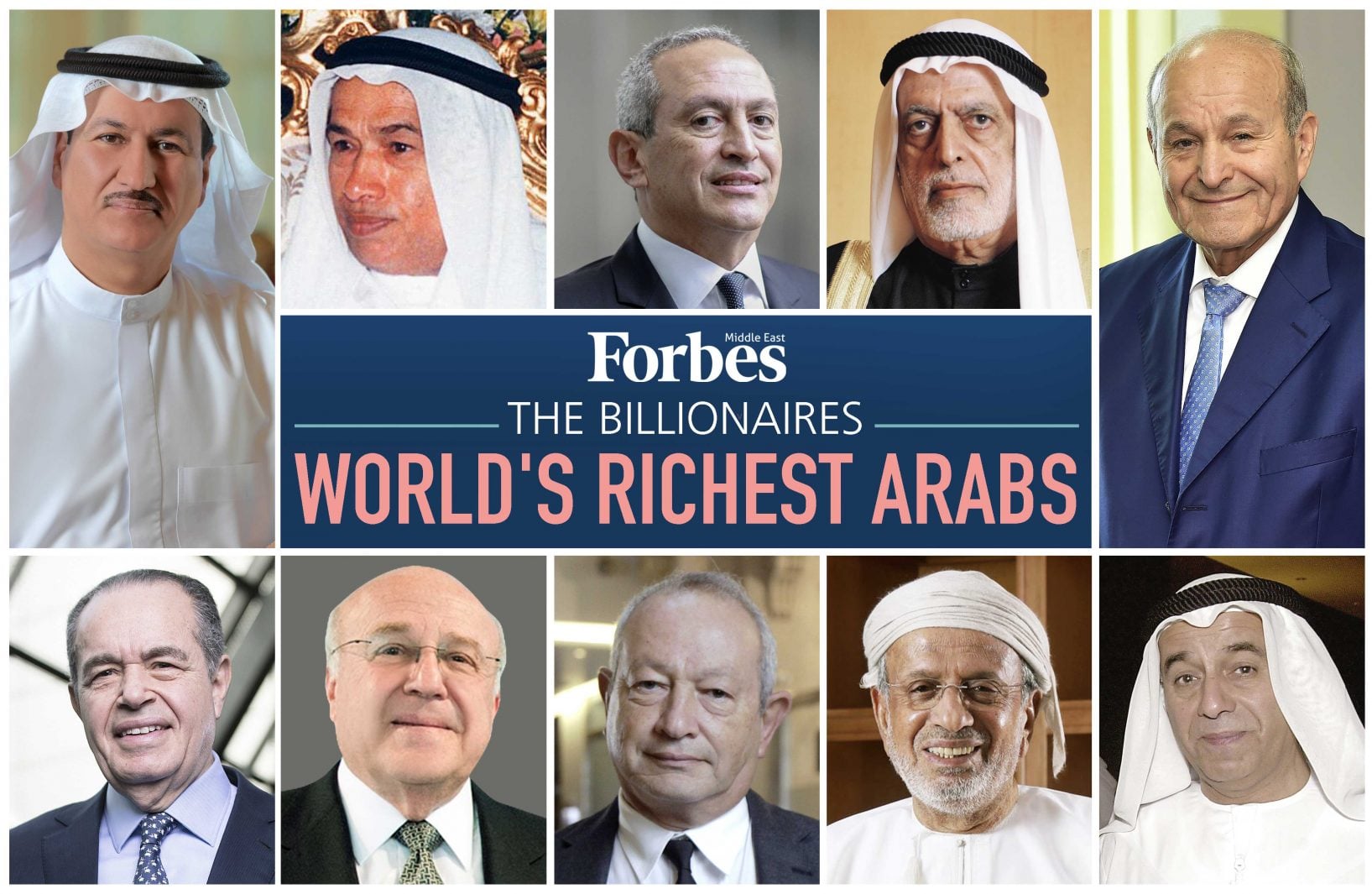 Thirty one made the Forbes World's Richest Arabs list this year, their total wealth combined equating to $76.7 billion.
For 2018 though, something is very different. If you look closely, you'll see that there are no Saudis on the list, and it's not because there aren't any Saudi billionaires in the world. In fact, in previous years, Saudis have dominated the list but Forbes has said that, after the detainment and seizure of assets of some Saudi billionaires (a 3-month spell that began in November 2017, with the last detainees released end of January 2018 and a rumored $100 million seized in assets), they chose to leave them off.
With seven entries from UAE and Lebanon respectively, the two countries are in the lead. Egypt trails right behind with 6 billionaires.
Egyptian Nassef Sawiris, of OCI and Orascom Construction, worth $6.7 billion, is at the top of the list, taking the place of Saudi Prince Al Waleed Bin Talal.
The 31 Billionaires' businesses encompass a diverse range of industries, including; auto dealerships, real estate, retail, hospitals and investments.
Below is the complete list:
Nassef Sawiris, $6.6 B, Construction, Chemicals
Abdulla Bin Ahmad Al Ghurair, $5.9 B, Diversified
Majid Al Futtaim, $4.6 B, Real Estate, Retail
Hussain Sajwani, $4.1 B, Real Estate
Issad Rebrab, $4 B, Food
Naguib Sawiris, $4 B, Telecom
Suhail Bahwan, $3.9 B, Diversified
Abdulla Al Futtaim, $3.3 B, Auto Dealers, Investments
Taha Mikati, $2.8 B, Telecom
Mohamed Mansour, $2.7 B, Diversified
Najib Mikati, $2.7 B, Telecom
Saeed Bin Butti Al Qebaisi, $2.7 B, Hospitals, Investments
Aziz Akhannouch, $2.2 B, Petroleum, Diversified
Bahaa Hariri, $2.1 B, Real Estate, Investments, Logistics
Yaseen Mansour, $1.9 B, Diversified
Saif Al Ghurair, $1.9 B, Diversified
Mohamed Al Fayed, $1.6 B, Retail, Investments
Robert Mouawad, $1.6 B, Fine Jewelry
Othman Benjelloum, $ 1.6 B, Banking, Insurance
Saad Hariri, $1.5 B, Construction, Investments
Faisal Bin Qassim Al Thani, $ 1.6 B, Hotels, Diversified
P.N.C. Menon, $1.5 B, Real Estate
Khalifa Bin Butti Al Muhairi, $1.5 B, Hospitals, Investments
Youssef Mansour, $1.4 B, Diversified
Bassam Alghanim, $1.4 B, Diversified
Kutayba Alghanim, $1.4 B, Diversified
Ayman Hariri, $1.3 B, Construction, Investments
Fahd Hariri, $1.3 B, Construction, Investments
Fawzi Al-Kharafi, $1.2 B, Diversified
Mohannad Al-Kharafi, $1.2 B, Diversified
Hamad bin Jassim bin Jaber Al Thani, $1.2 B, Investments