Freedom House Freedom of the Press Rankings
Which Arab Country Has The Freest Press in The Region?
Washington, D.C. based non-profit organiztion Freedom House released its 2015 Freedom of the Press report last week, and one Arab country made major progress in the last year.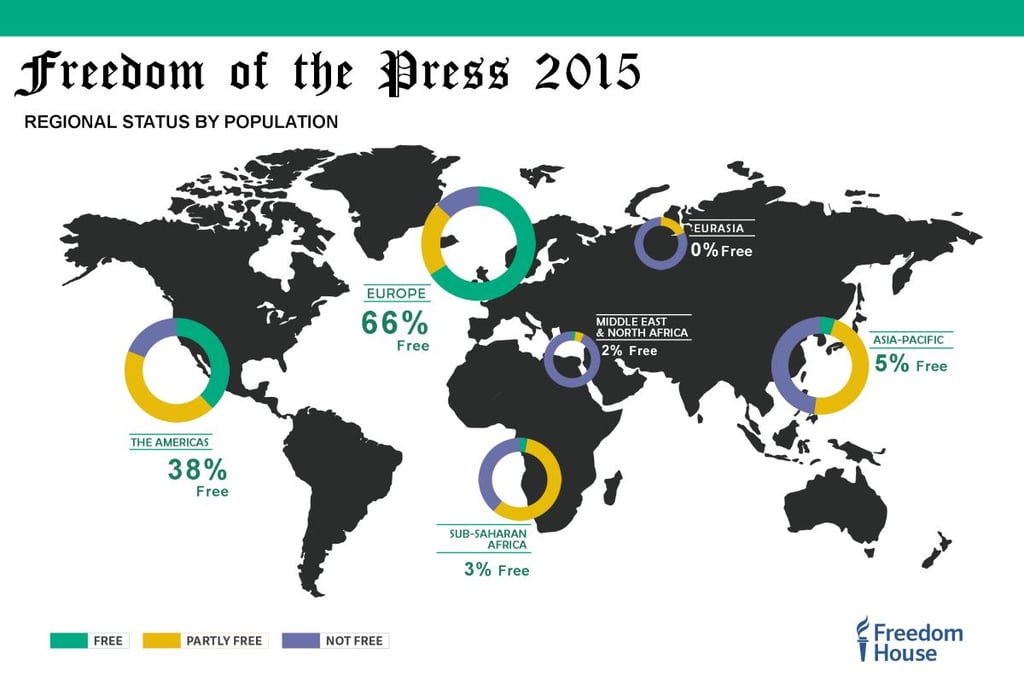 With a score of 48, Tunisia has the highest score of any Arab country in more than a decade. The annual study, which ranks each country as "Free", "Partly Free", and "Not Free", considers Tunisia "Partly Free"-- one of three countries in the Middle East to be named as such. Lebanon (55) and Kuwait (59), are also considered "Partly Free," but Tunisia's progress marks the nation as an example for the rest of the Arab world. Out of the 199 countries on the list, Tunisia made the greatest leap forward, from 126th place in 2014 to 96th in 2015.
As in years past, Scandinavian countries dominated the top of the list, with Finland, Norway, and Denmark in the top three spots. North Korea, unsurprisingly, comes in at the bottom.
Tunisia
According to the study, Tunisia's new constitution, which was adopted in January, 2014, contained a number of protections "for media independence," allowing the country's rating to raise from previous years. Further, the report explains the importance of social media platforms in Tunisia's progress. "Approximately 46 percent of the population used the internet in 2014. Social-media platforms such as Facebook and Twitter are increasingly popular, and a growing number of other online services and websites are contributing to the news and information environment."
In a region where 93% of the people live in "Not Free" zones, Tunisia's score of 48 is clearly a standout for the Middle East and Northern Africa. Let's let the progress of this tiny nation serve as a model for other countries in the region!
Image Source: Freedom House