Haleakala Sunrise Tips
This Was by Far the Best Thing I Did on My Maui Vacation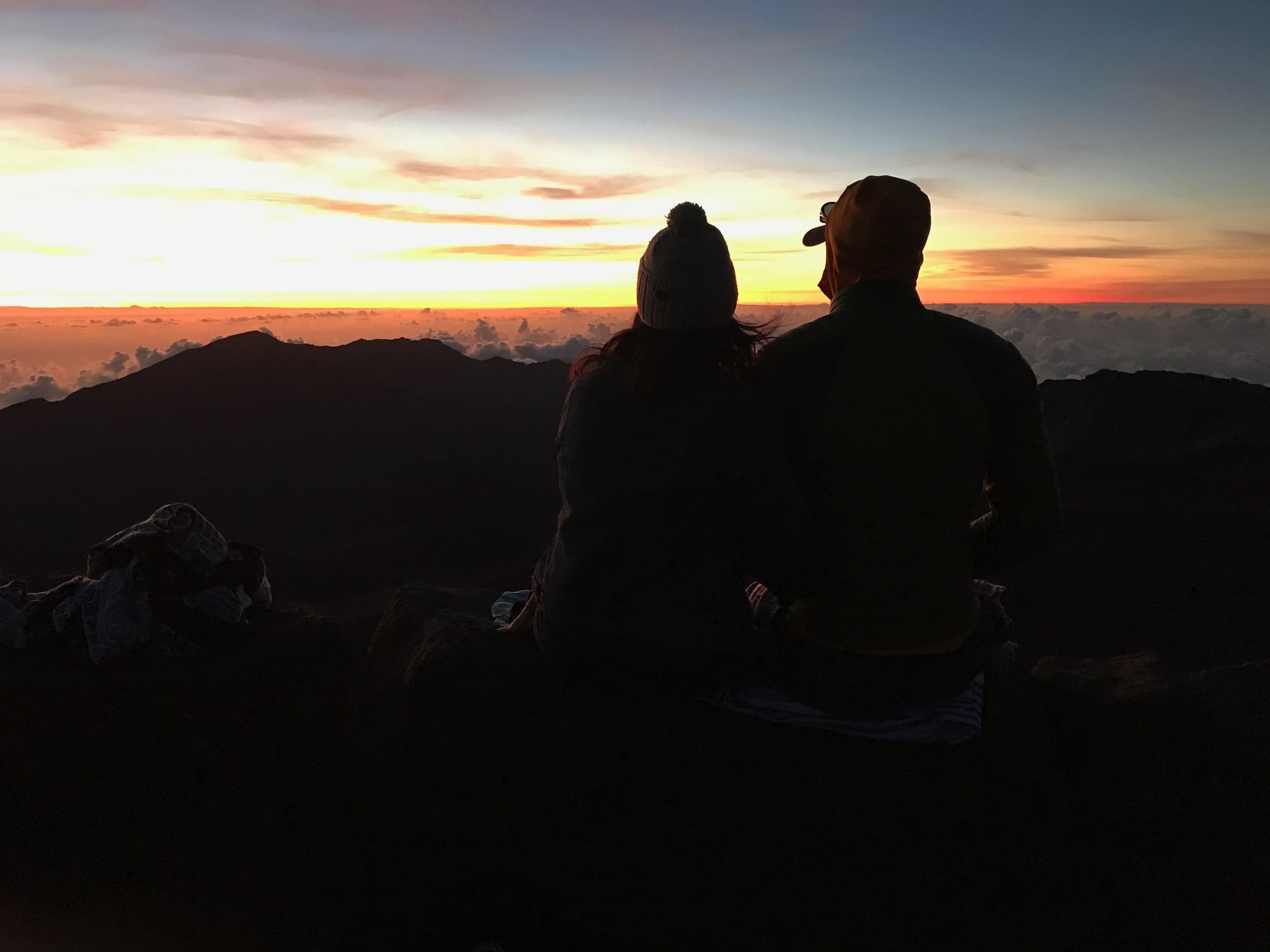 If you're planning a trip to Maui, chances are you're already a little bit familiar with Haleakala National Park. Rising over 10,000 feet above sea level, Haleakala is the highest peak on the island. It's remote and otherworldly, far away from noise and light from the surrounding area. Given all of this, it should come as no surprise that it's a major tourist destination, especially for seeing the sunrise.
There is, of course, one small catch . . . given Haleakala's location and windy drive, you'll have to start your journey to the summit around 3 a.m., which is exactly why so many decide to skip out on this spectacle altogether. Let's be real: people don't come to Maui to wake up early — waking up early is the exact opposite of living on island time! But I urge you to do it. Just set the alarm and get in your car in the pitch black and make the drive; you will not be disappointed.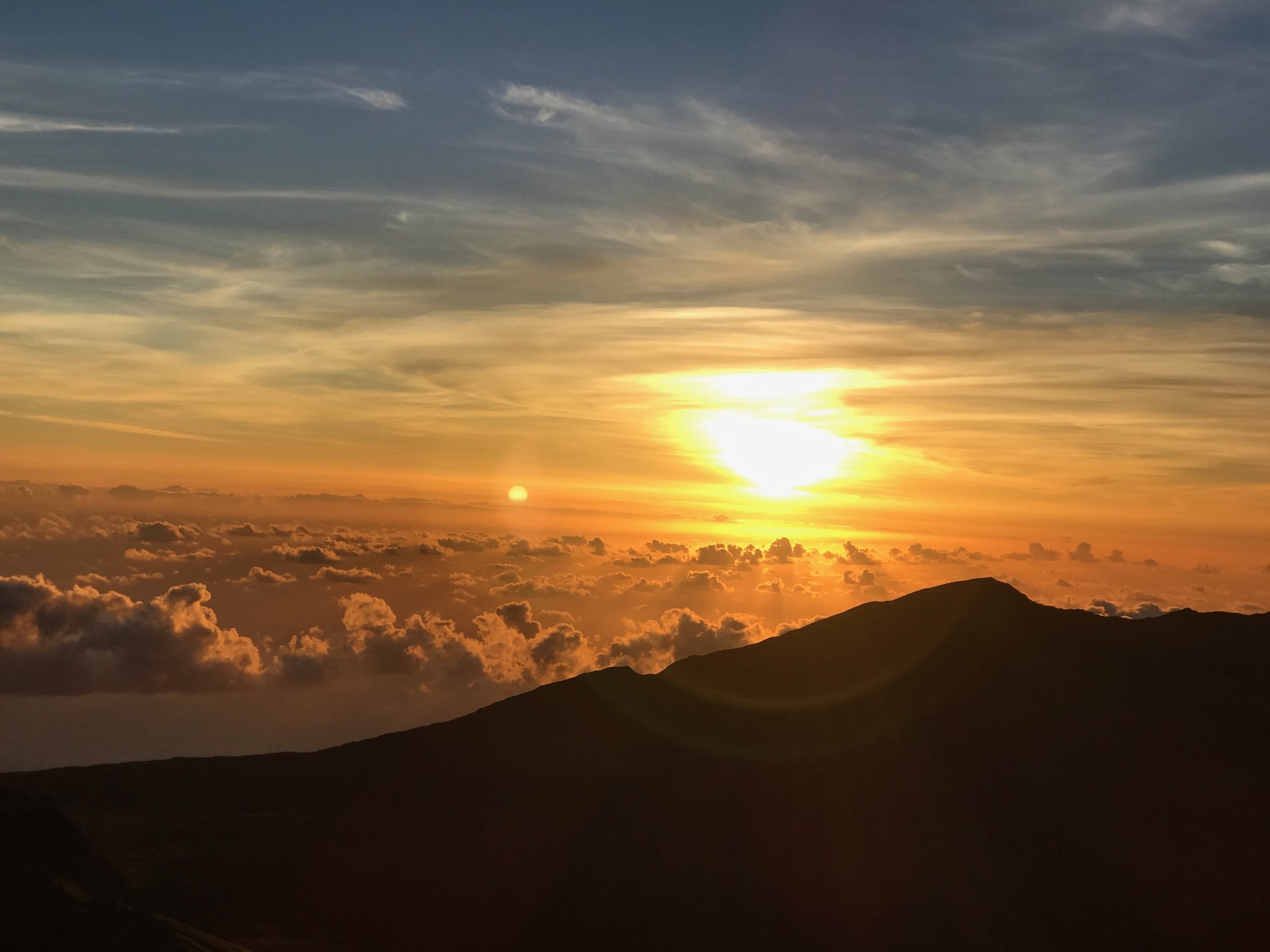 My partner and I were almost those people that skipped Haleakala. It wasn't until our flight to Maui that we decided to make the early morning trek. Even now it's hard to convey the pure majesty of a sunrise on Haleakala. Mark, my partner, is an avid rock climber and has seen hundreds of sunrises on peaks around the world. As the sun started coming up through the clouds that morning, he was left speechless. Later that day, he would share with me that this was the most beautiful sunrise of his life. From a man that spends his life climbing mountains, I took that to be a pretty impressive statement.
When you arrive, it's cold and dark and hard to see or get a sense of your surroundings. But as the sun starts to peek out, the clouds come into view and you can start to see outlines of Haleakala's deep valley below and rough volcanic rock. As this happens, a park ranger performs an ancient mele oli (chant) that was once sung by ancient Hawaiian priests hundreds of years earlier. It's an emotional moment to hear nothing but the sounds of this beautiful song while the sun reveals itself over a bed of billowy clouds. It's not very often that a large group of people are moved into silence because of beauty . . . this is one of those moments. I am not being dramatic when I say this sunrise will change your life. Thinking back on it now, I can't believe we almost skipped this.
On the drive back down, definitely reward yourself by stopping at Kula Lodge. The restaurant opens at 7 a.m. every day, which is right about the time you'll get there once you leave the summit. The restaurant is situated in the mountains and has incredible views of the western side of the island. It also has the most amazing macadamia nut pancakes (with coconut syrup!) I have had in my life.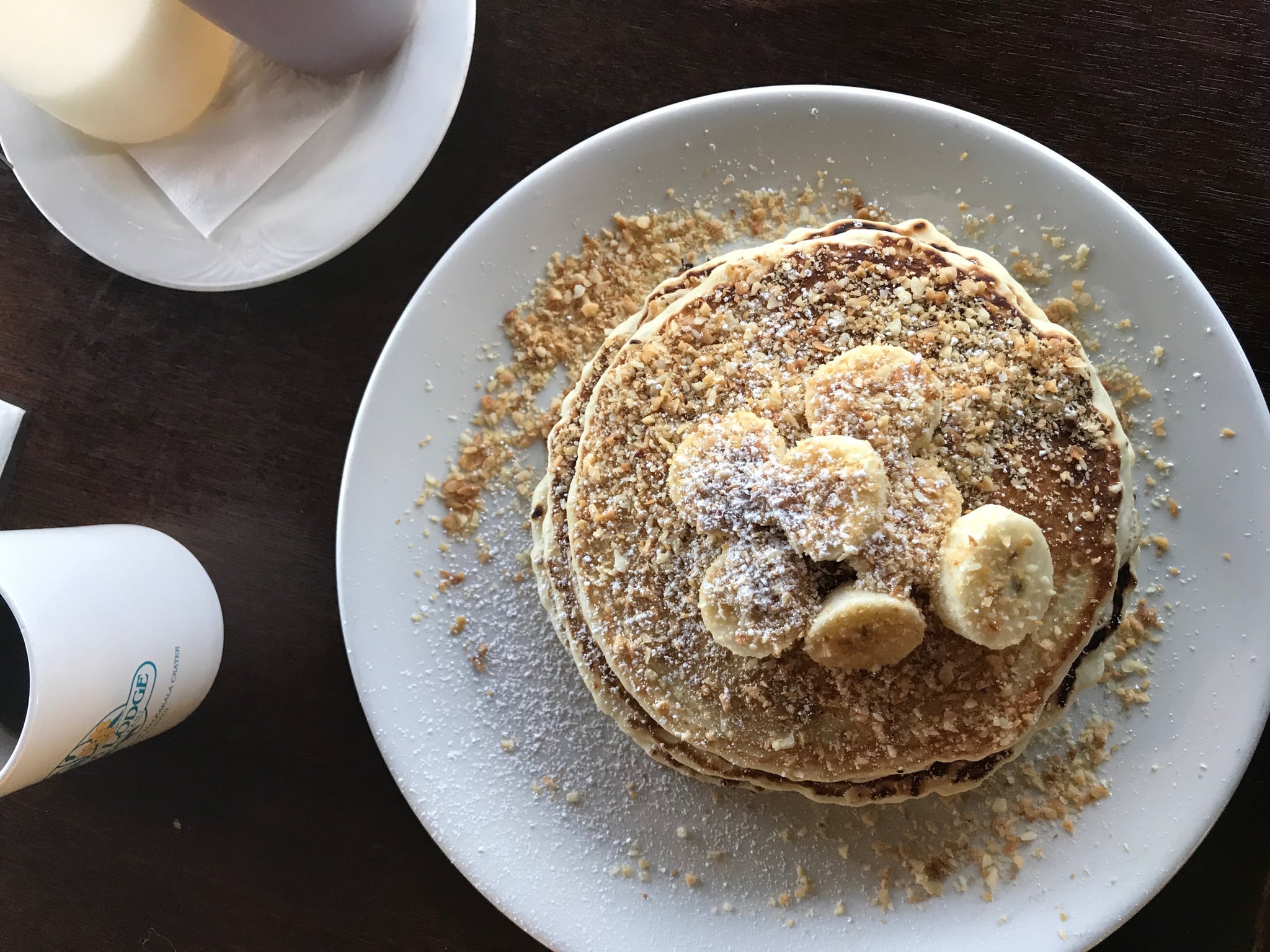 Basic Tips Before Going
You need a permit to enter the park: To limit the size of the crowd, the national park service (NPS) now requires a reservation for each car that enters the park. Reservations can be made up to 60 days in advance and cost $2. If you do not have a reservation, it's very likely you will be turned away; we saw this happen to another party on our drive up. In addition to the reservation, you will also need to pay for an entrance fee of $25 per car at the time you enter the park. However, if you have an Annual National Parks Pass (like we did), the $25 fee is waived. You can opt out of driving yourself and pay for a tour, but I recommend driving. It's less hectic than dealing with a large group and you have much more control of what time you want to hit the road.
It's freezing up there, so dress accordingly: The summit of Haleakala is 10,023 feet above sea level and the sun has yet to come out — it's going to be cold. Do not be one of those tourists that shows up in board shorts and a tank top; you will freeze. Before dawn, expect temps to be around 30 degrees Fahrenheit. I felt comfortable wearing a beanie, gloves, jeans, and several wool base layers under a jacket. My partner just opted to pack his puffy down jacket.
Find a place away from the crowds: While there are two main viewing areas, there are several short trails that will take you to areas a little less populated to watch the sunrise. We chose the Pa Kaoao Trail (a .6-mile paved road), which got us a little above the main crowds and felt even more isolated since there were maybe only 10 other people up there. Do bring a headlamp or flashlight if you plan to wander off from the main viewing areas.
Check the time: Depending on where you are staying on the island, the drive to the summit will take you two to three hours. Be sure to check what time the sun will be rising when you are there. The last thing you want is to miss it because you were late!