Homemade Drain Cleaner
This Homemade Drain Cleaner Will Banish Clogs For Good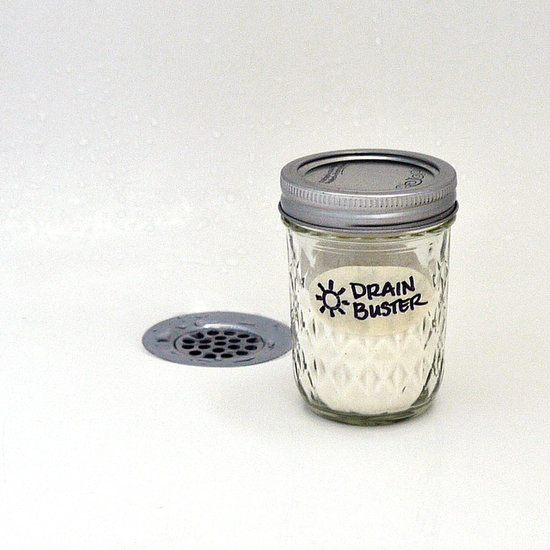 If your drain isn't flowing as easily as it should, then it's probably a bit clogged. Instead of paying big bucks for chemical-filled concoctions, try fixing the problem yourself with a homemade drain cleaner. It costs basically nothing to make and can be used weekly to help prevent buildup. Safe to use in the bathroom or kitchen, the drain buster will have your sink or tub flowing freely in no time. Have a really plugged pipe? We've even found the solution for seriously stopped drains.
What You'll Need:
Paper towel
1/4 cup baking soda
1/4 cup salt
1/4 cup cream of tartar
2 cups boiling water
Directions:
Yes, it's a bit gross, but start by removing the drain trap and giving it a good cleaning. Use a paper towel to wipe around the drain of your sink or tub, removing any bits of food or collections of hair.
Mix together the baking soda, salt, and cream of tartar in a small container. The salt and baking soda work together to help scour pipes and break up buildup, while the cream of tartar naturally cleans metals. Shake the mixture and sprinkle half down the clogged drain.
Pour in the boiling water and let the drain buster work its magic for about an hour. Then rinse with cool water. You should notice a difference in your drainage.
If the drain still is still clogged, get serious by pouring one cup baking soda down the drain followed with one cup vinegar. The two create a fizzing reaction, which will attack nasty obstructions. Allow the baking soda and vinegar to work overnight, and then pour two cups boiling water down the drain.
Still not draining? Don old duds, fill the sink or tub halfway with warm water, and grab your plunger. Yes, it's also gross, but giving your sink or tub a plunging should clear that clogged drain.
Maintain your free-flowing pipes by using the homemade drain cleaner once a week.
Keep the rest of your place nice and clean with these natural cleaning solutions.
Image Source: POPSUGAR Photography / Sarah Lipoff