How To Get Good Sleep in Economy on a Plane
Here's the Secret to Getting a Good Night's Sleep, Even When Flying Economy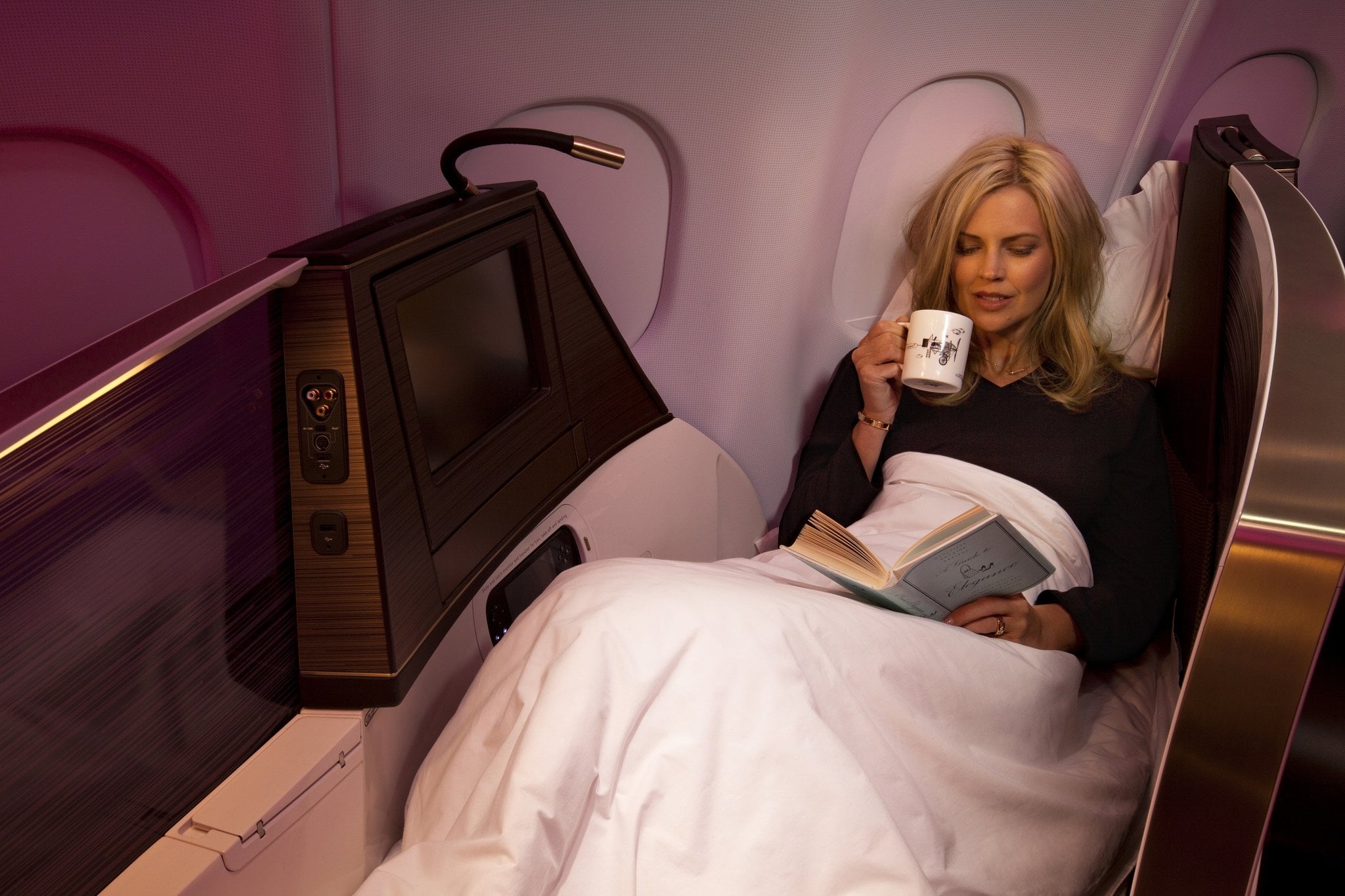 Ask anyone and they'll tell you one of the worst things about flying Economy is not being able to get a good night's sleep. But there more than a few ways to combat the effects of not having as much room to stretch out as say the Premium Economy and Upper Class cabins.
According to Virgin Atlantic and the The Sleep Council, you could be sleeping like a baby at 38,000 ft the next time you hop on board but it's not just about what you do on the aircraft that'll get you ample hours of shut-eye.
So if you want to avoid an awful case of jet lag the next time you head on vacation, read on for the best tips.
Be careful what you eat
Don't load up on heavy carbs pre-flight, go for a light meal so your stomach doesn't have to work as hard and snack on foods to give you energy when you wake such as wholemeal grains, a banana or nuts. Dairy, fish, almonds and green vegetables are known to calm the brain while spicy food could cause indigestion.
Avoid alcohol and these drinks
You may think drinking a glass of red could actually improve your sleep but it's more likely to make you feel thirsty and disturb you mid-kip. Avoid coffee and tea too to feel your best and guzzle plenty of water to stay hydrated.
Change your watch way in advance
It's a good idea to set your watch to the time of your destination before you fly so you can start eating according to that timezone and adjust easily when you land. There's nothing like a loud tummy rumble to wake you and everyone around you on the plane.
Find a relaxing spot in the airport
Airports are some of the busiest places on earth so even if you arrive exhausted, thousands of people rushing to their flight is bound to shake you out of your sleepy state. Try to seek out a massage chair or little spa to take you away from the hustle and bustle if you need to sleep on your flight. Your body will thank you later!
Don't forget your bedtime routine
It may seem like you've only just woken up but if you want a comfortable snooze, it starts with your regular nighttime routine. Remove your makeup so you don't have to worry about your blusher smudging on your neighbor's shirt, brush your teeth and do whatever it takes to trick your brain into going nighty night.
Squeeze in some meditation time
As much as we love a good movie on a flight, loud action scenes are bound to wake you from your slumber even if you do manage to nod off during a riveting motion picture. Virgin Atlantic's in-flight entertainment system features Headspace, podcast programs that'll help you relax until you can't keep your eyes open anymore. So switch of your phone, tablet, TV or Kindle if you're really serious about sleep. The 4-7-8 breathing technique where you breathe in for four seconds, hold for seven seconds and breathe out for eight seconds, encourages your muscles and mind to chill out.
Use your amenity kit
Even when the lights are off, the eye mask and ear plugs provided are your best friends when flying long-haul. Light suppresses melatonin which helps you sleep and there's nothing like annoying chatter to make you fidgety.
Come prepared
Wear a lavender scented moisturizer, better yet, bring along your own pillow and blanket sprayed with lavender to help calm you into a deep sleep. Obviously, wear comfy and stretchy clothing so you can easily recline and nod off!