How to Organize Under Your Sink
Get Organized Under Your Sink For Less Than $10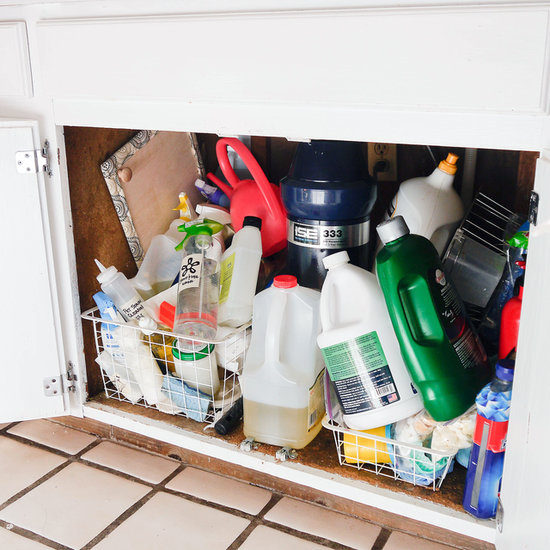 If the cabinet under your sink is an absolute mess, tackle the situation for $10 or less. Along with getting things sorted, taking out all the clutter gives you the chance to take stock on what cleaning products you're really using — and what can get tossed. And you can also use it as an opportunity to make your own eco-friendly cleaners to replace ones that contain toxic ingredients.
Take Out the Clutter
What actually takes the most time with this kitchen clean-up project is taking out all the stuff that's tucked under your sink. Make a pile of cleaning supplies to toss, ones that can be consolidated, and bottles that can be repurposed for making homemade cleaners. Once everything is out, vacuum the bottom of the cabinet and wipe away any stains or leaked liquid. And, hey, that's enough to make things better — but you can totally take this cleaning project to the next level for a couple of dollars.
Make a Smooth Surface
Head to your local hardware store and purchase peel-and-stick floor tiles that help protect the base of the cabinet and makes cleaning up spills so easy. Most peel-and-stick tiles cost around $1 each — with four to six tiles being enough to cover most under-the-sink spots — making the $4 to $6 investment totally worth it. To pull it off, carefully peel away backing from one tile, position at the top front corner of the cabinet, and then press into place. Continue peeling and sticking, using a ruler, washable marker, and scissors to measure, mark, and cut tiles to fit as needed. Once the tiles are in position, give them a good pressing with the help of a clean towel to ensure they're really stuck in place and nice and clean.
Hang Things Up
If you find you're constantly reaching for a spray bottle that's hidden in the depths of the cabinet, make things easier while creating more space by investing in a tension rod that bottles can hang from. You can find an easy-to-install tension rod at your local hardware store for around $2. Position about 4 inches from the top of the cabinet close to the door for easy access. A lightweight rod can easily support four to six bottles, keeping the cleaners off the floor and opening more space for other essentials.
Container Happy
Want to keep things really organized? Head to the dollar store for cute matching containers for holding all the other stuff you stash under your sink. And most are two for $1, making picking up a couple a reasonable, and helpful, addition. Tuck your cotton cleaning clothes in a open container, stack your extra scrub sponges, bag your garbage disposal and dishwasher refreshers, and tuck your go-to items up front in a cute container. Going with a fresh and bright color catches your attention when you open the doors, reminding you where things are located.
Important Stuff
Tuck bulk cleaners at the back of your cabinet so they don't take up space best suited for cleaners you use daily. And remember to check the date on your fire extinguisher and keep at the front of the cabinet. If there are other items that you use often, like an iron and mini ironing board for quick touch-ups, make a space for them next to your supplies. Set a monthly reminder on your calendar to keep things nice and clean, and you've solved your under-the-sink situation.