Makeup Tutorial to Cover Domestic Violence
This Moroccan Makeup Tutorial Taught Women How to Cover Up Domestic Violence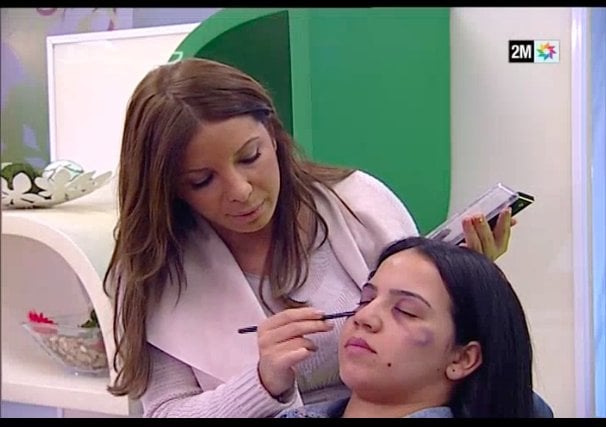 A Moroccan television station run by the state recently ran a beauty segment that went terribly wrong.
The segment, which was about domestic violence, went in the wrong direction when instead of raising awareness about domestic violence, they aired a make-up tutorial teaching women how to cover up their bruises. To make matters worse, the video premiered on International Day of the Elimination of Violence Against Women.
Not surprisingly, the offensive tutorial was met with backlash both within Morocco and abroad, and a petition was even issued asking the network to apologize for airing the video. "We as citizens of Moroccan and campaigners for women's issues in Morocco... express our condemnation of this act, which considers this taunting experienced by women as normal," read the call for the petition.
The graphic video provided explicit instructions on how to cover up bruises and other marks after being hit. "After the beating, this part is still sensitive, so don't press," the makeup artist instructs, as she applies concealer to the victim's fake bruises. The makeup artist even gives color correcting tips, "we take the orange corrector," she instructs, "and put it on the part that is blue."
#aworldadrift Morocco TV. Makeup tutorial show how abused women can hide bruises. 🇼️🇹️🇫️😒 pic.twitter.com/xk1AlCEkpT

— L'occhio di Okumi (@CharlesLydgate) November 26, 2016
The network, 2M.ma, removed the video and released a statement on their Facebook page in both French and Arabic, calling the video "an error of judgement."
Communiqué 2M : émission Sabahyate Suite à la diffusion par la chaîne lors de l'émission Sabahyate du 23 Novembre 2016...

Posted by 2M.ma on Friday, November 25, 2016
Even though the video has been removed and the agency's issued an apology, many are still concerned about how this segment was approved in the first place.
As The Guardian points out, though, "The fact is that domestic violence is deeply normalised in the country, and backed up by a legal and justice system with endless loopholes. As Human Rights Watch pointed out earlier this year in a letter addressed to the minister for solidarity, women, family and social development, Bassima Hakkaoui, Morocco doesn't even recognise domestic violence as a crime in its penal code."