Muslim-American Comedian Meets Eric Trump on Plane
See What Happened When This Muslim Comedian Sat Next to Donald Trump's Son on a Plane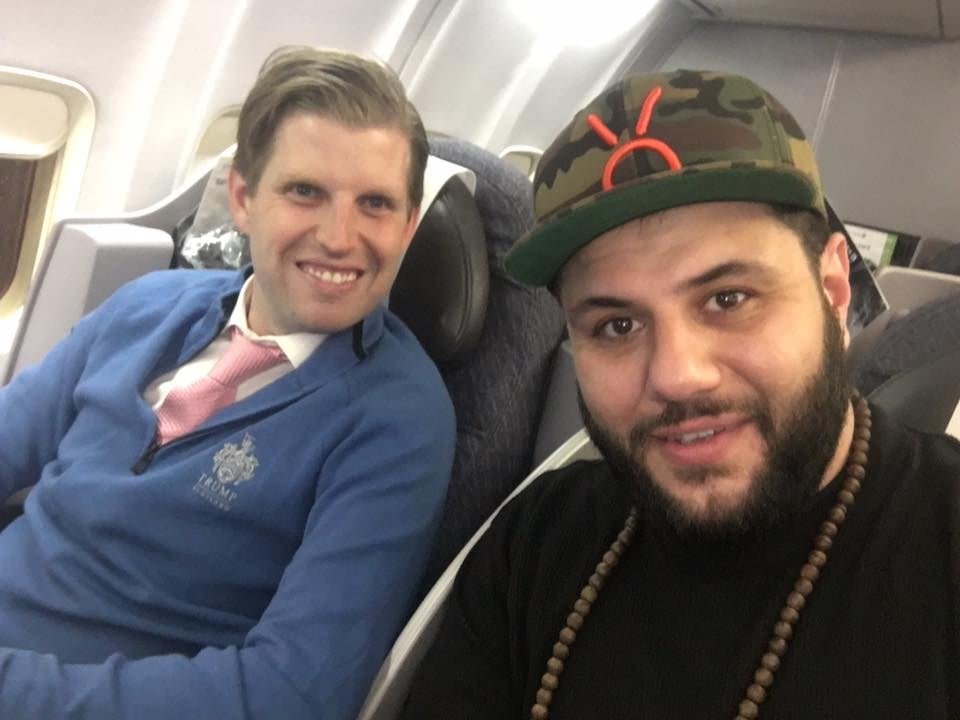 Muslim-American comedian Mohammed Amer was traveling to Scotland to kick off the UK leg of his tour when he unexpectedly got upgraded to business class. But it wasn't just his new seat that was a surprise--when the comedian settled down, he realized that Donald Trump's third child, Eric Trump, was seated next to him. "Hey guys heading to Scotland to start the U.K. Tour and I am "randomly" chosen to sit next to non other than Eric Trump. Good news guys Muslims will not have to check in and get IDs. That's what I was told. I will be asking him a lot of questions on this trip to Glasgow, Scotland. Sometimes God just sends you the material. #Merica #UKTour #HumanAppeal #ThisisNotAnEndorsement #Trump2016ComedyTour," Amer wrote on his Facebook page.
Speaking to Buzzfeed News, Amer explained his thought process when he realized he was sitting next to the President-elect's son" "I was just walking in and he was just sitting there with his Trump shirt on and I was like, Is this real? Is this a setup? I mean, I'm an Arab-Palestinian, everything is a conspiracy, right? So when I walked into the plane I was like, 'What is this?' This is obviously from Allah – Allah is just trying to hook me up right now. That's what's happening."
Amer warned Trump, "...just FYI I'm not getting that ID s**t done. You gonna really make my people get ID cards and all this? You know we're not doing this s**t." Trump's reply? "Ah, come on, man. You can't believe everything you read. Do you really think we're gonna do that?"
"I just felt he was a robot, in the sense this guy has a routine that has been there since he was 6. I believe his dad raised him super old-school and that's the feeling I got from him. He's flying first-class to Scotland for a day, checking in on their golf course, going in and talking to them. This guy is all about business," Amer told Buzzfeed. "He also seemed disconnected from the reality of race attacks and violence. The vibe that I got, this was a game to them and they had no regrets and they did it to win and they will most likely keep doing it.
Amer called the encounter "a gift from the divine," and mentioned that after the businessman fell asleep, other passengers came over to take selfies with him. Overall, he said his flight with Trump was "pleasant,"-- despite the fact that Trump ordered the porkchops but fell asleep before he got the chance to eat them.
Image Source: Facebook user Mohammed Amer