Nizar Qabbani Birthday
7 Moving Quotes From the Arab Poet Google is Honoring Today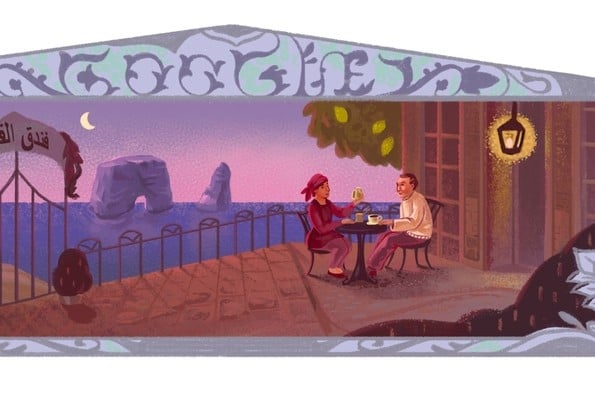 In honor of what would have been iconic Arab poet Nizar Qabbani's 93rd birthday, Google revealed four new doodles today with images of the Syrian poet. Born in Damascus in 1923, Qabbani is known for the themes of love, feminism, and Arab nationalism, which dominated his work, and helped him earn the nickname "the woman's poet."
Each of the drawings serve as an ode to one of the cities that Qabbani lived in and captured in his poetry, including Damascus, Beirut, and Baghdad.
While Google's art pays homage to the poet, it's his lyrical writings that best display why he is one of the most influential Arab poets of all time. Here's 7 quotes that prove it.
1. "The most dangerous heart disease: strong memory"
2. "My lover asks me:
"What is the difference between me and the sky?"
The difference, my love,
Is that when you laugh,
I forget about the sky"
3. "Had I told the sea
What I felt for you,
It would have left its shores,
Its shells,
Its fish,
And followed me"
4. "The female doesn't want a rich man or a handsome man or even a poet, she wants a man who understands her eyes if she gets sad, and points to his chest and say : 'Here is your home country"
5. "During times of war.
I want to say:
I only love you,
And I cling you,
Like the peel clings to a pomegranate,
Like the tear clings to the eye,
Like the knife clings to the wound"
6."Don't love deeply, till you make sure that the other part loves you with the same depth, because the depth of your love today, is the depth of your wound tomorrow"
7. "Our shouting is louder than our actions,
Our swords are taller than us,
This is our tragedy.
In short
We wear the cape of civilisation
But our souls live in the stone age"
Image Source: Google