Things to Do at Dubai International Airport
7 Ways to Unwind at Dubai International Airport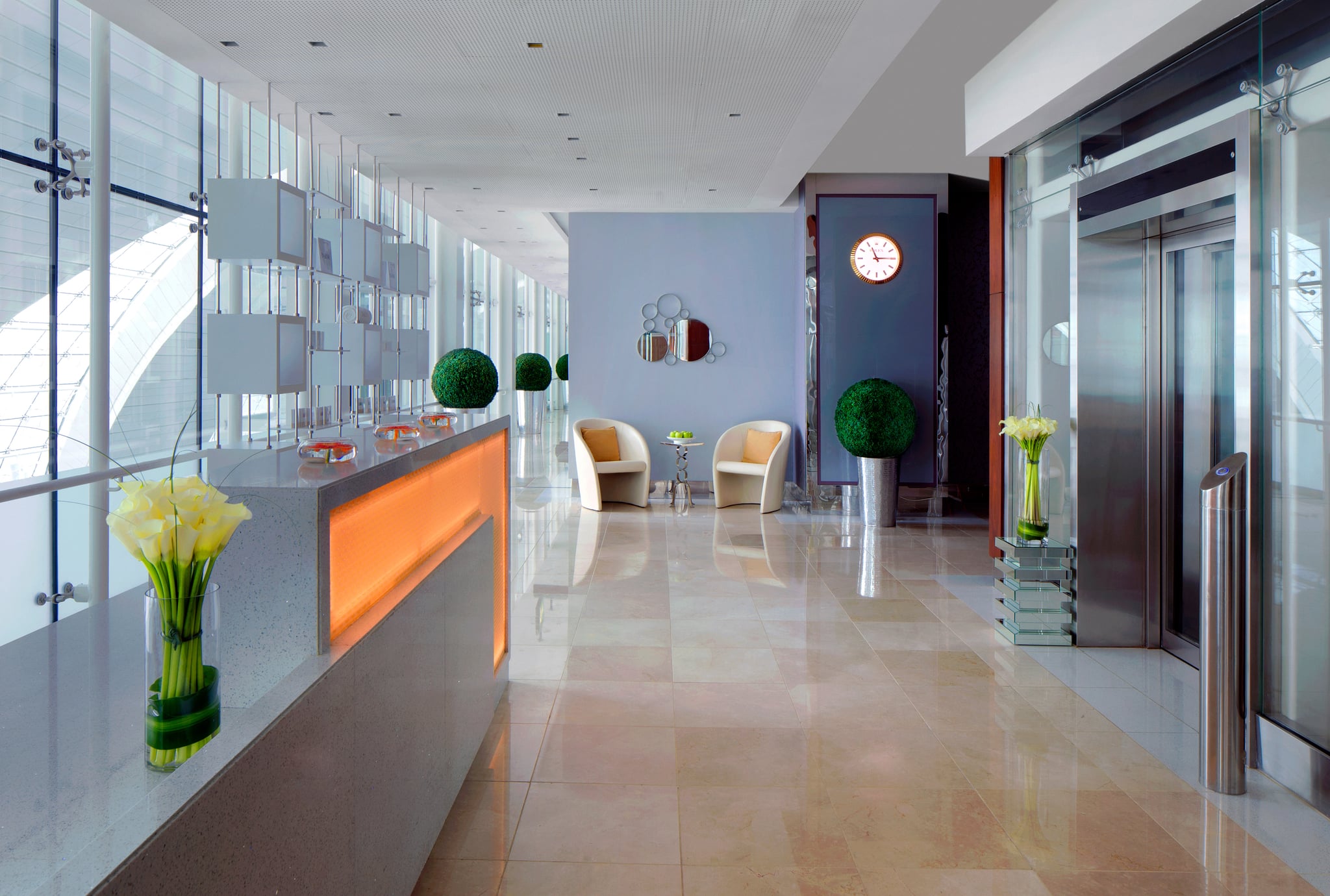 As one of the busiest and best airports in the world, the thought of being stuck at Dubai International Airport during a layover can be a daunting one. But it's so worth getting to DXB early as with its many dining, retail therapy, entertainment and relaxation options, you'll wish you had more time to spend in Dubai.
Not sure where to start? Here's the best of what to do at DXB.
1. Feast on Spanish tapas
With so much to take care of before you head off into the friendly skies, there's no doubt you'll be starving once you arrive the airport. So replenish at one of the airport's many eateries before boarding your next flight. We love Cadiz, a Spanish tapas restaurant, which also serves an International food buffet in case that's not your thing. Order the calamari, potatoes, spicy prawns along with a glass a rose wine to really get into vacation mode. You'll probably think you're in Spain in the huge restaurant which is elegantly decorated with barrels and has a separate bar area. Otherwise, one side of the restaurant is full of high table for more formal dining and the other has sofas to chill out on.
As the Dubai International Hotel food and beverage outlets Safar group undergoes a transformation and is turned into a Food Village, a range of food from all across the world will soon be available all in one place, including Asian and Irish.
2. Catch up on sleep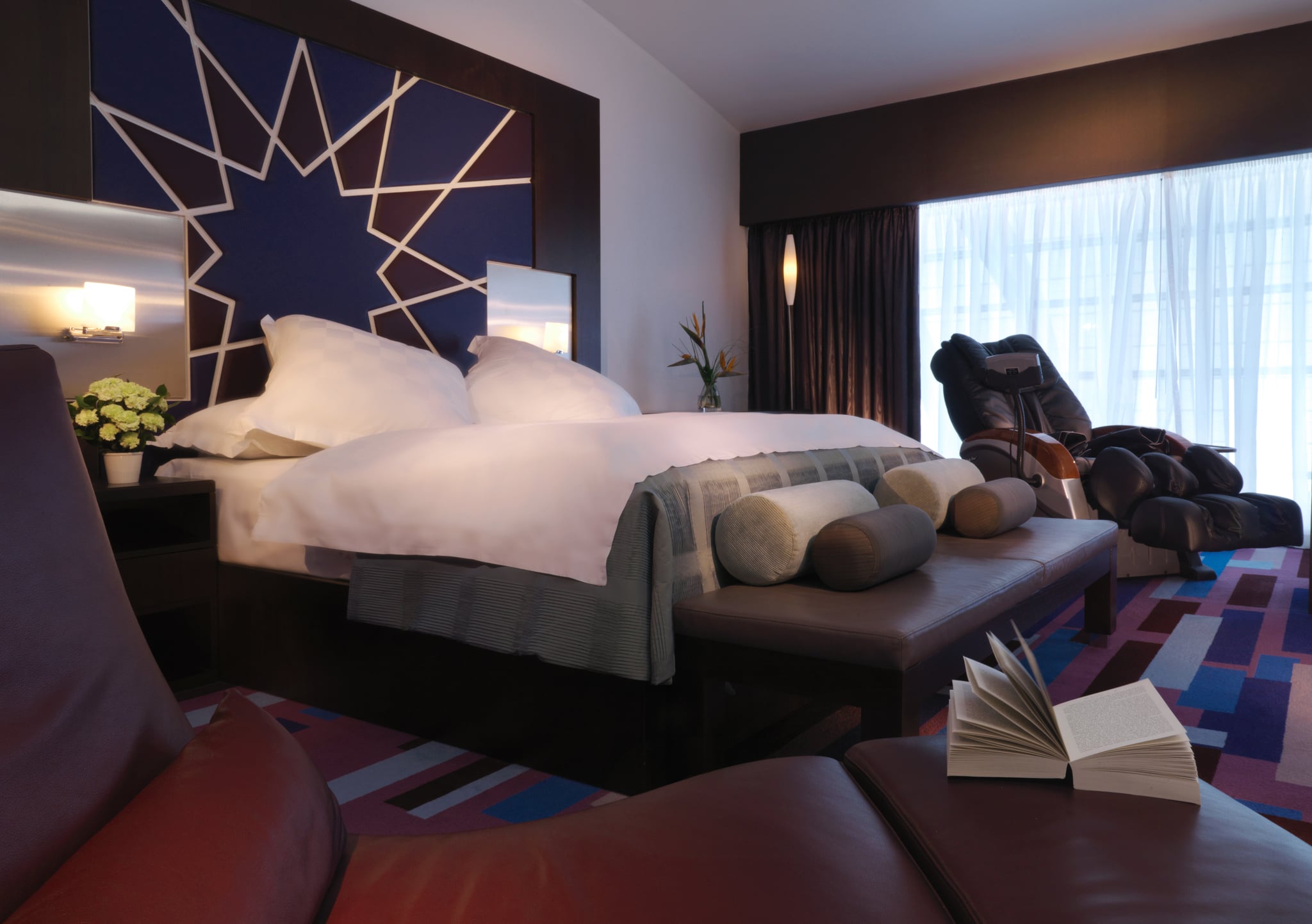 In Dubai for a layover, get some much-needed rest in one of the Dubai International Hotel's rooms and suites, which just happens to overlook Cadiz. The 530-room hotel, spread across concourses A, B and C, at Terminals 1 and 3 and offers overnight as well as hourly rates on their Deluxe and Executive Rooms as well as Junior and Royal Suites. The latter is absolutely huge, with separate living and business areas; its guests are usually big CEOs and government officials.
A whopping 75 of the rooms have their own massage chairs but if yours doesn't, there's always the spa…
3. Unwind at the spa
As part of the Ahlan service, a 25-minute Timeless Spa treatment (foot, back or Indian head massage) is included in the First Class lounge, whereas you pay an additional cost in Business. What better way to relax in between flights?
4. Chill out in a lounge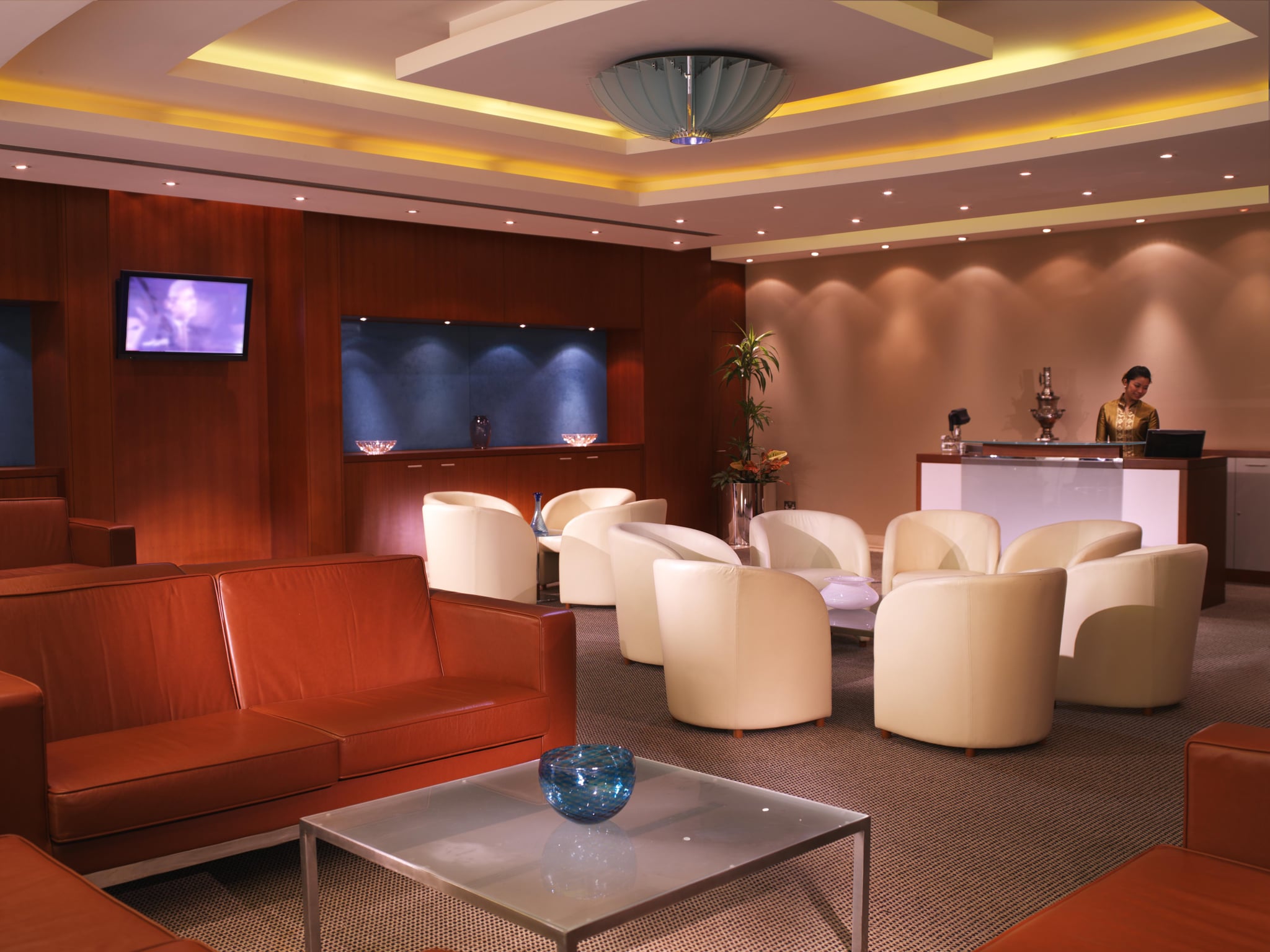 Ahlan has Business Class and First Class Lounges where you can order a la carte meals and eat from a buffet up to three hours before your flight. The lounges are very similar in terms of offering; for example you can order champagne and use the spa in both, but the food menu is slightly different.
The Deluxe Meet & Greet on Departure Service, which whizzes you through the check-in process, is AED150 per person or AED315 for a family of up to four people (AED85 for each additional person). If you want to upgrade and use the lounge services too (otherwise you'll be taken straight to your departure gate) Premium Meet & Greet on Departures Services cost AED295 per person.
5. See the Koi Pond
As well as a having a five-star hotel, the fastest WiFi at any airport in the world and world-class restaurants, DXB has a beautiful Koi pond you should definitely check out in Terminal 3. Super relaxing.
6. Watch a show
If you're in Terminal 3 at the right time, you be able to spot a cool performance while you're there. The stage is set by B gates for music artists to entertain crowds. Since 2015, the likes of X Factor winners and Quincy Jones' protégées have put on gigs.
7. Indulge in some retail therapy
Whether you simply need to stock up on some toiletries, liquor and tobacco, want to buy confectionary and cosmetics for loved ones, or plan on going on a fashion and electronics spree, there's so much shopping to do at DXB. Don't underestimate just how much there is on offer and save plenty of time to get stuck into Duty Free deals.
Image Source: Dubai Airports