Tips for Working From Home
11 of the Best Work-From-Home Hacks Ever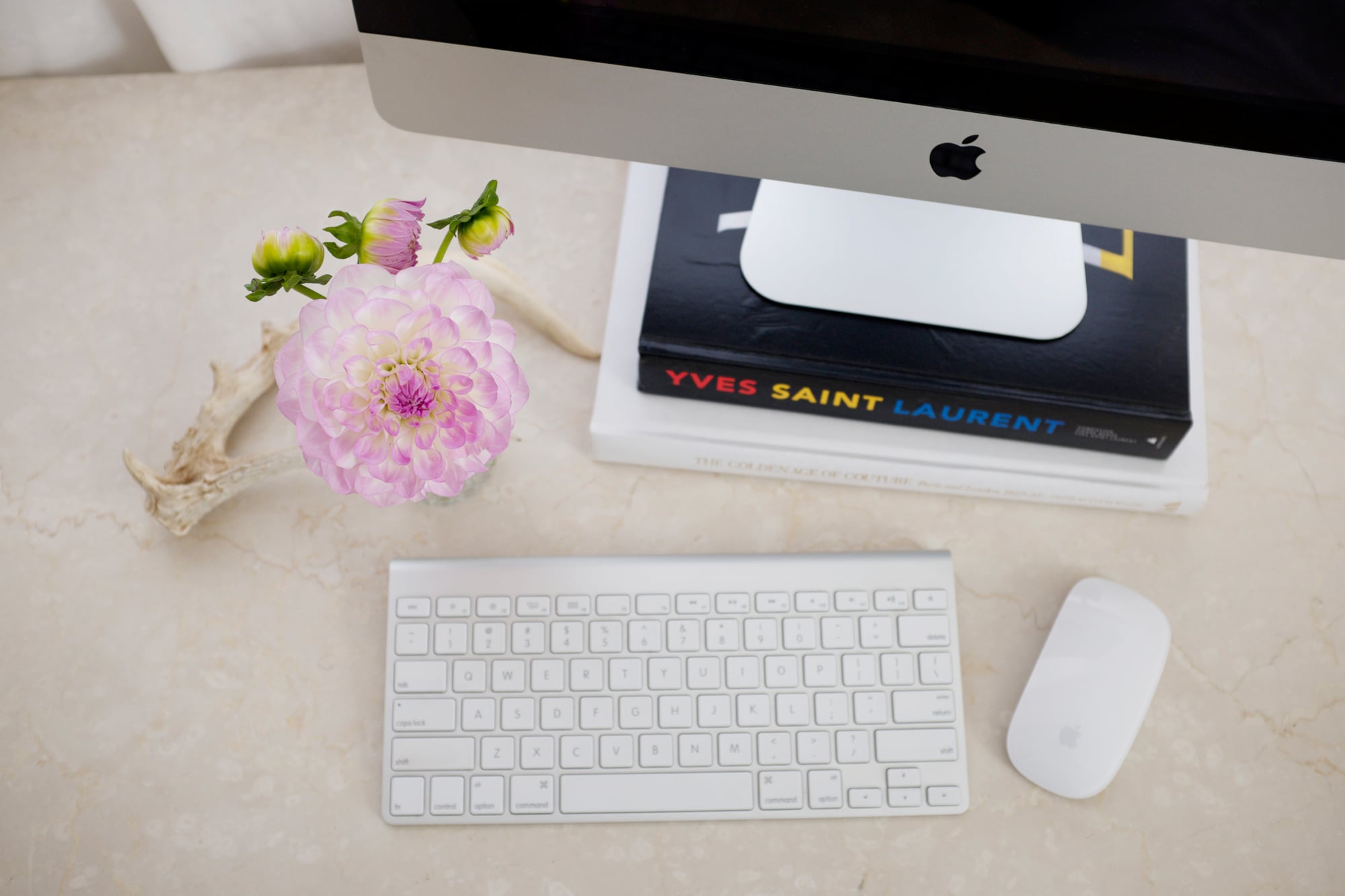 Working from home is the new little black dress: it's in style and nearly everyone can pull it off. Yes, it's possible for even the most absentminded of people to buckle down and get sh*t done right at their own kitchen table. All you have to do is apply these hacks to your work-from-home routine and — voilà! — you're a totally productive professional. Here are 11 tried-and-true tips for success away from the office.
1. Create a clean work space.
"A separate office is ideal, but not necessary," says Jane Miller, CEO and founder of JaneKnows.com, which provides career advice to millennials. "Your kitchen table can work just fine, but clear off the dishes and get rid of any clutter." You'll lose focus easier in a messy area!
2. Make sure your workplace is well away from where you relax.
I asked my Facebook friends about their personal work-from-home hacks, and a commenter mentioned that setting up your work space in a place that's away from your designated chill area is important. Basically, don't try to fill out all those sales reports while you're lying on your bed. The distracting temptations — like the idea of a nap — are just too great to avoid.
3. Transplant yourself to an entirely new location.
"If your house is noisy, head to a local library or coffee shop," says Jill Jacinto, a millennial career expert for WORKS. "You don't need to take 'working from home' literally." If your cat won't stop meowing or your spouse refuses to shut off the TV, get the heck out of there. You just need WiFi."
4. Buy a good desk chair.
Another top Facebook commenter discussed his need for a comfy work chair in order to be productive ("A good ergonomic task chair changed my home work space," he said). You don't have to drain your bank account to buy a great chair, either. Check Amazon or Google Shopping for discounts.
5. Get dressed.
"You don't need to wear high heels and a shift dress, but changing out of your PJs will help you transition from lazy to work mode," Jacinto says. I don't know about you, but when I lounge around in my baggiest sweats all day, I'm surely not in the mood to make an effort at anything. Put on your sassiest blue jeans — you'll feel more ready to take on the day's tasks.
6. Plan your workday around the times you're most productive.
Another winner from my informal Facebook poll, planning your assignments around your most productive hours is key. Not everyone is efficient from 9 to 5. Maybe you're better off breaking up the work from 7 a.m.-12 p.m., and then again from 6-9 p.m. Do what's best for you to ensure you get the most done!
7. Set realistic goals for the day.
"Setting goals is always important to a successful outcome, but making sure they are doable in a reasonable time frame is equally important," Miller says. Don't try to take on the world in 45 minutes — assign specific stuff for every hour. Keep it practical!
8. Consider an app to limit your distractions.
My friends recommended StayFocusd, which claims to "increase your productivity by limiting the amount of time that you can spend on time-wasting websites." You can add this to Google Chrome for free — and it takes, like, two seconds to download.
9. Treat yourself after you finish something.
"Before you open your favorite blogs or read the news, look at your to-do list and work on your first task until you can cross it off," Jacinto says. "Afterwards, treat yourself to five minutes of Instagram scrolling [or] checking Tumblr posts. Set an actual alarm on your phone so you know when reward time is over and it's time to move on to the next project." Recompensing yourself after getting something significant done is an awesome way to stay on the path. (Plus, that alarm hack is fab!)
10. Take breaks to talk to people.
"Schedule a few phone calls or Skype sessions to break up the day," Miller says. "Interacting with others will give you more of a sense of community and productivity." It's easy to get off track when you're all by yourself. Ensure that doesn't happen by calling your mom at 3 p.m. or Skyping your friend who moved across the country at noon.
11. Recap your day or week.
One of my Facebook friends said he reviews his progress on a weekly basis. You can even do daily. "Make sure you take the time to reflect on what you accomplished — that will give you incentive to have an even more productive day tomorrow," Miller says. Pick a time to evaluate yourself. Did you complete your tasks? Did you reach your goals? Is your boss happy? Answer honestly. And hey, if you're not totally, 100 percent on track? It's OK. You are human, after all.
Image Source: POPSUGAR Photography / Jae Payne