Is Tourism Down Under Donald Trump?
There's Evidence That US Tourism Is Down — Is Trump the Culprit?
President Donald Trump's impact on America isn't limited to causing domestic griping and outrage over policies like scaling back women's health care and firing the head of the FBI. Abroad, President Trump is increasingly becoming a threat to the intellectual and cultural identity of the United States — and there's evidence to suggest tourism is suffering because of it.
Just look at Trump's recent track record: in response to a recent attack on London Bridge, Trump insensitively criticized how the local government handled the situation. In the hopes of making a "better deal," Trump has jeopardized the worldwide Paris Agreement, which unifies countries to protect the planet. In visiting world NATO leaders, Trump made it known that he has a lot of issues with the organization and will quite literally push people around to make his point. Small and large outrages have followed each of these very recent events — from The Weather Channel shading Trump on climate change to Chancellor of Germany Angela Merkel stating that the "times when we could completely rely on others are over."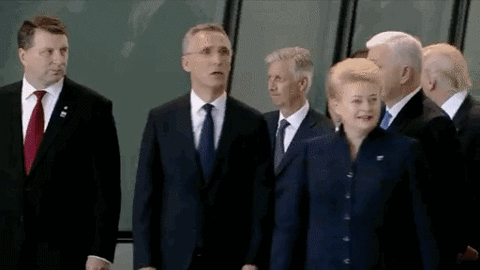 Unfortunately, it seems likely that Trump's activities have an added, unsurprising side effect we're only now privy to: his actions are making America a less desirable destination for international tourists and business people. A recent report by the website and app Foursquare tracked global "location trails" via the service to reveal that tourism in America has been in decline since October 2016. It's a very initial and troubling finding, though it's important to consider that Foursquare users are likely a very specific audience.
Foursquare CEO Jeff Glueck explained in a post shared to Medium:
"The drop in international tourism to the U.S. is resulting in an opportunity cost of about 1.2% in total visits to U.S. shops, restaurants, attractions and the like. And it's a fair bet that international shoppers spend more than the average domestic shopper. . . . One analysis by the firm Tourism Economics reported that Trump's travel ban could cost the U.S. economy more than $18 billion and about 107,000 jobs."
To understand if these findings were substantive, POPSUGAR spoke with a staffer from the US Department of Commerce's National Travel and Tourism Office, who wished to be referred to only as a commerce official. "In 2015, travel and tourism was a significant export for the US," they explained, "accounting for approximately 11 percent of all exports and 33 percent of service exports, and contributes exports overall. International travel supported 1.2 [million] American jobs."
"BEA estimates that travel and tourism exports for the first three months of this year are strong," they continued. "We do not yet have the arrivals data for the last months of 2016."
In other words? It's likely too soon to tell.
"There are a lot of places for tourists to go. If they don't feel comfortable here, they can certainly go somewhere else."
Lawrence Culver, a professor of history at Utah State University, shared with POPSUGAR that we're already seeing how people are expressing discontent with the Trump administration with their dollars, both domestically and internationally. "You can see Americans making consumer choices," he explained, alluding to examples like the expanding #GrabYourWallet movement.
Comparatively, some states and cities are speaking up, taking real action against Trump's policies, and even making fairly overt pleas to potential visitors. "Recently, I saw a new TV ad that the city of LA is doing," Culver said. "The whole subtext of the ad is that they welcome everybody, regardless of race, or if you are LGBT. It wasn't a completely subtle thing either."
James Mak, a University of Hawaii Economic Research Organization research fellow and professor emeritus of economics, University of Hawaii-Manoa, has studied the economy of tourism for decades and predicts that we could be seeing more profound effects very soon. "It is certainly possible that the election of Donald Trump as president and the ensuing travel ban and negative public image of the US it has fostered could have deterred foreign travel to the US, especially (though not exclusively) from the Middle East," he told POPSUGAR. "Everything that I've read in the press (Travel Weekly, in particular) supports that conclusion."
Of course, Mak notes that tourism is nuanced and affected by more than just politics. For example, the strength of the US dollar can greatly impact travelers. Similarly, terror attacks can deter travel. "In theory, such terrorist attacks can have both negative and positive effects on international travel," he explained. "Those attacks may deter people from traveling farther from home. They may also entice people to shift their travel destinations from a potentially dangerous destination to one that's perceived to be safer." Another factor is natural disaster and environmental turmoil. For example, after Hurricane Katrina, New Orleans saw travel and business dwindle as the city rebuilt itself.
There are also markers of a rising distaste for travel to the United States beyond tourism. "We have seen a decline in the number of international students coming to the US," Culver said of students seeking higher education abroad. "Some of that is that it's harder to get here. The visa process is more complicated and expensive. For example, if you are an aspiring engineer and you want to get a degree that is internationally known, you might think of going to Australia or Germany rather than the US."
Culver also said that American presidents can catch on as international celebrities in their own right, making their presence part of the appeal of travel. "It was a really big deal to see an African American elected president," Culver said. "[International tourists] can be fixed on specific politicians as celebrities. It's like Americans who visit London hoping to see Will and Kate."
Mak also highlighted that Trump himself is intentionally damaging international tourism — ironic for a man who owns many resorts around the world. "In President Trump's proposed budget, funding for Brand USA — the private public partnership formed to promote international travel to the US — would be eliminated," Mak shared. "Funding comes partly from private contributions (including in-kind contributions) and partly from a fee levied on visa-waiver visitors to the US. The travel industry is fighting against the proposed cuts. It would be interesting to see if Congress restores the funding."
Yet both Culver and Mak agree that, like the commerce official said, it will take time until we have more definitive proof of a downturn in tourism. "It's difficult to quantify it," Culver reiterated. "We're pretty early in the process . . . and all sorts of things like that can affect the choices tourists make."
Culver did make it clear that this conversation is very America focused: in the same way Americans want to travel and explore limitless options, so do international travelers. "I think one thing Americans tend to forget is that, globally speaking, we aren't as important as we think we are," Culver said. "There are a lot of places for tourists to go. If they don't feel comfortable here, they can certainly go somewhere else."