UAE Warns Against National Dress Abroad After Viral Video
The Scary Reason the UAE is Warning Against Wearing National Dress Abroad
It can be seen as a symbol of pride for heritage, but the United Arab Emirates has issued a warning against wearing national dress abroad. The UAE's Ministry of Foreign Affairs and International Co-operation gave advice to locals (in Arabic via Twitter), urging them to avoid donning a kandura or full-face veil, and scarily it's a matter of safety while traveling.
It comes after a video emerged showing Ahmed al-Menhali taken to the ground by police in Ohio, United States after being mistaken for a member of IS. In the clip, he can be seen wearing the traditional white clothing — which helps Emirati men stay cool — before being tackled to the floor by the Avon Police Department.
The team reportedly got calls from a hotel staff member's family, who feared he was pledging allegiance to the Islamic State group and warned he had several disposable phones. It later emerged he did nothing of the sort while he was trying to check in to the property and in fact, thought the cops were out to get someone else.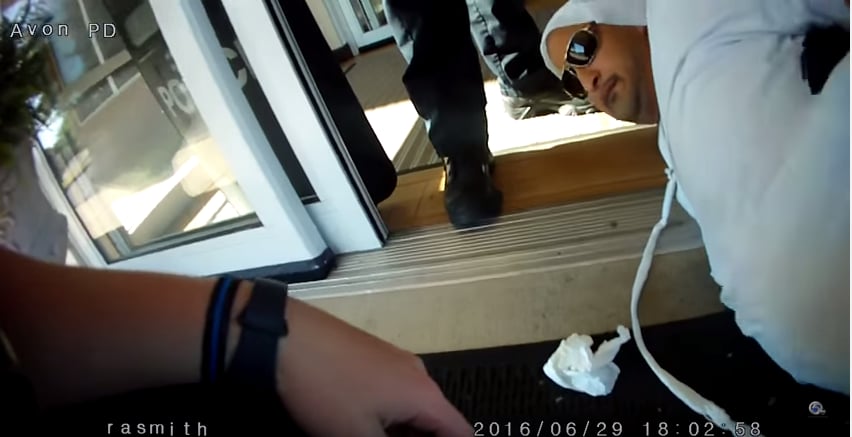 Menhali — who had been recovering in Ohio with his wife and three kids following heart surgery for a stroke — told The National newspaper that the men were very forceful in their arrest, which resulted in him suffering a panic attack, and law enforcement has since apologized for the mistake.
"They were brutal with me," the 41-year-old revealed. "They pressed forcefully on my back. I had several injuries and bled from the forceful nature of their arrest."
Read the warning everyone's talking about around the world.
Image Source: YouTube user WEWSTV