VIDEO: Watch Donald Trump Saudi Arabia Speech 2017
Donald Trump Shows a Shift in His Attitude Toward Islam in This Saudi Arabia Speech
US President, Donald Trump, gave his much-anticipated speech on Islam in Saudi Arabia on Sunday, and his sudden shift in tone on how he perceives Muslims has left us unconvinced.
In the past he has called for a "total and complete shutdown" of Muslims entering his country and said "I think Islam hates us" during his 2015 election campaign. But his 2017 speech on Islam in Saudi showed a different side to his earlier hard-line rhetoric and instead called Islam "one of the world's great faiths." He also said that the majority of victims of terrorist attacks are the "innocent people of Arab, Muslim and Middle Eastern nations."
Speaking in the Saudi capital to leaders of 55 Muslim-majority countries, Donald Trump called this a "new chapter", saying he was not there to "lecture" them or impose the American way of life. He also singled out Iran for the instability in the region. "A better future is only possible if your nations drive out the terrorists, and drive out the extremists," he added.
Here's an excerpt from his speech…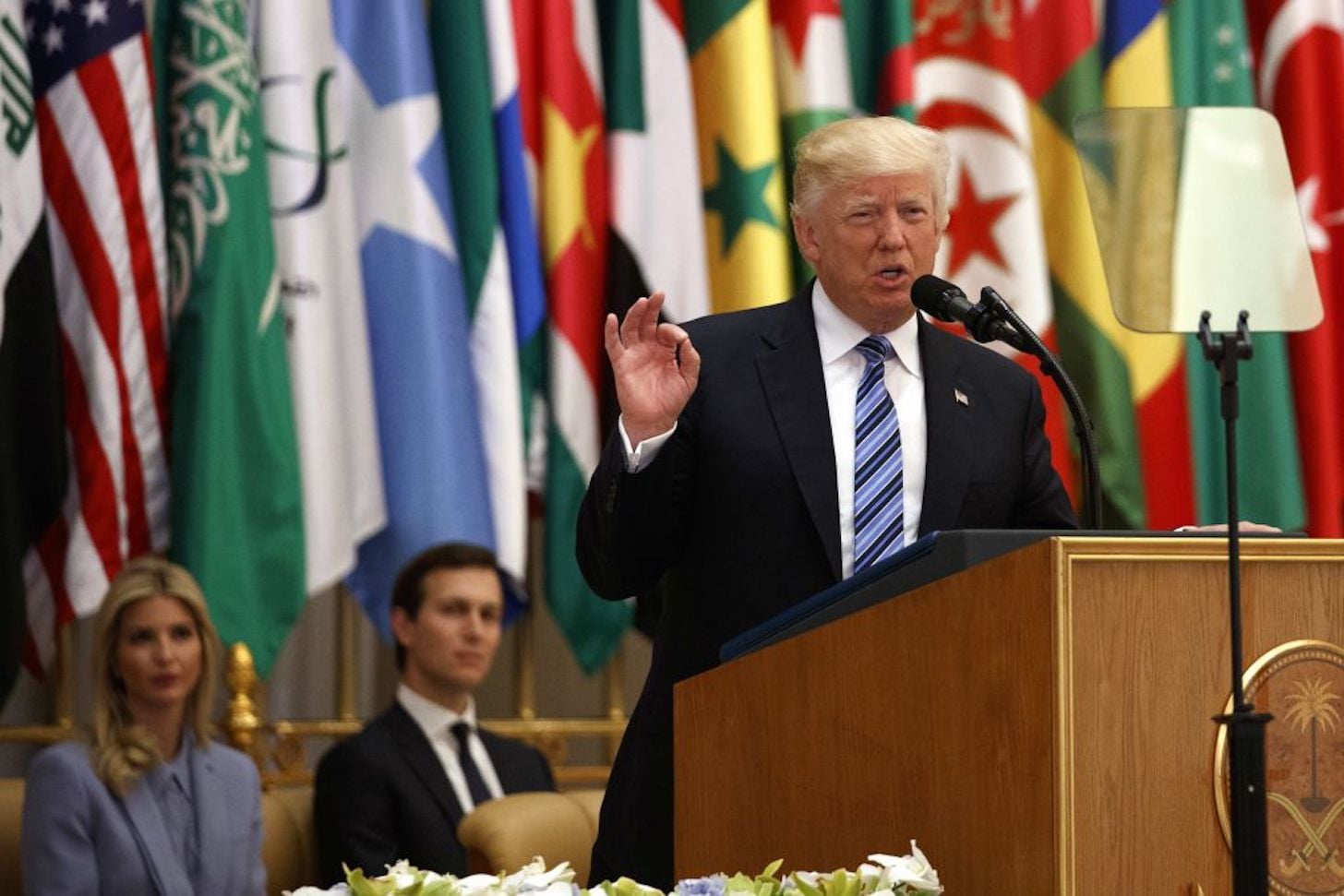 "Few nations have been spared the violent reach of terrorism. America has suffered repeatedly barbaric attacks from the atrocities of September 11, to the devastation of the Boston bombings, to the horrible killings in San Bernardino and Orlando. The nations of Europe have also endured unspeakable horror. So too have the nations of Africa and South America, India, Russia, China and Australia have all been victims. But in sheer numbers the deadliest toll has been exacted on the innocent people of Arab, Muslim and Middle-Eastern nations."
You can watch the full 30-minute video above.
Trump skipped an event aimed at highlighting "how social media can be used to combat extremism" while in Saudi Arabia. He sent his daughter, Ivanka, instead, who, along with Melania Trump, made headlines for not wearing a headscarf in the Kingdom.
Meanwhile, this little boy has expressed his gratitude for having Trump in KSA. See the clip below.