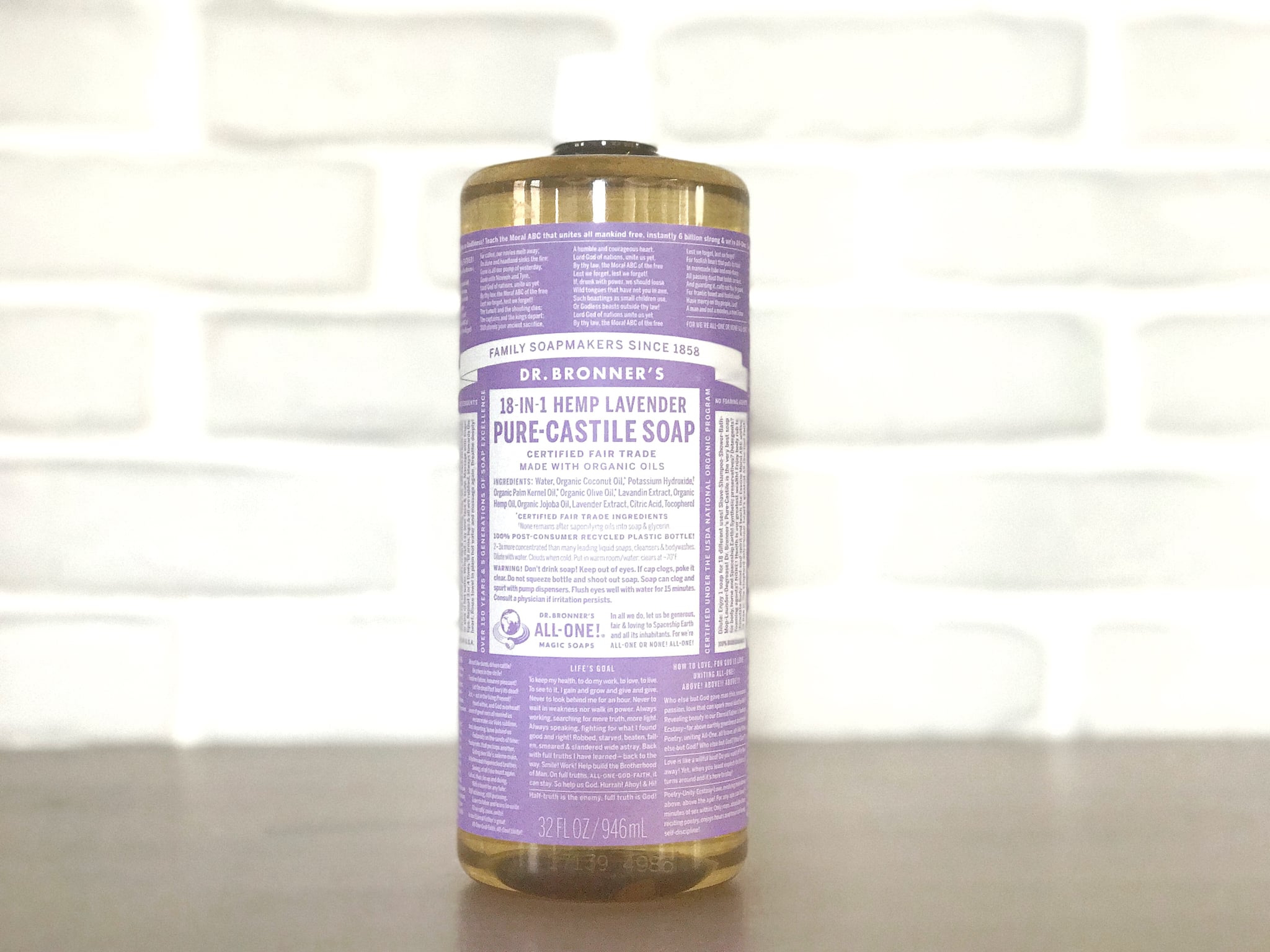 A few years ago, my mom recommended I start using Dr. Bronner's hemp pure-castile soap [1] for my dry skin. Once I replaced the body wash I was using at the time, I've never gone back to anything else. Not only does it smell amazing (I use lavender, but there's also peppermint, rose, eucalyptus, and four other varieties), but it leaves my skin feeling incredibly soft after a shower. Plus, a 32-oz. bottle [2] will last you months for a price of $14 on Amazon.
Though I've mainly been using Dr. Bronner's as a body wash, the soap is known for having multiple beauty and household uses. In fact, the bottle label claims "18-in-1" different ways it can be used, so I decided to test out what I could. Turns out, the 100 percent biodegradable solution is an effective all-purpose solution for pretty much anything.
What's in it?
Dr. Bronner's is made with organic oils and zero foaming agents, which means you won't get the sudsy result like from a traditional soap. But that doesn't mean it's not working. The list of ingredients is straight from the bottle: water, organic coconut oil, potassium hydroxide, organic palm kernel oil, organic olive oil, lavandin extract, organic hemp oil, organic jojoba oil, lavender extract, citric acid, and tocopherol.
Basically, it's tough enough to clean household appliances but gentle enough to use on skin, even a baby's.
What can it do?
Here's a list of ways you should and shouldn't use the soap based on my experience. Because Dr. Bronner's is more concentrated than most soaps, you'll want to dilute the solution based on what you're using it for. Here's a handy cheat sheet [3] to refer to.
Face wash: [YES] My face is a dry-oily combo, but it gently cleanses my face without leaving a sticky layer.
Body wash: [YES] I cannot rave about Dr. Bronner's as an amazing body wash enough. For some, cleansing with this soap even eliminates the need to apply body lotion afterward. Pro tip: purchase a bottle pump [4] for easy application. I add three pumps to my loofah and run it under the shower head for a second before scrubbing.
Shampoo: [NO] Because the soap doesn't lather quite like a traditional shampoo, your hair gets easily tangled. The website suggests following it with Dr. Bronner's Organic Citrus Conditioning Hair Rinse for smooth and silky hair, which I didn't have.
Tub cleaner: [YES] A couple pumps of soap onto a wet sponge will scrub your bathtub clean.
For shaving: [YES] Work the soap into a lather and apply to the area. My skin is left smooth and moisturized after a shave.
Toothpaste: [NO] It literally tastes like soap, so I'd rather stick to my traditional tube.
Foot bath: [YES] It's a relaxing soak and your feet will feel so soft afterward.
For congestion: [KIND OF] If you add a tablespoon into a bowl of hot water and breathe it in with a towel draped over your head, the results are very relaxing. But I think the peppermint or eucalyptus scent (over the lavender) would've been much more effective for clearing my sinuses.
Dish soap: [YES] I scrubbed a frying pan with the soap and it was surprisingly tough on grease.
Laundry: [NOT SURE] I didn't trust my building's machines enough to test it as a laundry detergent. Plus, the website says to rinse with vinegar, which I didn't have.
Mopping: [NOT SURE] I do not have a mop, but I do trust that it would get the job done.
All-purpose cleaner: [YES] If you add a quarter of a cup to a spray bottle of water, you can use the soap as a surface cleaner. But make sure you thoroughly wipe it off to prevent leaving any oily residue.
Window cleaner: [NOT SURE] Instructions say to follow up with pure club soda or a 1:1 vinegar-water solution, which I didn't have.
Toilet: [KIND OF] If your toilet is in pretty good condition, scrubbing with a toilet brush will mostly do it. But for tougher jobs, the website suggests sprinkling baking soda first, which makes it a stretch to me.
Fruit and veggie rinse: [YES] I'm usually fine rinsing with just water, but of course a little soap will help. I wouldn't say it's completely necessary, but it will obviously clean your produce.
For dog washing: [NOT SURE] I unfortunately don't have any pets to bathe, but if it's gentle enough for baby's skin, I assume the natural solution will also effectively clean your dog's coat. The website's FAQ section [5] confirms that it's safe for both babies and dogs.
Plant spray for bugs: [NOT SURE] I also do not have any plants to test this out on.
Ant spray: [NOT SURE] Luckily, I don't have an ant problem. If you do decide to try it for yourself, the website says to use the tea tree soap for ants.
Final thoughts:
I do think some of the uses are a stretch, but all in all, I highly recommend Dr. Bronner's soap for multiple purposes. It's organic and vegan, tough but gentle, and an item I'll always have in my house.