Arabian Adventures Desert Camping Review
I Went Camping in the Arabian Desert and Lived to Tell the Tale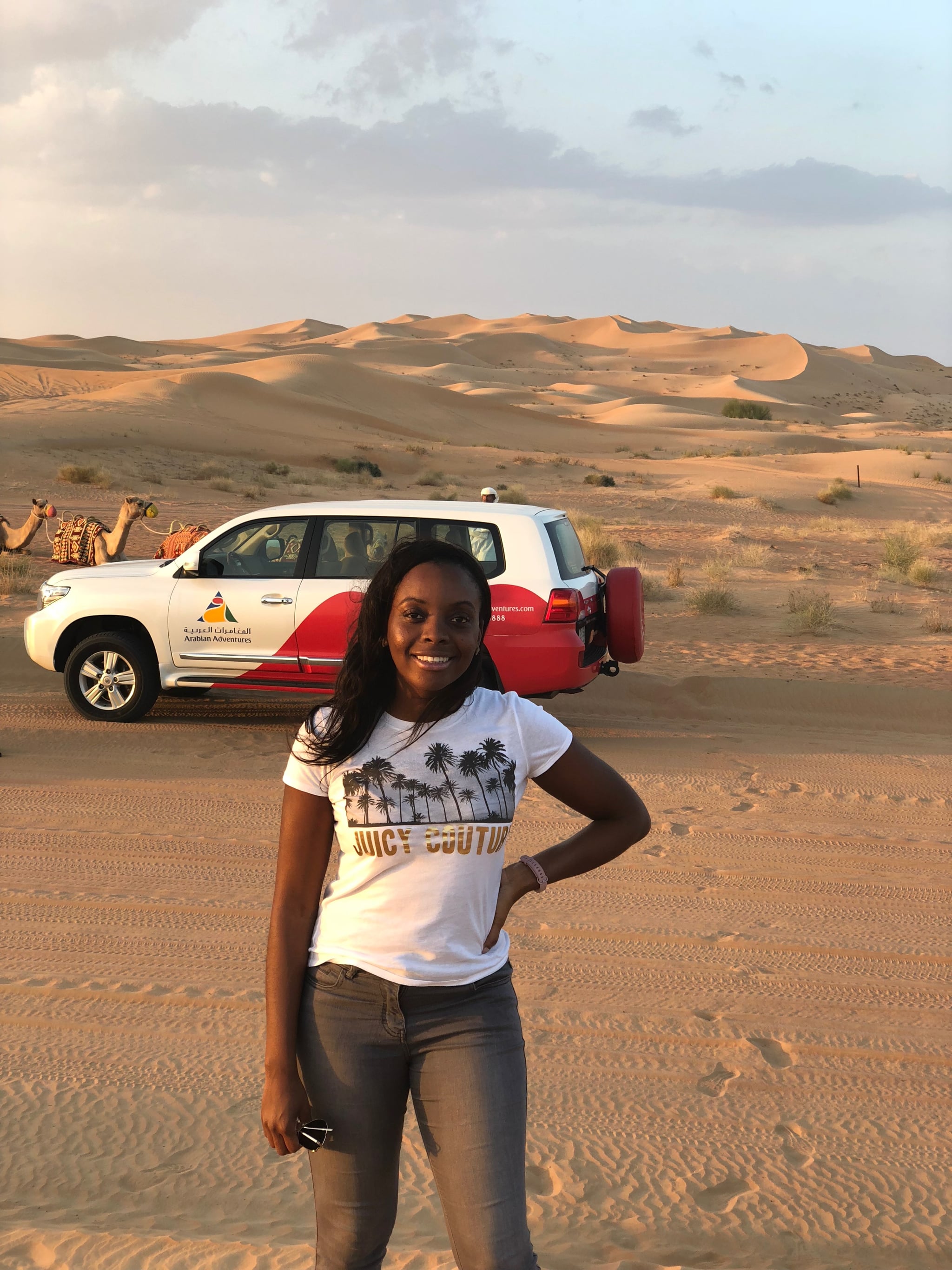 As much as I appreciate the great outdoors, I can't deny that I feel my best with the usual home comforts around me. You know, air conditioning or central heat, Deliveroo and a big bathtub to sink into… So I was mentally prepared to take on a Saturday night without my usual luxuries when I signed up to go camping in the desert. In the past I've stayed overnight in a forest just outside of Los Angeles, and it was so liberating to make s'mores by the fire, chatting to friends instead of mindlessly watching a TV screen, that I did it twice in the space of two years.
Don't get me wrong, knowing that I couldn't shower (instead using baby wipes to feel fresh) was a challenge and knowing that bears wonder by the area wasn't so comforting. Which is why I was slightly reluctant to do Arabian Adventures' Overnight Safari in the Dubai Desert Conservation Reserve. I'd been told about snakes in bushes and all sort that could get you in the night (and day!) but decided to brave it anyway.
Departures go from Dubai, Sharjah and Ajman, with our driver, Atif, picking us up from the nearest hotel. My friend Mayling and I hopped in with our overnight bags and had a pleasant trip into the desert thanks to our driver practically playing tourguide to every notable building we passed on the 45-minute ride in a Land Cruiser.
Once we got nearer to camp we began to spot all sorts of cool animals including camels and sand oryx, the latter sitting on top of the dunes to cool their body temperature down on the colder parts of the sand.
First up on the itinerary was dune bashing, a fast and rocky ride on the hills which includes controlled skidding for more of a thrilling ride. As he let down the tires a little for a smoother ride, Atif's prior warning that he would slow down if the dune bashing was too rough for us was a somewhat alarming but it turned out to be a good 20 minutes of fun and girly squealing.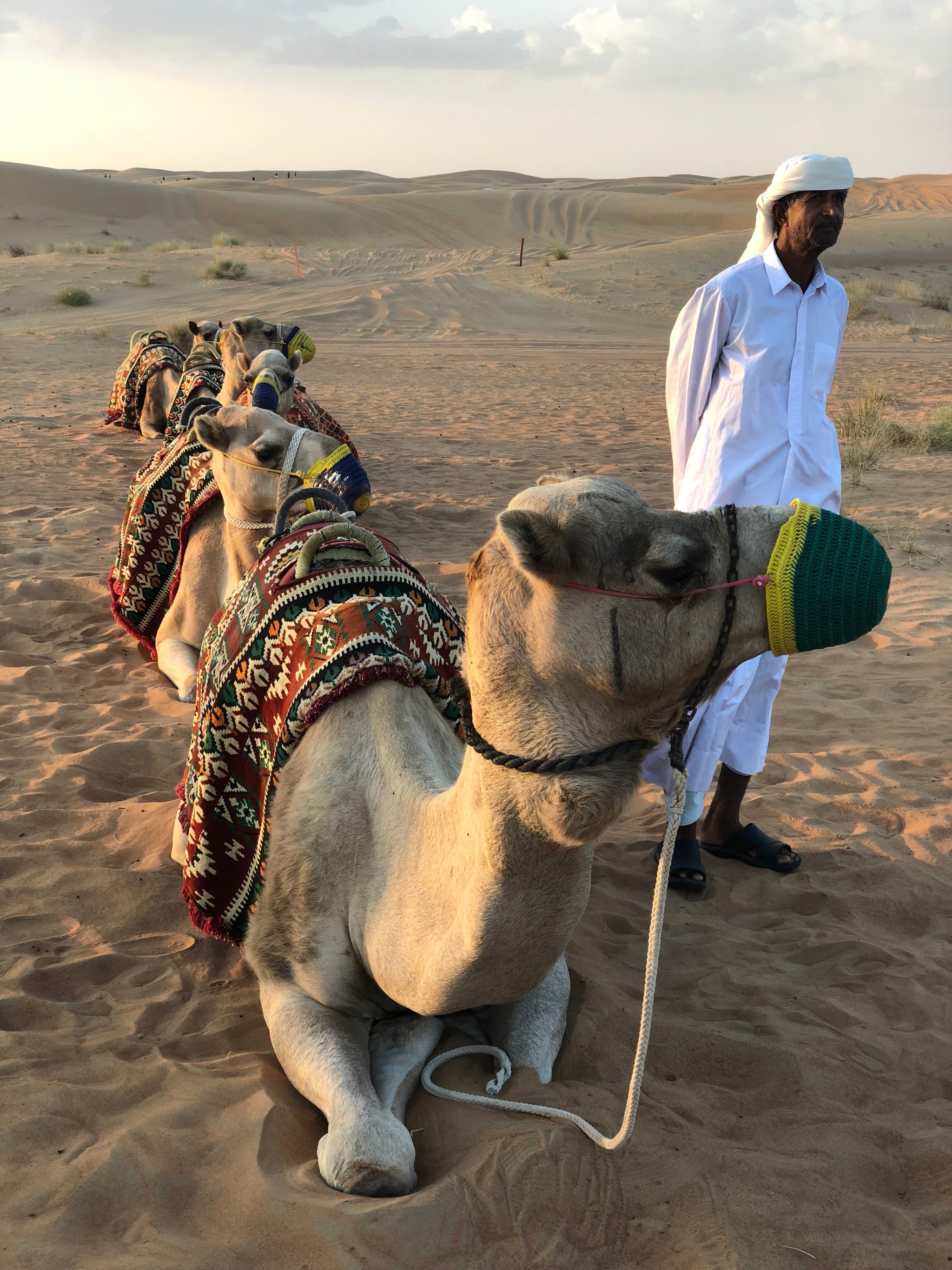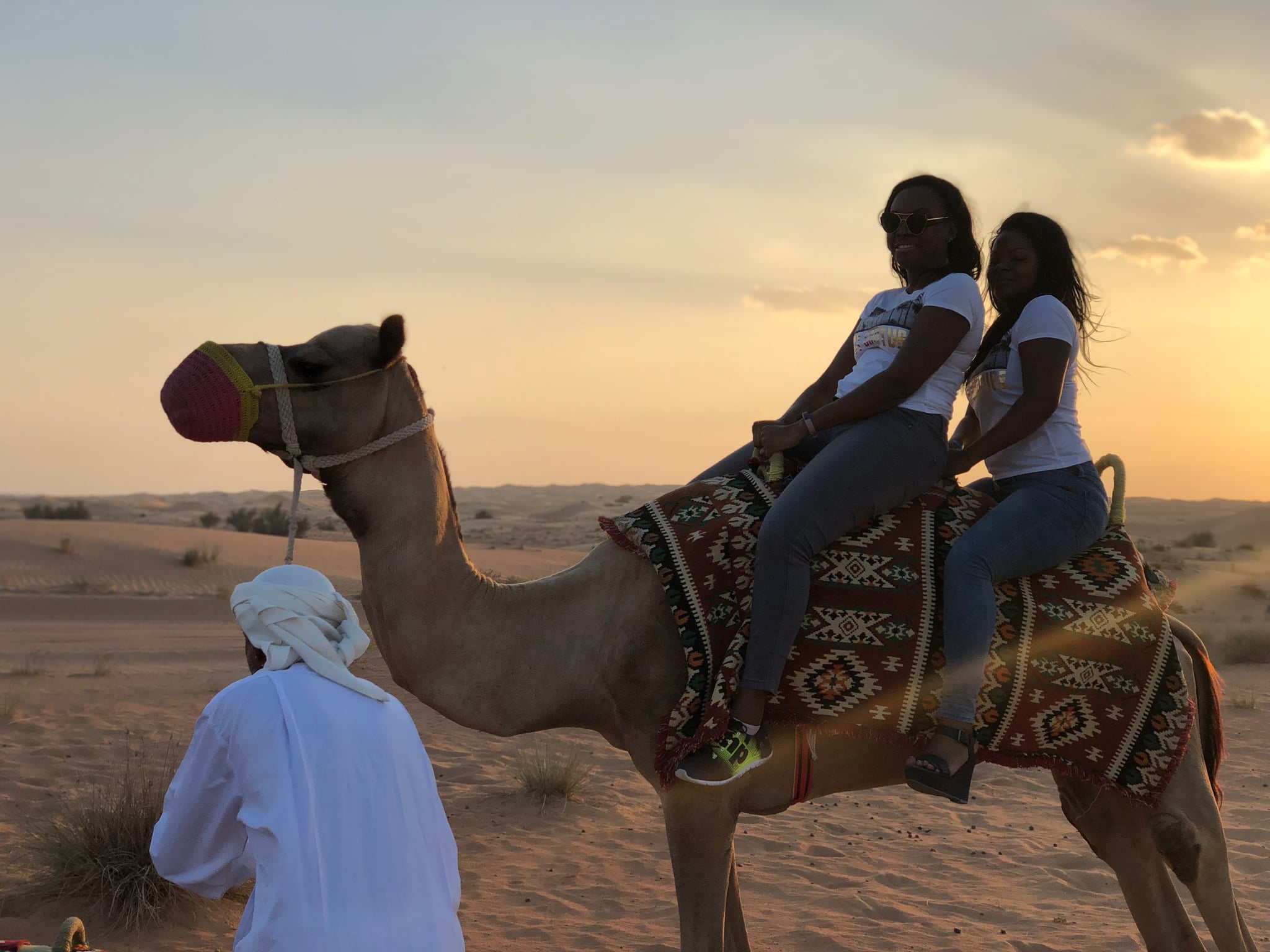 Next up we stopped by a line of camels ready to take us to the campsite where we'd sleep just 15 minutes away. It was my first time riding a camel and while they're beautiful creatures and totally my eyelash inspiration, mounting one can be a scary. We were told to hold on tight to the handles attached to their hump and lean back as much as possible to avoid tumbling off. Think getting on a camel is hard? Getting off is more like a crash and tumble as the camel basically collapses underneath you as it bends its legs. I had to call for the guide's help when swinging my legs over because I was scared I'd kick it in the face.
Then the moment of truth, seeing where we'd actually be spending the night. When I walked into the enclosure it was an absolute dream; the group, which consisted of us pals, a couple on vacation and a group of co-workers, was handed cute cups of Arabic coffee and showed our digs.
The huge tents are raised up on a deck, which automatically takes you from camping to glamping, and two deck chairs and a table sit on the porch beside lamps. Inside is a real double bed, side tables and a flashlight which comes in handy when it's time to pop to the bathroom in the middle of the night.
Speaking of the bathroom, we were surprised to find a real toilet and sink (not a hole in the ground!) but as soon as I heard the shower would probably produce cold water, I'd already decided I'd wait until I got home to take one. Although visually there's enough privacy, anyone nearby can pretty much hear anything going on inside the thatched cubicle, FYI.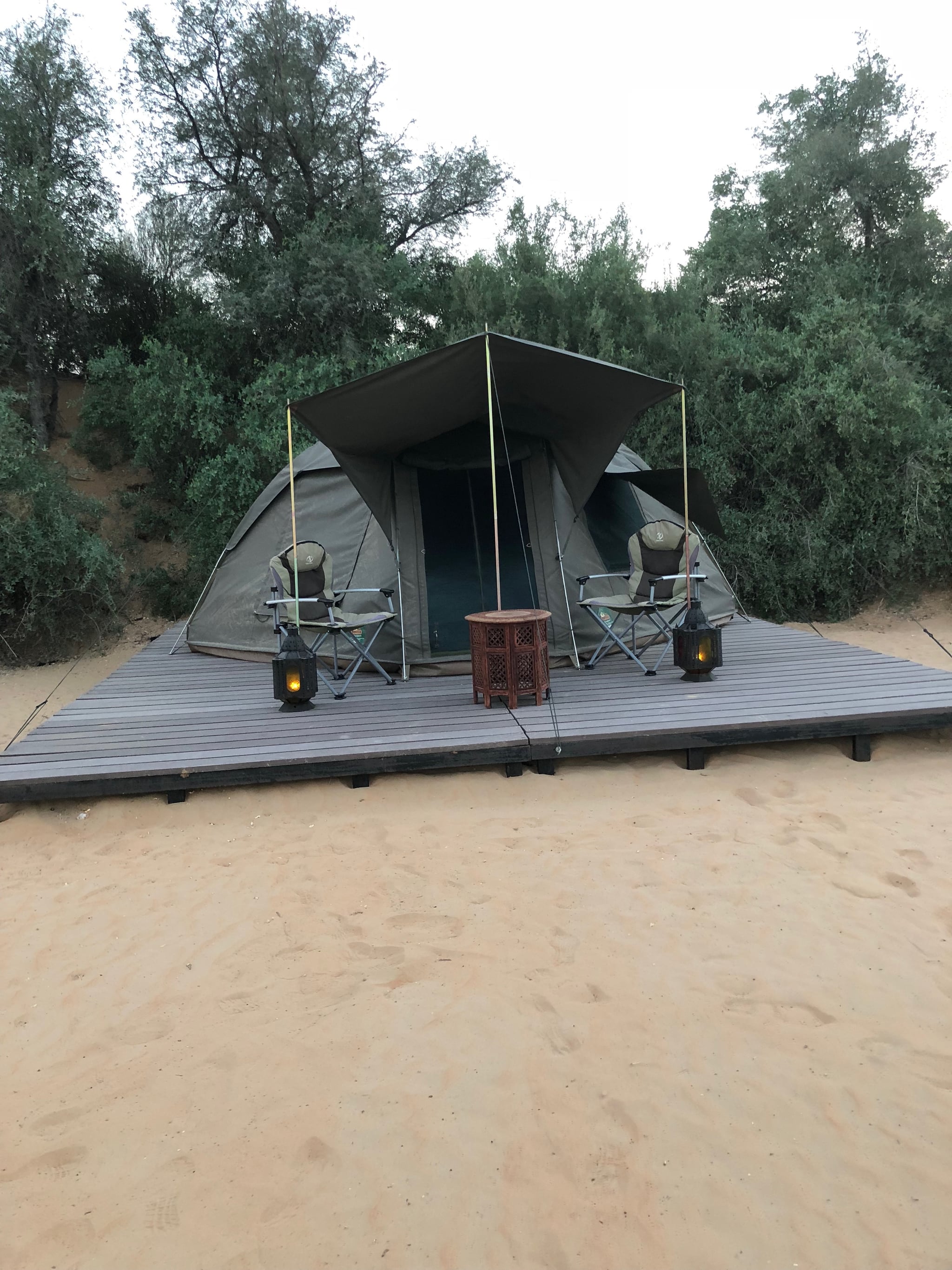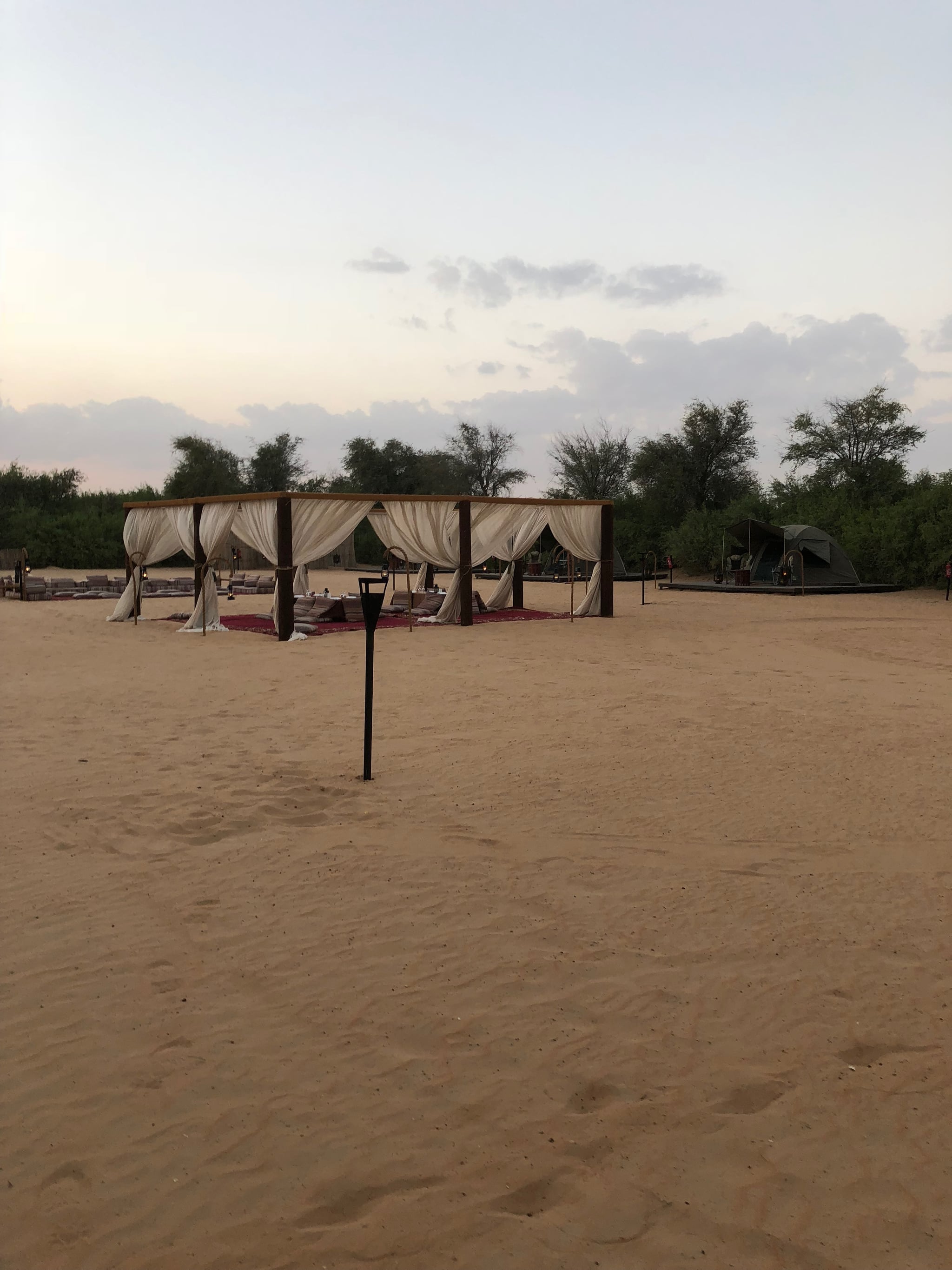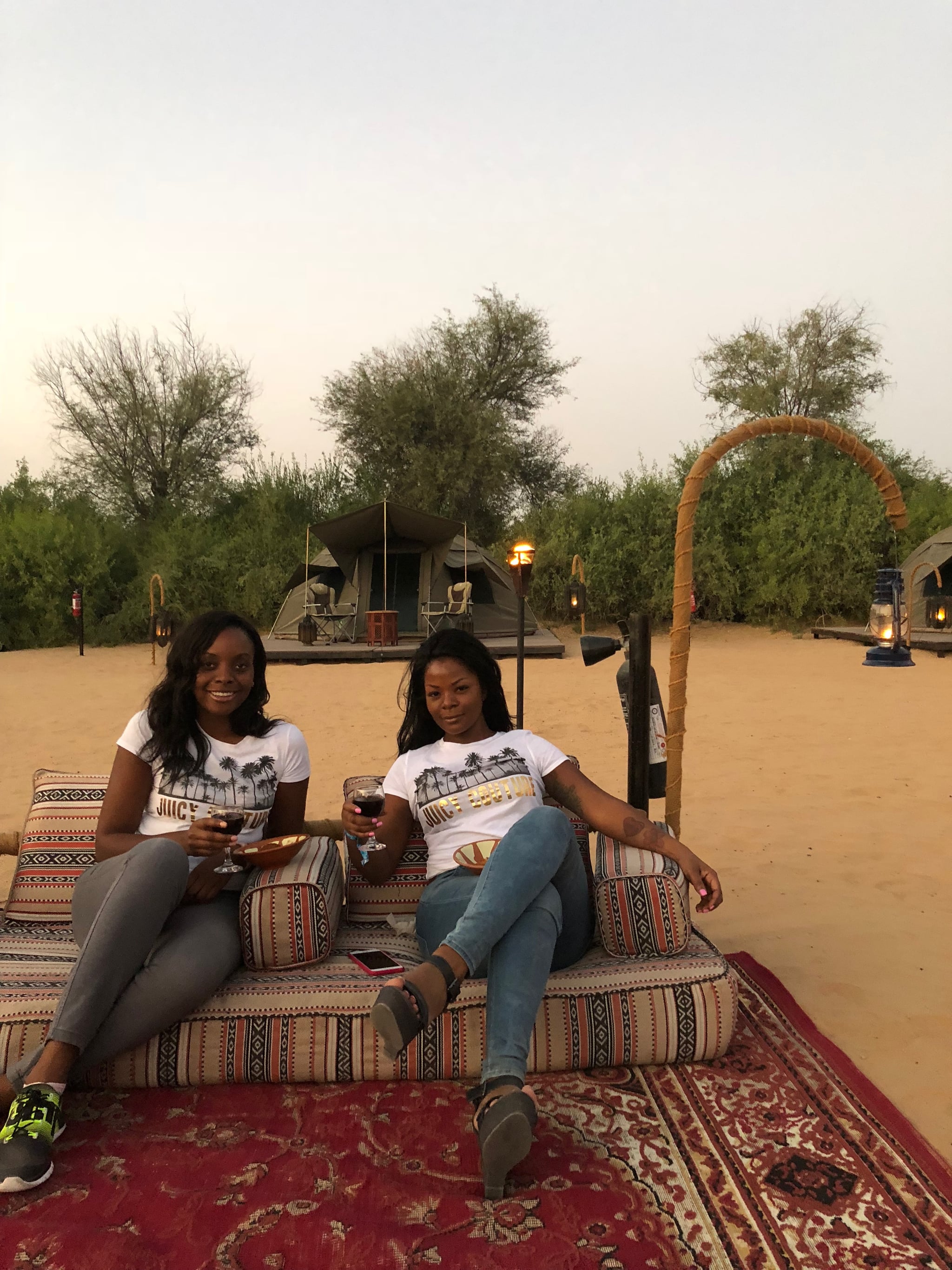 Guests get a barbecued meal of grilled fish, shrimp, chicken, lamb, plus the usual Arabic dishes such as hummus, tabbouleh etc so there's no chance of going hungry. Oh and did I mention there's wine? And lots of it included in the price (it starts from AED1,020 for single occupancy)…Post-dinner there's shisha for those who want it and as we spontaneously requested music, our guide got his radio out to provide some atmosphere. Otherwise you're pretty much on your own as far as entertainment, no belly dancers and henna art sessions here so if you really can't live without your nightly TV session, I recommend downloading a few episodes on Netflix and bringing an iPad.
Our sleep was divine but it got very chilly during the night which was only noticeable when I stuck my arm or leg outside of the thick and cozy duvet provided. Arabian adventures even sorts you out with towels so it really is the most glamorous camping you can do in the desert.
In the morning we woke to fresh coffee and tea, with a full breakfast of scrambled eggs, sausages, cheese, bread, croissants and a selection of cereal. There were also fresh bird prints around the camp, no surprising and their singing was an early wakeup call. When we were ready Atif drove us back into the city and I walked into the office with no sign I'd spent the night sleeping in a tent.
Now that's my style of camping!