Ariel #ShareTheLoad India
You Never Thought a Detergent Commercial Could Make You Cry, Until Now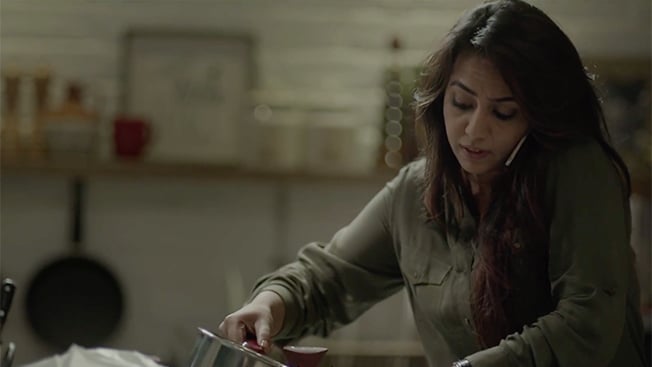 Ariel detergent just released a new commercial, and you'll want to grab a box of tissues before pressing play.
In the ad, which is airing on television in India, a women is seen running around her house, cooking, cleaning, and taking care of her husband and her father. Throughout the two-minute long video, the woman's father narrates a letter that he's writing to his daughter.
"You are all grown up now," he says, "you used to play house and now you manage your own house, and your office. I am so proud and so sorry."
"Your husband must have learned the same from his dad. While playing house, he would have pretended to watch TV, and a little girl like you would have pretended to make tea. Sorry on behalf of his dad."
This is not the first time that P&G India has worked to highlight the issue of women bearing the burden of household chores: last year, they launched the #ShareTheLoad initiative with an ad seen through the eyes of two older women.
The new commercial, which has already gone viral in India, is so powerful that it's attracted the attention of Facebook COO Sheryl Sandberg, who shared it on her Facebook page. "This is one of the most powerful videos I have ever seen," she wrote, "showing how stereotypes hurt all of us and are passed from generation to generation. "The real win is the way they are changing stereotypes and showing that a more equal world would be a better world for all of us. Dads, #ShareTheLoad and #LeanInTogether for equality."
Watch the touching commercial below, and join in on this important conversation using the hashtag #ShareTheLoad.
Image Source: Youtube user Flock of Broads