Behind-the-Scenes at a Cavalli Club Dubai Sunday Brunch Show
What It Really Takes For Dubai's Most Glamorous Girls To Get Ready
How do you prepare for a night on the town? Spend some extra time making sure your eyeliner is drawn on perfectly perhaps? Or you might even go the extra mile and break out the curlers. Either way, I bet it's nowhere near as much preparation as it takes for these women, who have the added pressure of performing in front of the elite crowd week after week.
When I walked into Cavalli Club at the Fairmont Hotel on Dubai's Sheikh Zayed Road, at about 7.15pm on a Sunday, I was slap bang in the middle of rehearsals for their three dancers and a singer, who have a weekly show during the venue's night brunch. Of course, as they were dressed in leggings and T-shirts, I didn't even register they were performers at first as they walked up in between the tables amongst the waiters setting up.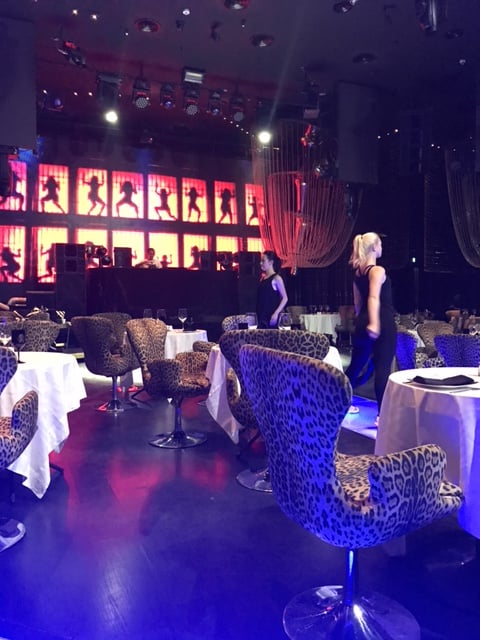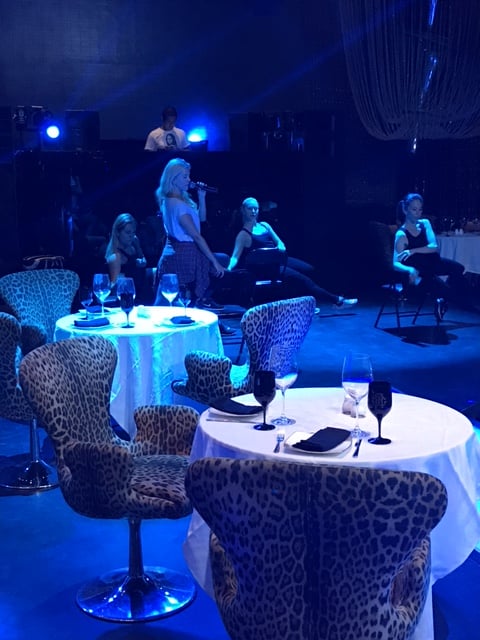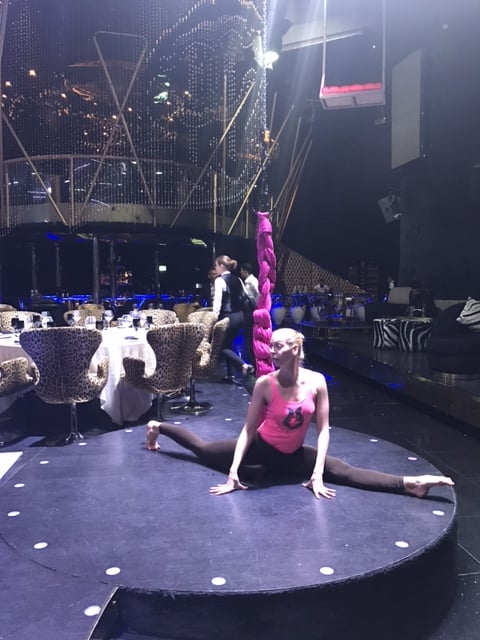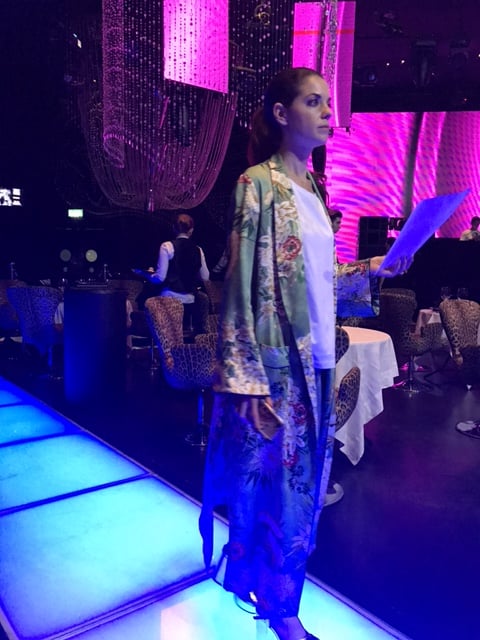 Rehearsals
As the music suddenly came on, alongside the lighting and graphics, I scuttled to a nearby seat to watch the ladies in action. With the show starting around 9.30pm, many of the staff eat their dinner during rehearsal, usually pasta provided by the kitchen. The DJ scoffs his down in between requests to play songs. The new tune for the night I visited was will.i.am's Bang Bang from The Great Gatsby soundtrack, a number where top hats and saxophone arms have to be in precise place at all times. Freelancer, Amanda, choreographed this number but between herself and in-house dancers, Aly and Mante, they take it in turns to come up with new routines.
Movie soundtracks are a winner it seems with singer Laura, 27, belting out Roxie from Chicago as well as Cell Block Tango during the show, which is broken up into several parts throughout the dining experience. When she's not at the club she sings music from the 20s through to the 50s as part of the Swing Revue Band.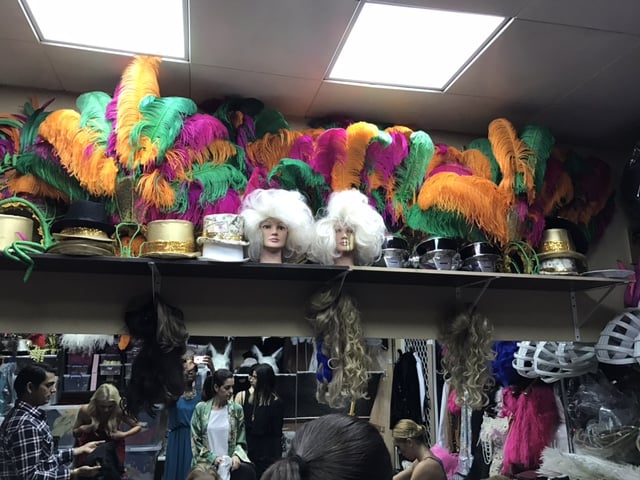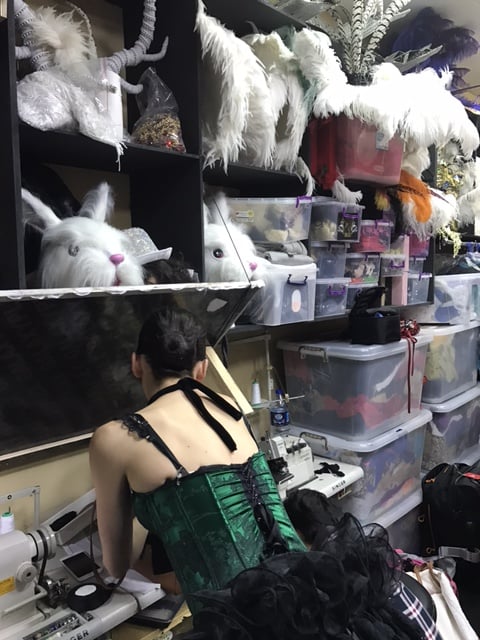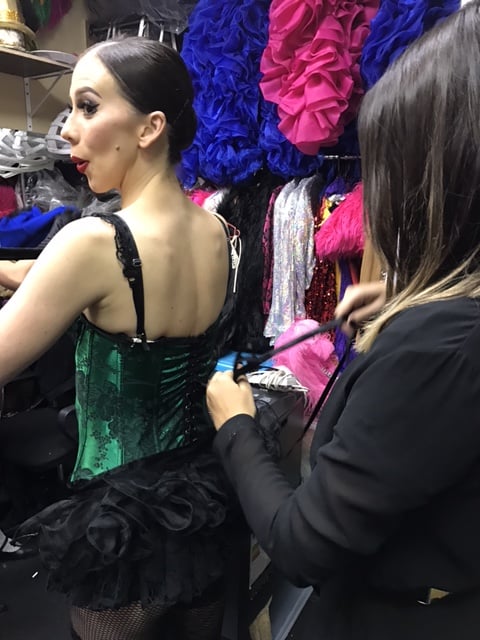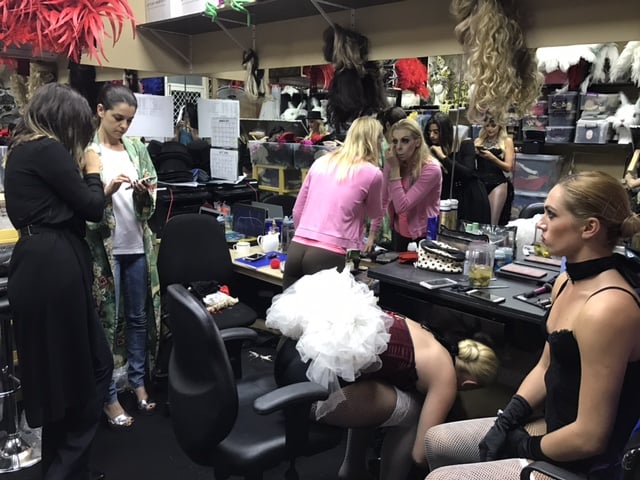 Backstage, the ladies warm up their voices and limbs crammed into a closet-sized dressing room. In the politest way possible, it looks like a girl bomb has gone off, with feather headpieces, tulle and even bunny heads covering every inch of shelf space.
The rules
Creative Director, Megan, and Marketing and Creative Assistant, Natasha, help pin straps into place to avoid any unfortunate accidents on stage, oh and they have happened, leading the dancers to not-so-subtly have to let their colleagues know of any slips and rips. When it comes to attending one of their open auditions, girls come from all over the world (tonight's performers are from Australia, Ireland, Poland and Lithuania) and while appearance isn't as important as talent, dancers do have to fit Cavalli standards, somewhat.
"Age doesn't matter and neither does size, but we try to make their look match as much as we can because of costumes. For example, the girls we have right now are really tall," Natasha tells me. "We used to have one type of gown singers would wear but with Laura she fits into the dancer's costumes so we dress her up every night."
Megan hails from the States and has always worked in nightlife in one way or another. She runs her own clothing line when she's not at Cavalli or their venue next door, Cirque le Soir. She comes up with the ensembles, usually ordering the materials she needs from her home country or heading out to fabric shops in Old Dubai to get any extras. "It has to be stretch fabric and design has to go with the style of the song," she says about shopping for costumes. When asked about preparing for a situation where dancer is unable to perform, she admits there is no solution and they simply have to work around it. "We don't have backups because everyone is licensed to perform."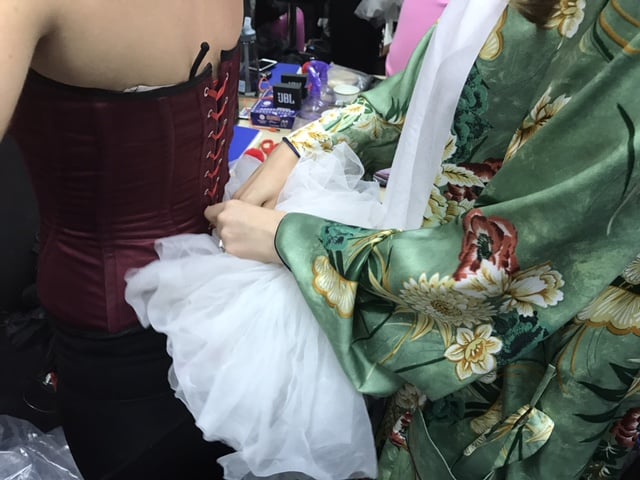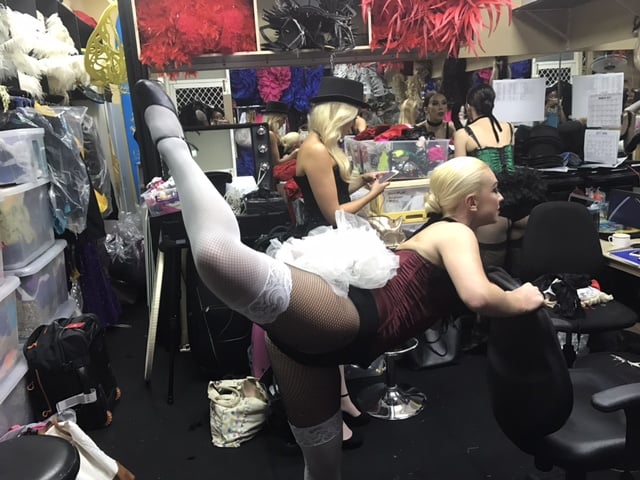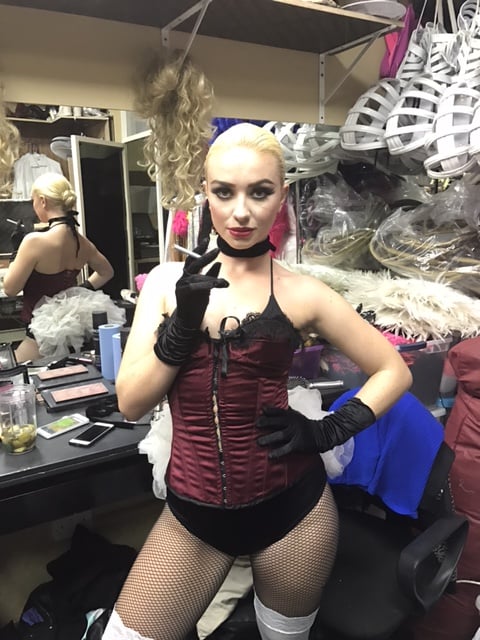 Still, it seems Megan is more than capable of handling tricky situations, she has worked in nightlife for 12 years after all, and studied fashion. "I moved here about four years ago, my husband and cousin came to open Cheesecake Factories. I've been a bartender, door manager, worked in marketing… I took fashion courses right after high school, I was pursuing fashion and ended up in nightlife."

Aside from the waiters and managers, many of the outfits are skimpier than you might expect for the region but there are definitely rules and strict guidelines Cavalli has to follow considering its audience. For example, clothing cannot be anything but Cavalli Couture, tights must be opaque and dancers cannot remove their gloves during routines because it could be classed as stripping. As the performers are all of the same gender at the moment they don't get tapped on the wrist very often but there was one incident where a male and female performer got too raunchy.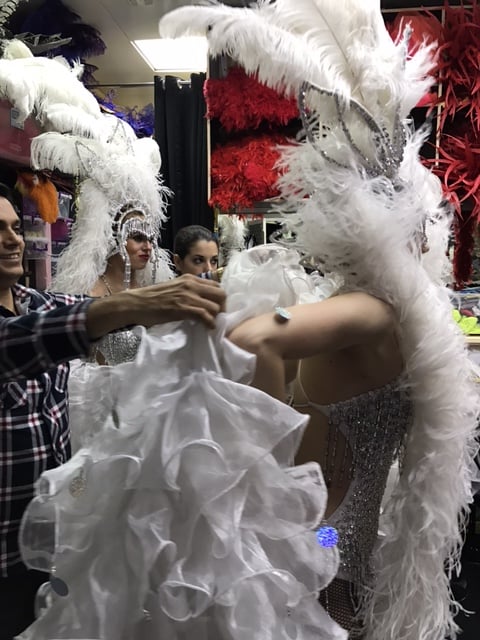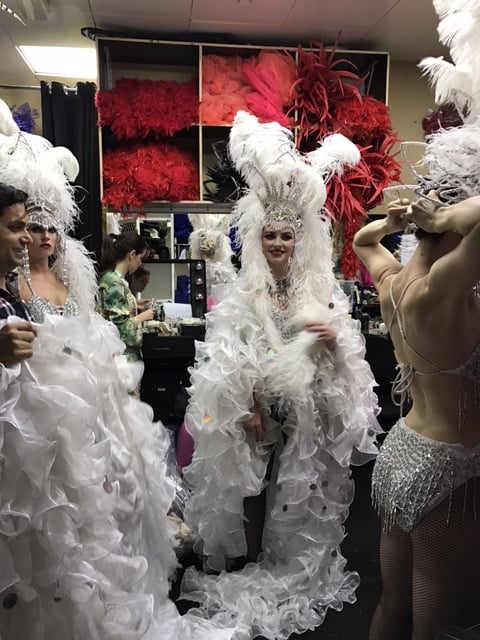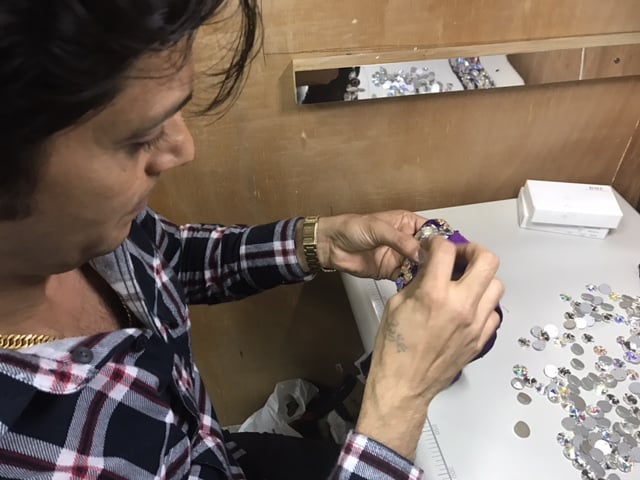 "It can't look seducing. At once point a girl went into a split on a guy and we had to tell her you can't do that!" 24-year-old Natasha, who started out as an intern and worked her way up (and across the company) in a year, revealed.
Anything goes in the dressing room though, and with minimal space and time between changes, there isn't much room for protecting modesty, as I found out when first greeting the girls. In-house tailor, Buddy, literally sews outfits during performances and told me he absolutely loves his job. I'm not surprised. Meanwhile aerialist, Claudia, limbers up for performance on the silks with splits and backbends, then calmly takes the time to do her own makeup (all of the women apply their own here).
Cirque le Soir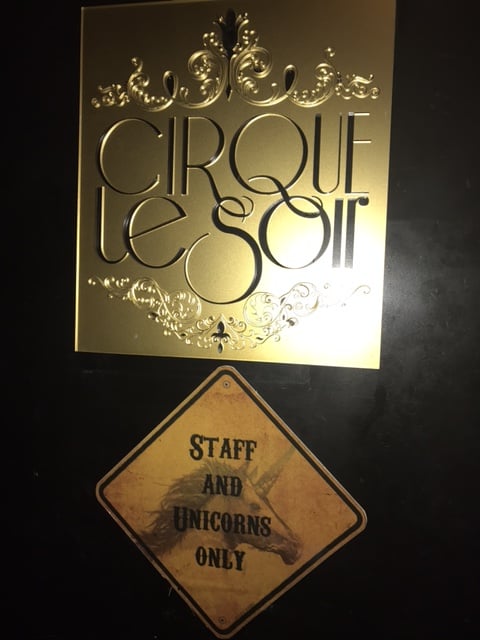 The sister nightclub is accessible for staff through a lift in the Cavalli kitchen which takes you to a back entrance for Cirque. Natasha, Megan and PR Manager, Ellie, let me accompany them as they went on a hunt for more props in the dressing room there, which is even smaller than Cavalli's. This venue is also a lot darker, both literally and metaphorically. The dressing room corridor is lined with pictures of freak show characters and instead of glitter and shiny beads, you'll find lighter fluid and scary masks on the shelves. Cirque stays closed on Saturdays and Sundays so the team can dedicate time to the Cavalli show but the behind-the-scenes team is always going back and forth between the venues.
"There's a lot more that goes into Cirque because the whole thing is about performance," Megan told me. "We have nine performers five nights a week and an in-house makeup-and-hair stylist. We do a plan the week before and show a PowerPoint presentation of who's doing what character and act."
With the added pressure of celebrity guests (including the retired Roberto Cavalli himself) and big-name performers, it's fascinating how they manage to pull it off, seemingly to perfection, night after night.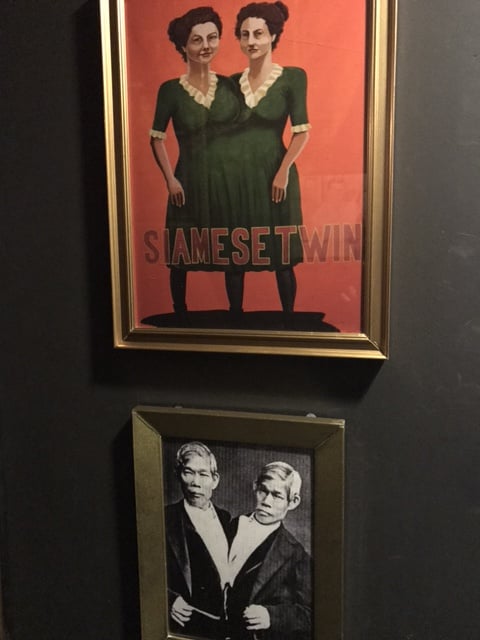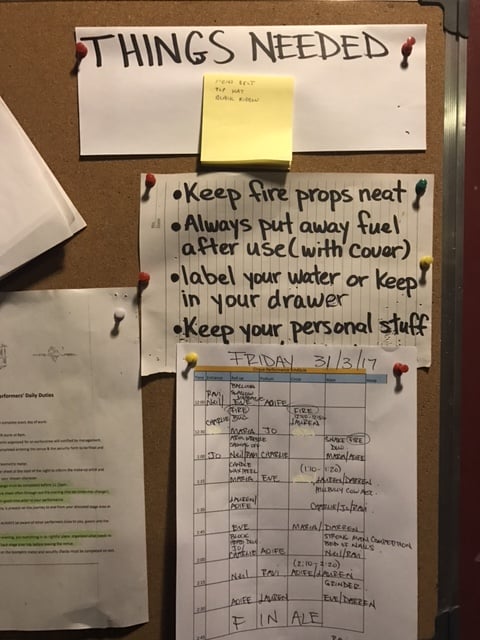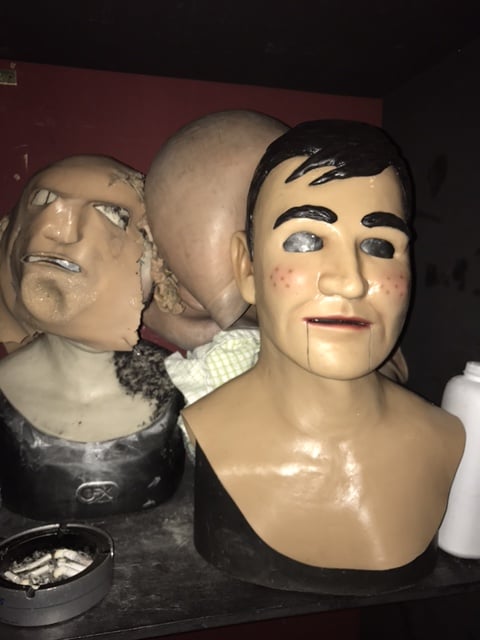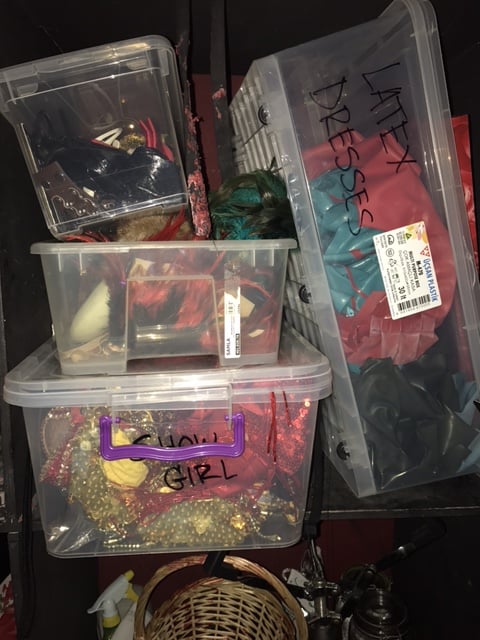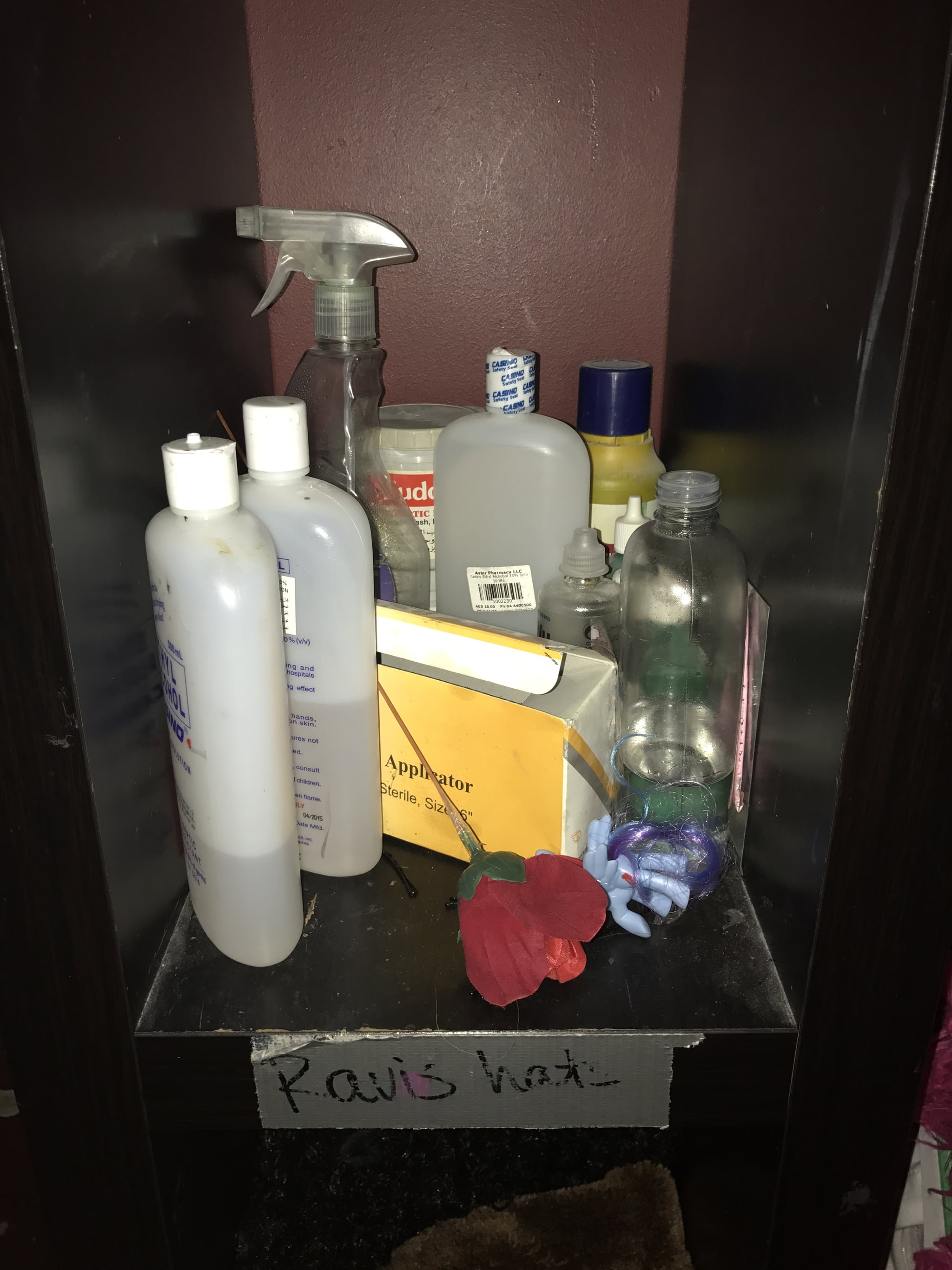 Cavalli's Midnight Brunch costs AED250 for unlimited food and drink. Check out the gallery for a preview of the show and a look at Cirque's fascinating performers.