Dubai Bucket List
The Ultimate Dubai Bucket List
Dubai is a notoriously transient city, but before you pack your bags and leave the desert life behind, these are the things you need to check off your Dubai bucket list.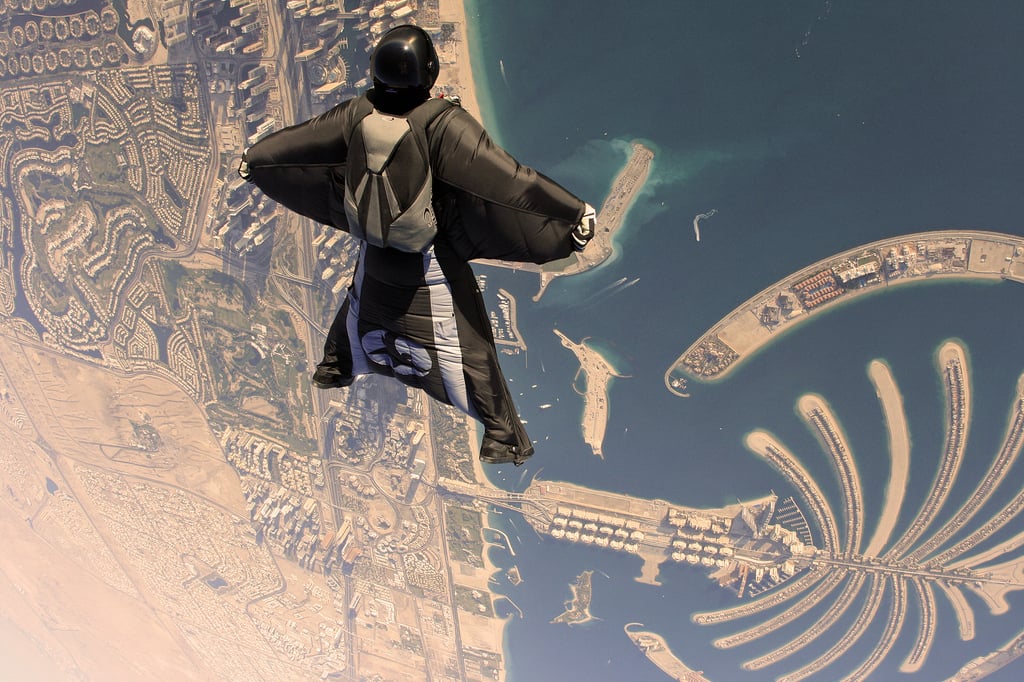 1. Scare youself to death at Skydive Dubai
You've seen them floating in the sky by the Burj al Arab, and even if you've been too afraid to try this extreme sport, you'll regret leaving Dubai without giving it a chance.

2. Be a beach bum in Oman
Oman is an easy drive from Dubai, and whether you're planning to take in the ancient capital city of Muscat or prefer the beaches of Zighy Bay, visiting this unique country is worth the trek.
3. Make friends with the dolphins at Atlantis
Dubai is one of the few places on earth where you can live an urban lifestyle but still get all the perks of living at the beach. One of the best perks is being able to swim with the dolphins-- and it's something you can easily do in an afternoon, followed by drinks or dinner at one of Dubai's most iconic hotels.
4. Uncover the mystery of Petra
This ancient Jordanian city is an easy weekend trip from Dubai, and it's certainly worth exploring while you're in the region. Stay at the Marriott or the Moevenpick for the best nighttime views of the archaeological wonder.
5. Explore Sharjah
You can easily explore Sharjah in an afternoon, and the Emirate is home to a number of often over-looked attractions. Sharjah Art Museum holds a number of significant pieces, and the Sharjah Light Festival (which runs through February 13th) lights up the city in a truly spectacular way.
6. Sing songs around the campfire in the Lahbab Desert
Camping in the desert is a Dubai experience that can't be missed, and the Lahbab Desert is one of the best spots to pitch a tent for a night. With red sand dunes as far as you can see, a trip out to Lahbab is a great way to spend a relaxing weekend under the stars.
7. Take a dhow cruise in Musandam, Oman
Oman is always a popular side-trip from the UAE, but you a trip to the tiny nation isn't complete without taking part in one of Oman's most traditional activities: a dhow cruise in Musandam. Hop off the boat to swim and snorkel or just take in the incredible mountainous scenery--either way, this is an experience that can't be missed.
8. Try camel meat
It's difficult to get a good camel meat dish in the West, but there are a number of restaurants in Dubai serving this local meat in original ways. Try Switch at the Dubai Mall for a variety of camel burgers, or Cafe2Go at Kite Beach for their camel meat hot dog. If you're feeling less adventurous, Majlis, also in the Dubai Mall, offers camel milk chocolate, which is less caloric and provides more health benefits than chocolate prepared in the traditional way.
9. Take a hot air balloon ride
There's no shortage of birds-eye views in Dubai. From rooftop bars to sky-high observation decks, there's always a way to see the city from above. One of the most spectacular views, though, is from a hot air balloon. Take in unbeatable views of the desert outside of the city with a ride with Balloon Adventures, and check out the scenery away from the city.
10. Be outdone by a local on the slopes at Mall of the Emirates
You've observed skiers and snowboarders (and tubers....and penguins) through the glass at the Mall of the Emirates, but if you haven't donned the classic blue snowsuit, now's the time to do so.
11. Embarass yourself singing karaoke at Harry Ghatto's
Sing your swan song (literally) at Harry Ghatto's in Emirates Towers. With more than 1,000 songs to choose from, there's something no matter what your vocal range-- and the menu boasts drinks and small Japanese plates to keep you fueled all night long.
12. Become SCUBA certified in Ras al Khaimah
Ras al Khaimah is home to some of the best diving spots in the UAE, and there are a number of companies that offer diving trips and equipment rentals. For novices, Adventure Divers has beginner courses, as well as other programs for more experienced divers.
13. Party like you're in Ibiza at a Blue Marlin brunch
Though it's located a bit outside of the city, indulging in an extravagant brunch at this beach-front restaurant/club is a Dubai rite of passage. Dance on tables, enjoy drinks served with sparklers, and watch the sunset on the beach-- and try to avoid a hangover the next day!
14. Take a ride on a Seabreacher
This ocean vessel has the face of a shark, the body of a jet ski, and the deep-diving capability of a submarine, and it looks incredible. Hop inside and head under the sea for a one-of-a-kind adventure, available in JBR and on The Palm.
15. Get lost wandering around Old Dubai
From the Gold Souk to the Fish Markets to the streets of Bur Dubai, this city is steeped in history-- you just have to find it.
16. Take a ride on Uber Chopper
Uber Chopper, Uber's helicopter service, is so over-the-top--and so quintessentially Dubai--that it's worth the steep price point just to say you've done it (and for the views, too, of course).
17. Climb the Stairway to Heaven in Ras al Khaimah
Not for the faint of heart (or the accident-prone), RAK's Stairway to Heaven is a notoriously difficult climb. The mountain hike follows an ancient tribal trail, and the entire route can take up to 14 hours to complete.
18. Run the Dubai Marathon
Every major city in the world has its own marathon, but the Dubai race attracts a crowd of particularly enthusiastic runners. Held annually in January, the weather is perfect for a 26.2 mile trot through the city-- but if you plan to run next year's race, you'd better get started training now!
19. Make it to the top of the wall at BOUNCE
Trampoline is now an Olympic sport, but if you're not ready to show off your skills on an international stage, head to BOUNCE Middle East, the region's largest indoor trampoline park. Practice your flips into their air-pit, and take the ultimate challenge of bouncing atop a 7-foot-high wall.
20. Restock at Barracuda in RAK
We've all faced the challenge of figuring out how to buy booze in the UAE, and though if you're on your way out, you probably have it figured out by now, a stint in Dubai wouldn't be complete with a trip to the infamous Barracuda liquor store. Rent a car (preferably an SUV), and make a day trip out of it!
21. Picnic in the wadis of Hatta
Only about an hour drive from Dubai, packing a picnic and heading out to the wadis of Hatta is the perfect way to escape the city for a while. You can enjoy your spread by the Hatta pools (and you can also take a quick dip in them to cool down), or, if al fresco isn't your style, you can enjoy lunch at the Hatta Fort Hotel, located in the town's historic center.

22. Wear a ridiculous hat to the Dubai World Cup
Since 1996, the Dubai World Cup has showcased some of the finest thoroughbred racehorses in the world, and the event has become one of the most important on the horse racing circuit. With nine races in total (eight for the thoroughbreds and one for the purebred Arabian horses), it's worth digging up your favorite fascinator to attend this classic Dubai event.
Image Source: Flickr user Jaguar MENA
23. Go night swimming at the beach
Dubai beaches are great during the day, but they're even better at night. With the lights of the city shining on the water, take a nighttime plunge at one of your favorite beaches for an experience you won't forget.
24. Tee off at Emirates Golf Club
Recognized as one of the 100 best golf courses in the world, Emirates Golf Club is worth checking out even if golf is not your sport. In addition to two pristine green courses, Emirates Golf Club has tennis and squash facilities, a first-class spa, and two restaurants, so spending a day at this club is a must-do for everyone.
25. Try the butter chicken at Ravi Restaurant
Ravi is a Dubai establishment, and their butter chicken is a big reason for their longstanding reputation. Don't expect any frills at this fast-service, casual place, but do expect one of the most memorable meals of your time in the UAE.
26. Have tea at the Burj al Arab
You've stared at the Burj al Arab a thousand times-- while walking along the beach of Mina al Salam, while sitting in traffic on Sheikh Zayed Road-- but have you seen it from the inside? Spend an afternoon having tea at the iconic landmark, so when friends and family ask you what a 7-star hotel looks like from the inside, you can finally tell them!