Dubai Parks and Resorts Official Opening Date 2016
Dubai Parks and Resorts Finally Has An Opening Date and It's Perfect!
We were introduced to the theme song earlier this week and now the official opening date for Dubai Parks and Resorts has been announced. People will finally be able to enjoy the likes of motiongate, Bollywood Studios, Legoland, Riverland and Lapita Hotel when it opens October 31, a great to to spend Halloween we think!
Spread over 25 million square feet, the 100 rides and attractions across four parks are expected to attract 7 million new visitors to Dubai.
"This has been a long-time coming and I can't say enough about how excited we are to welcome our guests to the destination to Experience Amazing.," said Raed Kajoor Al Nuaimi, CEO of Dubai Parks and Resorts.
Here's what's on offer: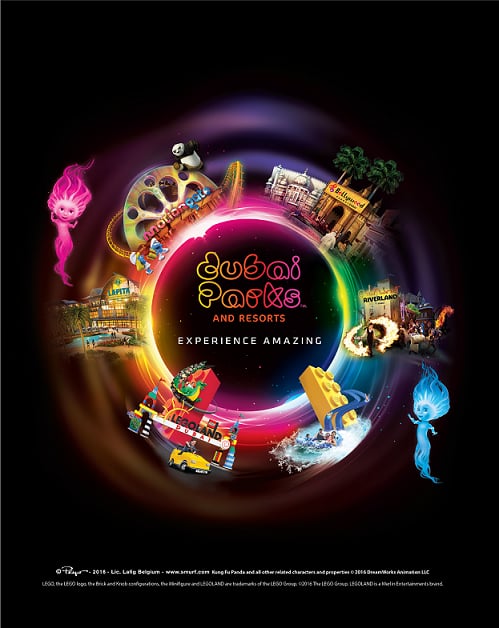 Bollywood Parks Dubai
This is the first-ever Bollywood themed park in the world, giving guests in the Middle East a taste of Indian culture. Expect blockbusters such as Don, Lagaan, Sholay, Krrish and RA.One to feature through state-of-the-art 3D and 4D systems. Visitors will also get to see a stunt show and sets based on the Dabangg, Rock On!! and Zindagi Na Milegi Na Dobara.
The park will have six themed restaurants, including Mughal-e-Azam, the fine dining restaurant; Jumbo Café, Rock On!! Restaurant, Victoria Station, Spicy Dhaba, Studio Canteen and Juhu Juice Bus (housed in a life-size replica of a Mumbai bus) plus street-style food carts.
Two hundred dancers will perform in 20 live shows across five stages for Rock On!!, Crossroads, Mumbai Express, Rangmanch and Stars on Steps.
Forget visiting the Taj Mahal, the 850-seat Rajmahal Theatre will have a Broadway-style Bollywood musical on several times a week but you'll have to get tickets separately. The Mughal-e-Azam restaurant serving royal 'shahi' cuisine prepared by culinary artists is the ideals top before heading to the theater and don't forget to stop off at one of the eight memorabilia stores and carts.
motiongate Dubai
motiongate Dubai (a combination of Sony Pictures Studios, Smurfs, DreamWorks Animation and Lionsgate) is the largest park of them all.
In the Sony Pictures Studios Zone, guests can check out the Ghostbusters dark ride, ride Black Beauty aboard The Green Hornet: High Speed Chase roller coaster or freefall from the 58m Zombieland: Blast Off tower. In Smurfs Village Zone, little ones have a choice of five rides and attractions including the world's first Smurfs-inspired roller coaster, Smurfs Village Express. Music fans also have the Step Up Dubai, All In and Backlot Beat shows to look forward to.
If the heat's getting to you, seek refuge in the indoors DreamWorks Zone which has 12 rides and attractions. This includes offerings from Shrek, Kung Fu Panda, Madagascar and How To Train Your Dragon. In the Lionsgate Zone is the world's first theme park attractions inspired by The Hunger Games; check out the roller coaster and 3D motion simulator.
LEGOLAND Dubai and LEGOLAND Water Park
Targeted at children aged 2-12, LEGOLAND Dubai and LEGOLAND Waterpark has more than 40 interactive rides, shows and attractions, plus 15,000 LEGO model structures made from over 60 million LEGO bricks. It's broken down by six themed lands full of learning opportunities.
You can fly a plane at the LEGO City airport, steer a boat at the boating school, or earn a LEGOLAND driving license.
At Kingdoms, the dragon coaster will take you through the King's castle from medieval time.
At Imagination you can race LEGO cars and join the Master Builder Academy. Get a great view of the park in the Kid Power Towers.
Prepare to dodge water blasts in a submarine at Adventure, and roam ancient temple ruins to recover a pharaoh's stolen treasure.
Comprising 20 million LEGO bricks, Miniland features Dubai's iconic skyline and key landmarks from around the Middle East and beyond - do it for the selfies! The indoor zone includes the opportunity to Build a City.
Ever wanted to see how a LEGO is made? Factory will make one just for you and is also home to the shop which offers a full range of products.
Additionally, you can cool off in the LEGOLAND Water Park which has a lazy river, Build-A-Raft River, Joker Soaker, Twin Chasers double body slides, Splash Out featuring a 60-foot drop, and more.
Riverland Dubai
Welcome to Riverland! Experience behind the scenes of Riverland™ Dubai, a fun, themed dining and retail destination brought to you by Klaus Assmann, VP Hospitality & Retail at Dubai Parks and Resorts . #DubaiParksandResorts #RiverlandDubai أهلاً بك في ريفرلاند. عش تجربة ما خلف الكواليس في ريفرلاند دبي، الوجهة الترفيهية والممتعة لتناول الطعام والتسوق. يقدمها لك السيد كلاوس أسمان، نائب الرئيس للتجزئة والضيافة في دبي باركس آند ريزورتس.

Posted by Riverland Dubai on Thursday, July 21, 2016
You can enjoy this themed dining, retail and entertainment destination without a ticket to any of the parks is open to everyone with or without a ticket to the adjoining parks, and it has four themed zones. Experience 1950s America at The Boardwalk, medieval France at The French Village, colonial India at India Gate and the 19th century-themed Peninsula. There are more than 50 shops and restaurants plus street performances, festivals and concerts will take place.
Lapita Hotel
Lapita, a Sneak Peek

Are you curious enough to be one of the first to take a look around? Filmed earlier this year, take a sneak peek at what Lapita has to offer from October 2016. #BondedByCuriosity #ExperienceLapita #ExactlyLikeNothingElse

Posted by Lapita Hotel on Wednesday, August 3, 2016
The Polynesian-themed family hotel has 501 rooms and three villas and is part of the Marriott Autograph® Collection. Those staying there can enjoy adventure playgrounds, kids/teen and adult fun pools, plus child-friendly restaurants and a spa.