Dubai Ruler Awards Arab Hopemakers AED1M For Charity Work
Dubai's Ruler Gave 5 Arabs AED1M For Their Charitable Efforts and the Stories Will Make You Weep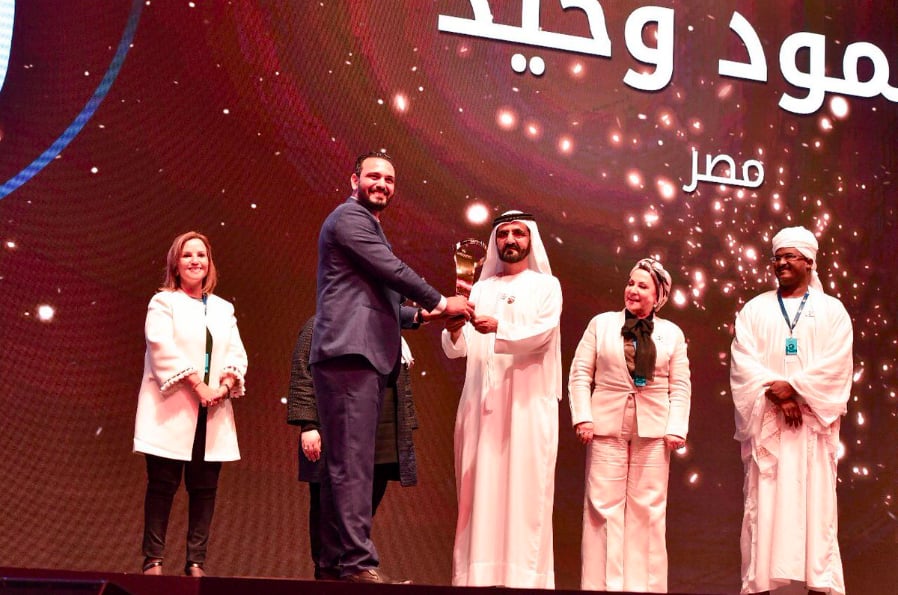 Five Arab Hopemakers finalists came out with a cool AED1million each (out of the 87,000 participants from 15 Arab countries, and 20 others) after Dubai Ruler, Sheikh Mohammed bin Rashid Al Maktoum, picked them out as great examples of people from region who are doing their bit to make the world a better place.
And when you hear about their stories, you'll understand why he has launched the Arab Hope Makers Academy, to support philanthropist projects, off the back of it. With a budget of AED50 million, it's the biggest of its kind, reports Gulf News, and if these guys can do their part even before the Academy existed, imagine what's possible now.
#صناع_الأمل.. نوال مصطفى من مصر، امتهنت الأمل قبل 30 عاماً.. يومها دخلت السجن مدفوعة بفضول الصحفية ومنذ تلك اللحظة أصبح السجن جزءاً من حياتها.@ArabHopeMakers pic.twitter.com/shdWelbyPE

— Dubai Media Office (@DXBMediaOffice) May 14, 2018
Nawal Mustafa was a young reporter doing a report on a case in one of the female prisons in Egypt, when her life changed. She said that when she walked into the prison, she was surprised to see children playing in the grass. Turns out they were born behind bars. Some mothers were locked up for unpaid checks and even when their debts were paid off, they were stigmatized in their societies for having no work experience. It meant they struggled to find jobs.
For the next 25 years, Mustafa would be their champion. She created Children of Female Prisoners Association, establishing more than 500 projects in prisons and opening a workshop where released prisoners could make artisanal things for money. She even got housing for those who were kicked out of their communities and villages, employed more than 1,000 prisoners and has helped over 2,500 families.
#صناع_الأمل.. منال المسلم من الكويت، أسست فريق "دانة التطوعي" لمساعدة اللاجئين السوريين، ونظمت 5 حملات إنسانية استفاد منها 340 ألف شخص@ArabHopeMakers pic.twitter.com/LixphqhyXP

— Dubai Media Office (@DXBMediaOffice) May 14, 2018
Kuwaiti, Manal Musalem, was staying at her beach house when she realized her daughter had walked down to the beach and drowned. She decided to take her pain and use it to give hope to others. The creator of the Dana Volunteer Group, she helps Syrian refugees suffering from poverty, launching five campaigns that have so far helped 340,000 families. She has donated 330,000 hot meals and used 18 trucks filled with dried goods (including 400 tons of flour) to make bread, which Syrians are still using today. "Dana is gone, she's in heaven, but there are a million other Dana's here on Earth, living in hell."
#صناع_الأمل.. سهام جرجيس من العراق، ملكة جمال سابقة لم ترض الذل لأبناء شعبها فأطلقت عشرات المبادرات الانسانية وعالجت أكثر من 200 حالة مرضية خطيرة وساهمت ببناء أكثر من 15 داراً للأرامل والأيتام@ArabHopeMakers pic.twitter.com/PqJDjspwuD

— Dubai Media Office (@DXBMediaOffice) May 14, 2018
Siham Gerges from Iraq, a former beauty queen, dedicated years of her life supporting Iraqis living in dire conditions. First, she started by donating clothes and cots when she saw babies being put to sleep in tomato baskets. It turned into water coolers and tanks donated from Saudi Arabia when she realized they were drinking hot water in the desert because they had no other option. Through her humanitarian work, 103,000 people have benefited. Her work has included treating 200 people with serious health conditions, and building 15 shelters for widows and orphans. "Everything has died in Iraq except for bravery and kindness."
#صناع_الأمل.. فارس علي من السودان، كرس حياته لمحاربة الجوع في السودان، بدأ قبل 8 أعوام واليوم يساعده 1200 متطوع @ArabHopeMakers pic.twitter.com/gQtbqAQ9pm

— Dubai Media Office (@DXBMediaOffice) May 14, 2018
Fares Ali from Sudan saw a girl take the remainder of the grains left out for grazing animals and mix it with water to drink because she was hungry. That was a defining moment for him. He asked his mother and the baker next door to donate and they started out with 20 sandwiches. Eight years later and he's donating 40 million sandwiches in 123 schools. He says "They shouldn't thank me, I should thank them."
The winner was Egyptian Mahmoud Wahid, who started Ma'ana to help homeless elderly people. He said, "Their families abandoned them, so we became their families." People send him pictures of people on the street including the address of where they found them, and his organization sends a rescue team to feed them, house the and get them medical treatment – all for free.
If there has ever been a time that we've felt inspired to help, this is it.
Image Source: Twitter user DXBMediaOffice