Emirates Flight Gulf Cup 2018
Emirates Showed Support for the UAE at the Gulf Cup in the Best Way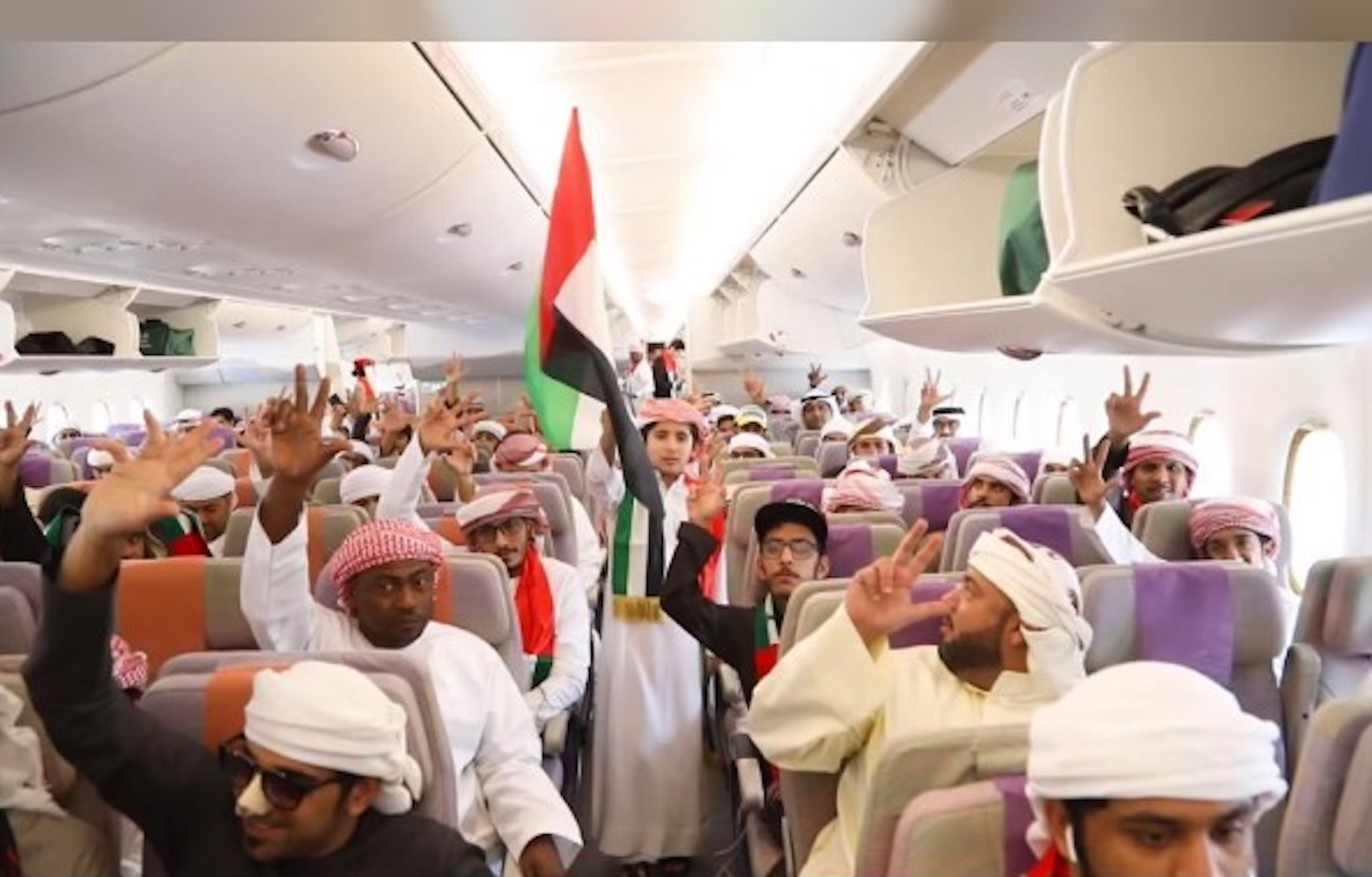 The Gulf Cup, a biennial football competition between the Gulf states, took place over the weekend at the Jaber International Stadium in Kuwait, and it was a close match.
At the end, the UAE and Oman were tied, forcing the game into overtime. Oman ultimately won the match.
Sheikh Mohammad Bin Rashid Al Maktoum, Vice-President and Prime Minister of the UAE Tweeted about the outcome: "Congratulations to the Sultanate of Oman, its leadership and people for winning the Gulf Cup 23. A wonderful performance by the Omani team," he wrote.
"We have seen elevated feelings from our brotherly Omani people. Our mutual love will further increase and flourish as time goes by. The Cup is for Oman, while the joy is for both the two brotherly people."
مبروك لسلطنة عمان قيادة وشعبا كأس الخليج ٢٣ .. أداء رائع من الشباب العُماني .. ومشاعر راقية رأيناها من اخواننا الشعب العُماني .. ومحبة متبادلة لن تزيدها الأيام الا رسوخًا.. الكأس لعمان .. والفرحة للشعبين الشقيقين.. pic.twitter.com/YmWyBytmC1

— HH Sheikh Mohammed (@HHShkMohd) January 5, 2018
Though Oman took the cup, support for the UAE team was strong, and no one showed their national pride more than Emirates Airlines.
To honor the national team, Emirates sent a special A380 to Kuwait on January 5 carrying 500 fans to cheer on the country's team. All passengers were given UAE flag scarves when they checked in.
According to WAM, "the Emirates A380, operating as EK 2555 and EK 2556, was fittingly emblazoned with the decal that makes a special tribute to late Sheikh Zayed bin Sultan Al Nahyan, in celebration of the 'Year of Zayed'."
Though the UAE didn't win the match, there was nothing but love and support between the two countries.
"Congratulations to the Omani team for winning the Gulf Cup 23. All appreciation and thanks to our team for this honorable performance and thank all the fans of our team that stood behind the white," Sheikh Hamdan Tweeted.
"On behalf of every Emirati, we extend our sincere thanks to Kuwait's Emir Shaikh Sabah Al Ahmad Al Jaber Al Sabah and to the brotherly people of Kuwait for this well-organised tournament and for their hospitality," he added.
Image Source: WAM.ae