Emirates Paints Planes For Expo 2020
Here's How Emirates Is Gearing Up For World Expo 2020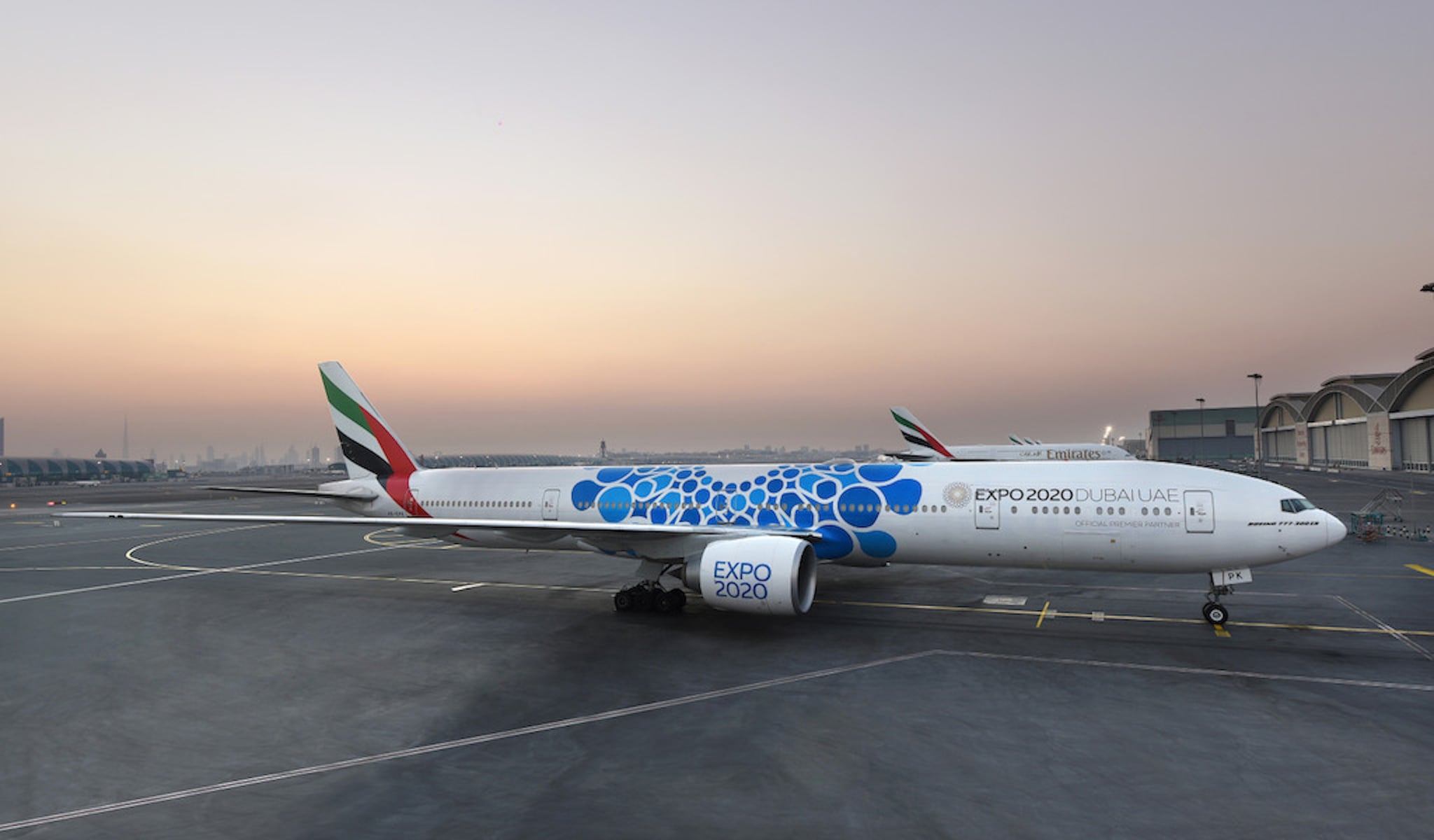 Though World Expo 2020 is still over two years away, Dubai is already gearing up to prepare for the influx of visitors...and the aftermath.
Earlier this year, the city unveiled plans for how they will use the expo site after it's all over, and videos prove that it's certainly going to change the landscape of Dubai.
Things are certainly underway on the ground, but prep is happening in the sky, too.
Dubai-based airline Emirates is getting ready to transport people to the emirate for the big event, and in preparation, they've given their fleet a makeover.
Emirates has unveiled the first aircraft to be decorate for Expo 2020, and it's going to make you want to book a flight.
The new decal was put on an Emirates Boeing 777-300ER at the Emirates Engineering hangar in Dubai, and the symbol is based on the Expo 2020 logo, which was inspired by an ancient gold ring that was found in Dubai. According to the airline, the emblem underlines Emirates' support for the vision of Expo 2020.
The decal on the side of the plane is just one of three that will be revealed over the next few months, and they are each designed to reflect one of the expo's themes: opportunity, mobility, and sustainability. Each notion is tied to the Expo's overarching theme of "Connecting Minds, Creating the Future."
His Highness Sheikh Ahmed bin Saeed Al Maktoum, Chairman and Chief Executive, Emirates Airline and Group said: "Expo 2020 Dubai will be an important platform facilitating a global exchange of ideas, collaborations and partnerships across a range of industries and domains.
"Emirates is gearing up for this landmark occasion and championing the vision of 'Connecting Minds and Creating the Future' through the new Expo 2020 decals that will be installed on our aircraft."
It's not the first time Emirates has dressed up a plane for an occasion: in the past, planes have been painted in honor of wildlife funds as well as football teams.