Harry Potter Book Release Party Memories
I Skipped My First Wedding For Harry Potter, and I'd Do It Again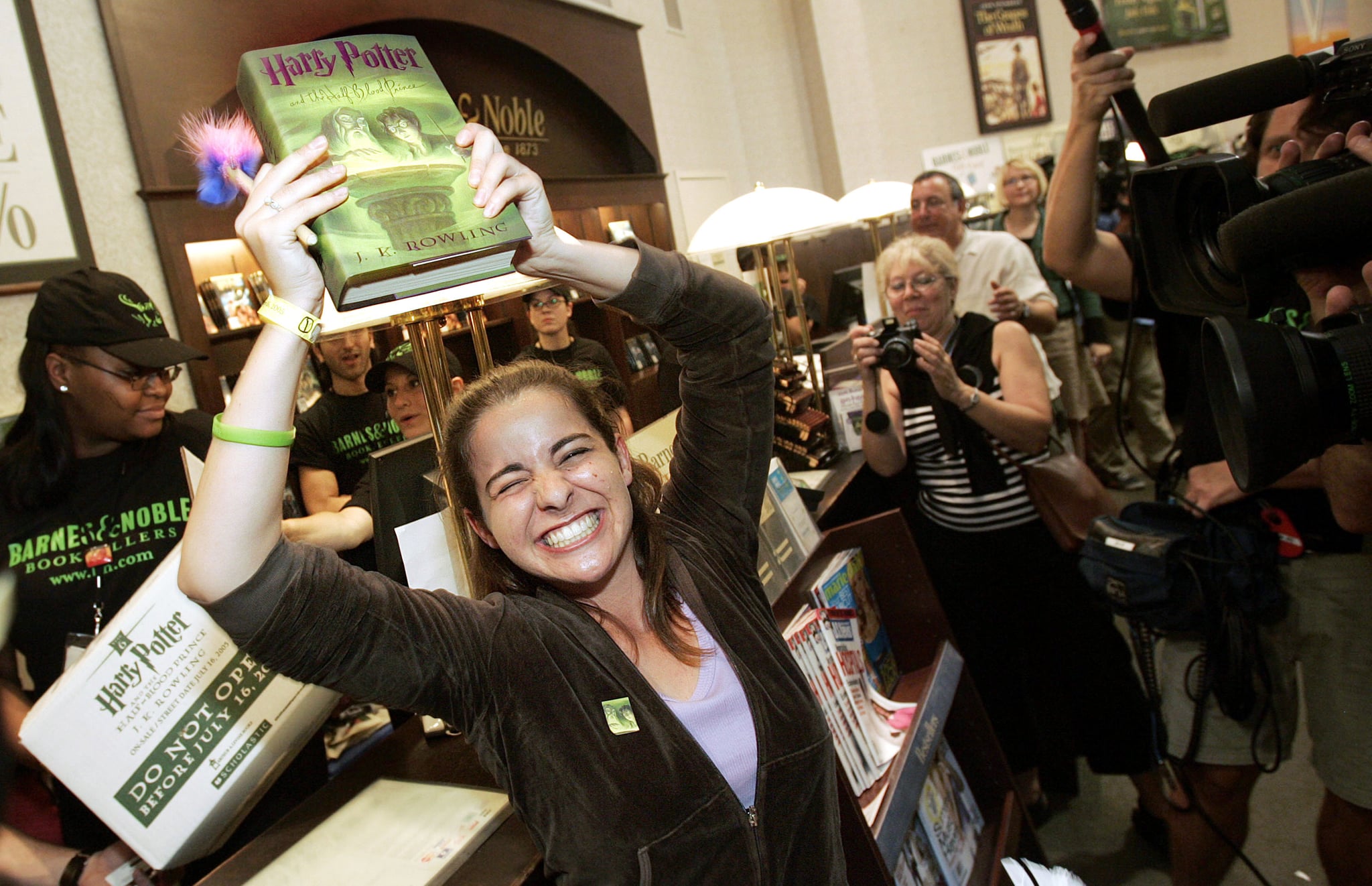 It has been 20 years since "the boy who lived" began captivating the world, and it's been just about 14 years since I risked my relationship with my entire family to get my Hogwarts fix. And looking back, it has showed me that J.K. Rowling's Harry Potter series stands the test of time . . . even when love doesn't.
OK, let's back up. Way back in the year 2001, around the same time that I picked up my first Harry Potter book, one of my aunts was falling head over heels for a great new guy. They were eventually engaged, and by the time their wedding rolled around, I'd read my way through the first four books several times and was jonesing for another in the way that only a true addict can. Luckily for me, Harry Potter and the Order of the Phoenix was slated to hit bookstores during the Summer of 2003. The only problem? Its release date was the same night as my aunt's nuptials, which just so happened to be my very first wedding.
Being at a midnight book release party wasn't simply a desire; it was a desperate need.
As a diehard Potterhead, there was no question about it: I had to be at Barnes & Noble at midnight to get my hands on a copy. How else would I know what became of Harry after witnessing the brutal murder of Cedric Diggory? What havoc had the newly returned Lord Voldemort wreaked on the wizarding world in the years since Harry Potter and the Goblet of Fire had concluded? Being at a midnight book release party for the fifth installment wasn't simply a desire; it was a desperate need.
Of course, try explaining the desperate need for a dose of wizardry and witchcraft to your conservative Catholic family.
On the eight-hour drive to the wedding, I fought extreme reading-induced motion sickness by popping Dramamine like Bertie Bott's beans, poring over my dog-eared copy of the fourth book yet another time. When we arrived at the hotel, I fell asleep by the light of my portable mini-TV as VHS copies of the first and second Harry Potter films played for the millionth time. By the time the wedding rolled around, I was more set on achieving my goal that night than Harry after a dose of top-shelf felix felicis.
Imagine my joy when I spotted a Barnes & Noble location mere blocks from the wedding reception site! Sure, some people had been lined up outside the bookstore — donning full Hogwarts robes despite the June southern California heat, naturally — for countless hours, but I could probably crash the party, right?
Though it was my very first wedding and I was curious about the entire experience, I hatched a plan with an older extended cousin (and fellow Potterhead): while the rest of our family was basking in the light of my aunt's love, we would sneak out of the celebration, change out of our formalwear, slip into some Harry Potter attire, and fight our way into Barnes & Noble in plenty of time for the midnight release.
As the time drew near, the wedding ceremony came and went. We traveled with the rest of our loved ones to the reception site, and upon glimpsing the Barnes & Noble nearby, hatched our plan into action. We pulled an Irish goodbye (something Seamus Finnigan would likely approve of) before dinner was even served and booked it the few blocks to our real festivities: the book launch party.
"Not all love lasts . . . but Harry Potter is forever."
Surrounded by Dumbledore cosplayers sporting real tropical birds on their shoulders and more Hogwarts students than could fill Platform 9 and 3/4, my cousin and I knew that we were running the risk of seriously offending our aunt, new uncle, and the grandparents who were throwing the wedding. But when we managed to get our hands on a single copy of the book, it was all worthwhile — we were home, back at Hogwarts, surrounded by a different sort of family.
It turns out that our presence wasn't missed at the lavish reception, though every so often my Harry-Potter-based absence is brought up as a funny memory. (Though now that I'm planning my own wedding, I certainly hope that my aunt didn't pay per head for the meal! The cost of a wedding is no joke!) It's easy to laugh about the fact that I ditched my aunt's big day for Dolores Umbridge.
But in the many years since I skipped my first wedding for a book, I've learned that not all love lasts . . . but Harry Potter is forever. If two decades of the magical series have proven anything, it's that Hogwarts will always be there to welcome me home, "until the very end."