Interview With Jewelry Designer Amaya Jones
Jewelry Designer Amaya Jones Talks Arab Identity and The Desert's Role in Her Latest Collection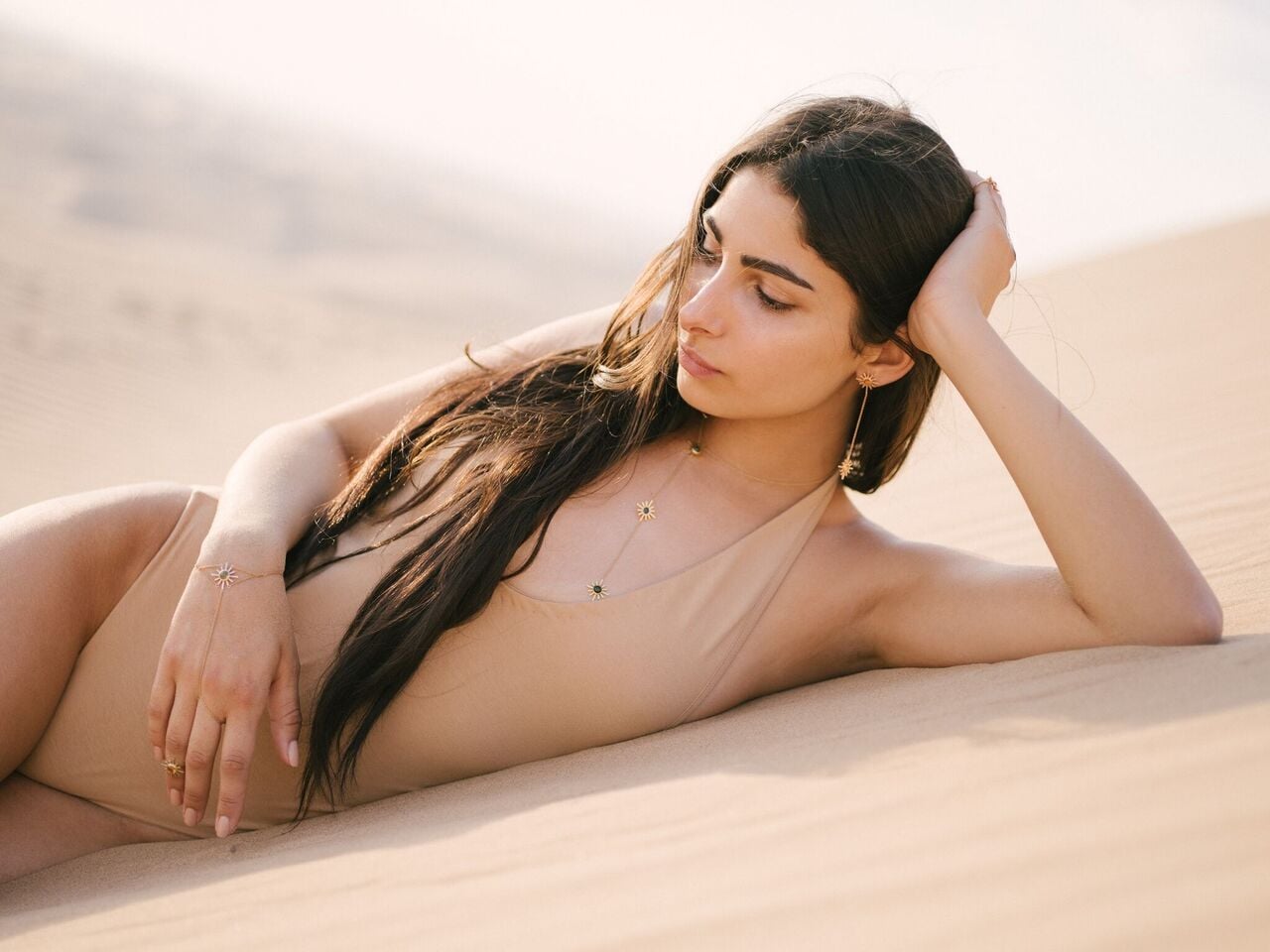 Born to a Saudi Arabian mother and an English father, 25-year-old Amaya Jones was has been creating art her entire life. After earning a degree in Fine Arts from Tufts University and working in galleries, Amaya began to create her own line of jewelry-- but these pieces are anything but typical. Read on to learn about Amaya's inspiration, the materials she uses in her work, and how she's merging the worlds of design and holistic healing through her art.
How much of your Arab identity ties into your work?
I am an Arab woman, but I am also a multinational citizen of the world. I am Saudi Arabian/Armenian/English. I've lived in London, the United States and I have traveled across continents. My identity is a map of the different countries and cultures that have become a part of me in their own special ways. My diverse inheritance frees me as an artist. I have pride for and inspiration from America, Saudi, and Europe. Most importantly, I approach the world with an open mind.
How about the landscape of the Middle East, and the natural beauty of the region? How does that play into your art?
I am a creature of the desert. I have Arabian roots, but my upbringing was in the deserts of Tucson. I have visited and connected with the beauty and drama of middle eastern landscapes, from the oceans to the desert, But I spent 8 years of my life living in the Sonoran desert of Tucson and that has the greatest impact on my artwork. There is peacefulness in the desert. Time stands still. I love the neutrality and depth of the landscape. My campaign video is an ode to those deserts.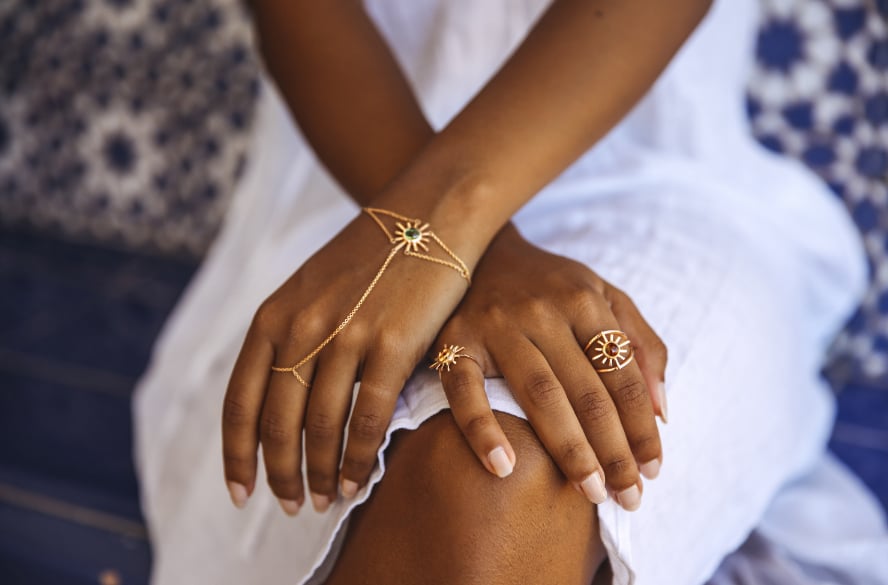 Can you talk a bit about the inspiration behind your most recent collection?
Growing up in Tucson, Arizona, native culture had a strong influence on me. I love the simplicity and strength of the lines in Native Art. I wanted to create a tribute to the land and culture that nurtured me. I was especially inspired by the role of nature in their story telling tradition. My most recent collection is inspired by the Native Symbol for the sun: the giver of life, great bearer of light, and the facilitator of growth and abundance. The geometric rays of the sun represent the cardinal directions, North, South, East, and West. I want my jewelry to inspire others as I was inspired, by standing for the simplicity and strength of nature's truth and beauty.
What materials do you use, and why do you use them?
I use stones that heal. Each piece is handmade with love in Los Angeles, and the stones irregularities are purposefully untouched to ensure that each piece is unique. In particular, Colorful tourmaline gemstones embellish my jewelry. This powerful stone is known to change color in different forms of light. There are no two tourmalines of the same exact color. These magical stones protect who ever wears them. Tourmaline emits negative ions that aid in the healing and detoxification of the body. Tourmaline relieves stress, increases mental alertness, improves circulation and strengthens the immune system. Tourmaline's electrical charge makes it one of the only minerals that can emit heat. My jewelry, just like the sun, radiates with warmth and protection.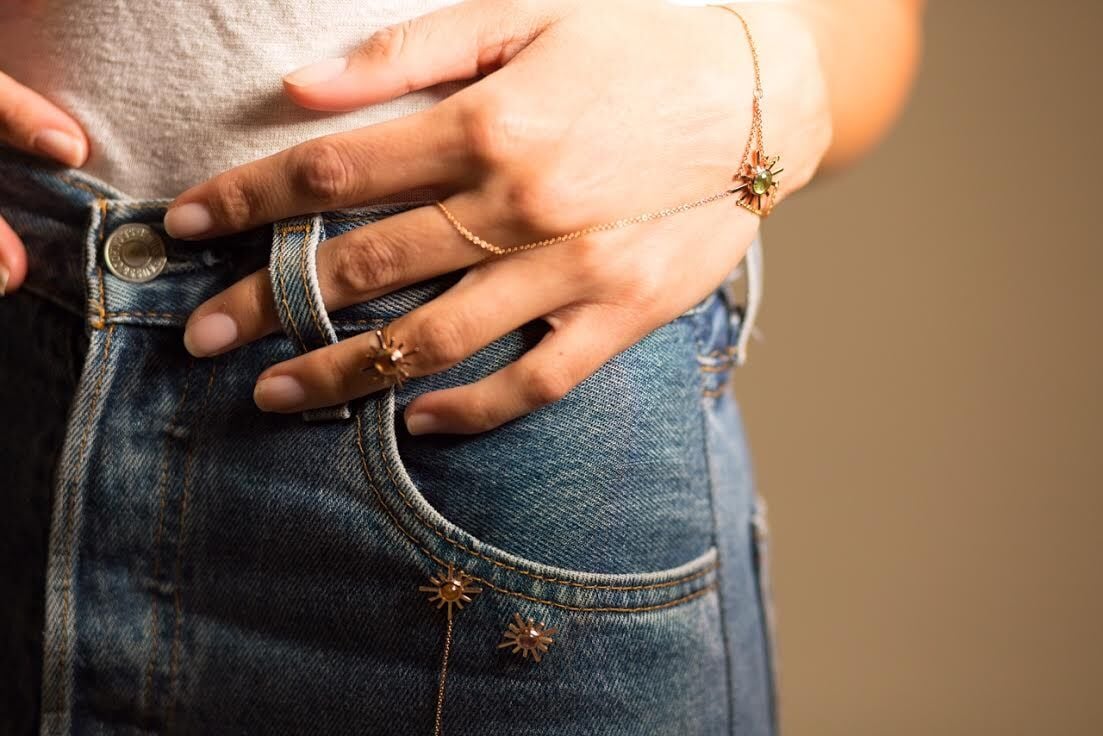 What does being an Arab woman mean to you?
My connection to my family and the importance of spending time with them is a very middle eastern trait. I question my Arab female identity, I wonder to what degree I purely identify as an Arab female, and what part of me is American, or English, or Armenian or just Arizonian. But maybe that is a typically Arab response! In our global community of 2017, being an Arab woman has never been less insular or homogenous. I'm so proud and inspired by the Saudi women I know who are pursuing creative paths and following their dreams. They are an inspiration to the generations of women that will follow! They show us that women can achieve anything they put their hearts and minds towards!