Little Girl Takes a Snack Break on Her Run
This 8-Year-Old Girl is All of us on a Run, And The Internet's Response Was Perfect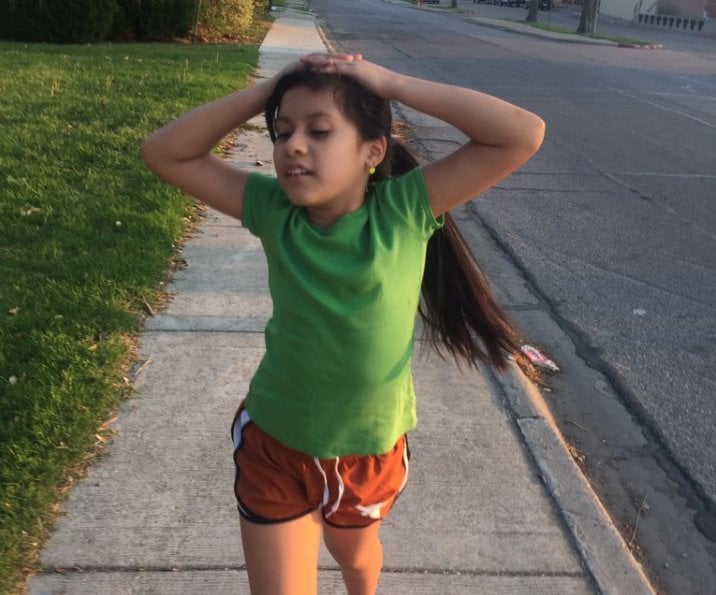 An 8-year-old girl from Texas has the Internet buzzing after she did exactly what we all wish we could do while out on a run: take a break for a snack.
Allyson Baires saw that her 17-year-old cousin Briseyda Ponce, with whom she lives, was about to head out on a run, and she asked to join. Briseyda said sure, but asked why. Allyson revealed that some of the kids at her school had called her fat--including the boy she has a crush on, Hector.
"I [explained] to her how beauty isn't physical, and if she wants to work out or run it has to because she wants to be healthy, not because of others' opinions about her body," Briseyda told Buzzfeed. "We [laughed] it off."
They went on the run anyway, but a few minutes in, Allyson decided she was over it, and stopped running. When Briseyda turned around, Allyson was munching on a rice krispie treat. She captured the moment, posted it to Twitter, and quickly went viral.
The girls in her class & her crush Hector called her fat so she told me to take her on my run 😭 but mid run she pulls out a snack 💀 pic.twitter.com/S94Egx15jG

— Briseyda (@briseydahh) March 23, 2017
The Internet quickly responded, and put Allyson's classmates (and especially Hector) in their place.
@elizabethyesong @briseydahh HE BOUTTA BE THE ONE GOING IN A RUN- FROM THESE HANDS.

— real fake (@nikoleberryy) March 24, 2017
@briseydahh hector where you at 😤 pic.twitter.com/rX6FFXz7Si

— #NOTMYRODRICK Astrid (@tweetingmongeau) March 25, 2017
Image Source: Twitter user briseydahh