Muslim Girls Making Change Poetry Group
Watch This All-Girl Muslim Poetry Group Absolutely Slay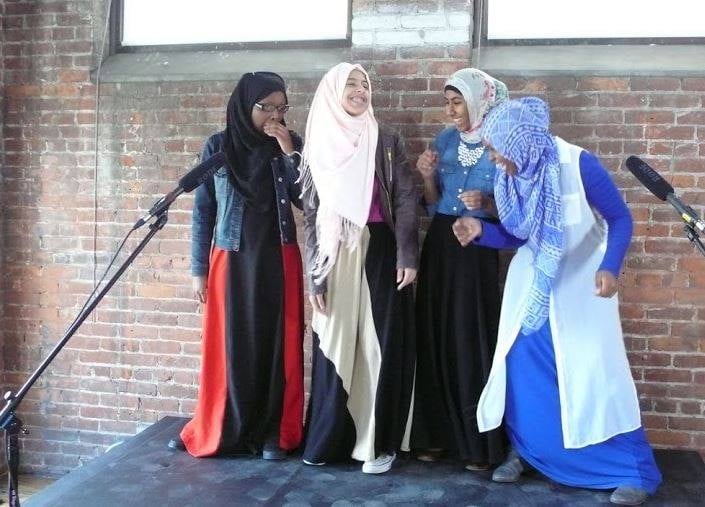 Muslim Girls Making Change is the all-girl poetry group you never knew you needed in your life.
Vermont-based teenagers Balkisa, Hawa, Lena, and Kiran are four Muslim girls on a mission: to change the ways people see and think about Muslims-- and particularly Muslim women-- in the US. And they're using poetry to convey their message. They formed their group five months ago, and have already been generating positive press. In fact, they're so good at what they do that they were recently named as the first team in over a decade to represent Vermont in the Brave New Voices International Youth Poetry Festival in Washington, D.C. later this month.
Kirin Waqar, 16, whose parents are from Pakistan spoke about the group to the Associated Press. "We write poems about things that we can't keep inside of us anymore, so things that we care so much about," she said.
Their poems have titles such as American Dream and Chameleon. Lyrics are powerful. "We will never be white only pretend to be. We hide behind big mirrors and lies unsure of who we really are. African American or the other way around? Pakistani first, American?," they say in one poem. "Tears roll off our face. The droplets form a perfectly curved rainbow. Red, orange, yellow, green, blue, purple, which one am I? Which one are we. Maybe we're a mix. Maybe we are many. A combination of colors ... Maybe we are one."
Another member of the group, 15-year-old Lena Ginawi who is Egyptian-Yemeni explains the inspiration behind their art. "Whenever you hear the word terrorism I don't want the first thing you think about is Islam, because Islam to me is a religion of peace. Anything that these terrorists do has nothing to do with Islam".
Watch their introduction video below, and get ready to fan-girl over these amazing teens.