New Yorkers Protest Trump's Muslim Ban in NYC
Thousands of New Yorkers March in 'Emergency Rally' to Protest Trump's Muslim Ban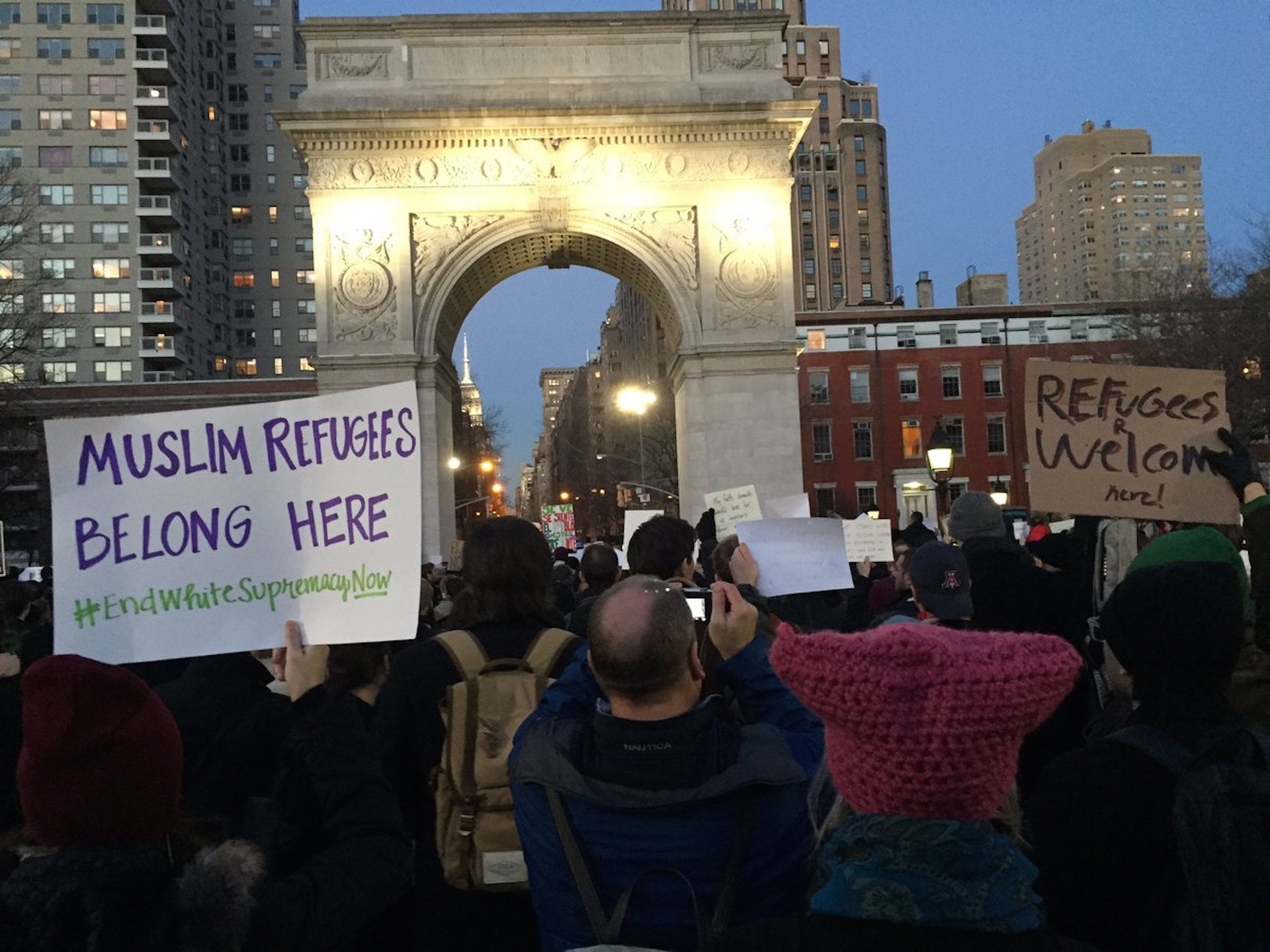 Just hours after newly-sworn-in President Trump announced that he would be placing a ban on immigrants from seven Muslim-majority countries from entering the U.S., thousands of protesters headed to New York's Washington Square Park to protest his actions.
Protestors pack Washington Square Park to denounce anticipated Muslim ban. pic.twitter.com/Xc5mS07KQ6

— Sebastian Murdock (@SebastianMurdoc) January 25, 2017
The last-minute rally was organized by the New York chapter of the Council on American-Islamic Relations, and counted a number of local politicians and activists as participants. Trump's proposed executive order would prohibit people from Iraq, Libya, Somalia, Sudan, Syria, Yemen, and Iran from immigrating to the U.S., and would also restrict visitors from those nations from entering the country.
"Trump has attacked basically every part of my identity," said 22-year-old student Sumaya Awad, speaking to The Huffington Post. "I'm a Muslim, I'm a woman, I'm a Palestinian immigrant, and the idea of living through four years, or possibly eight years of this, is terrifying."
Today, 5 pm, Washington Square Park. Emergency Rall against Muslim Travel Ban#nobannowall
https://t.co/H4TlVUJAJ6 pic.twitter.com/rVXUO3Jiba

— beth miller (@bethavemiller) January 25, 2017
The executive order, which Trump is expected to sign in the coming days, would also block Syrian refugees from entering the U.S.
At the protest, Kavita Pawria-Sanchez, the assistant commissioner of NYC mayor Bill de Blasio's office of immigrant affairs spoke to the crowd: "We are so proud to stand beside you in this fight for over 3 million immigrant New Yorkers. We know that New York is the city that has perhaps the largest Muslim population in the entire country," she said. "What happened today was an absolute disgrace to our values as a city, community and country."
The crowd is overflowing from Washington Square Park at the emergency rally for Muslims and immigrants pic.twitter.com/Mwmgd1sTiI

— Alanna Vagianos (@AlannaVagianos) January 25, 2017
Trump's plan also includes cutting federal funding to "sanctuary cities" like New York, which refuse to detain and arrest illegal immigrants living there.
As the crowd in Washington Square Park marched north toward Union Square chanting "resist," Afaf Nasher, the executive director of Council on American-Islamic Relations New York spoke: "We know and we feel the plight of those that are most vulnerable, and we are here today to let everyone know that our solidarity, our strength, lies in our diversity, and our mission is to make sure that everyone receives justice and that this is truly an indivisible nation.