Queen Elizabeth II Cruise Ship Dubai Pictures
The Famous QEII Has Turned Into a Floating Hotel in Dubai and You Need to See What it Looks Like Now
It took around 2.7 million man-hours to turn this historical cruise ship into a floating hotel and dining destination, but finally the 50-year-old Queen Elizabeth II welcomed guests onboard in Dubai Wednesday.
The transformed ship-slash-hotel has 13 decks with 13 restaurants and lounges. But history lovers do not fear: The interior will still include period furniture (including the ship's original porthole windows), paintings and famous memorabilia preserved over the years.
The restaurants are also named after the ship's original ones, including; The Chart Room (a historical lounge); The Golden Lion (a traditional pub based on possibly the oldest pub in Dubai, offering traditional English fare); The Pavilion (family restaurant with a terrace and sweeping views of the marina); and Lido (all day dining). There's also the Grand Lounge (cabaret style); Yacht Club (serving a stylish take on the traditional afternoon tea); and the hotel's signature restaurant – The Queen's Grill, which is not a grill restaurant, but rather a posh, British, fine-dining restaurant with a tasting menu and dishes that date back from 1969.
Oh, and hey – if you want a little history with your dinner, visit the QE Exhibition – an interactive museum that showcases the ship as it was in the 60s, located opposite the ship in Mina Rashid.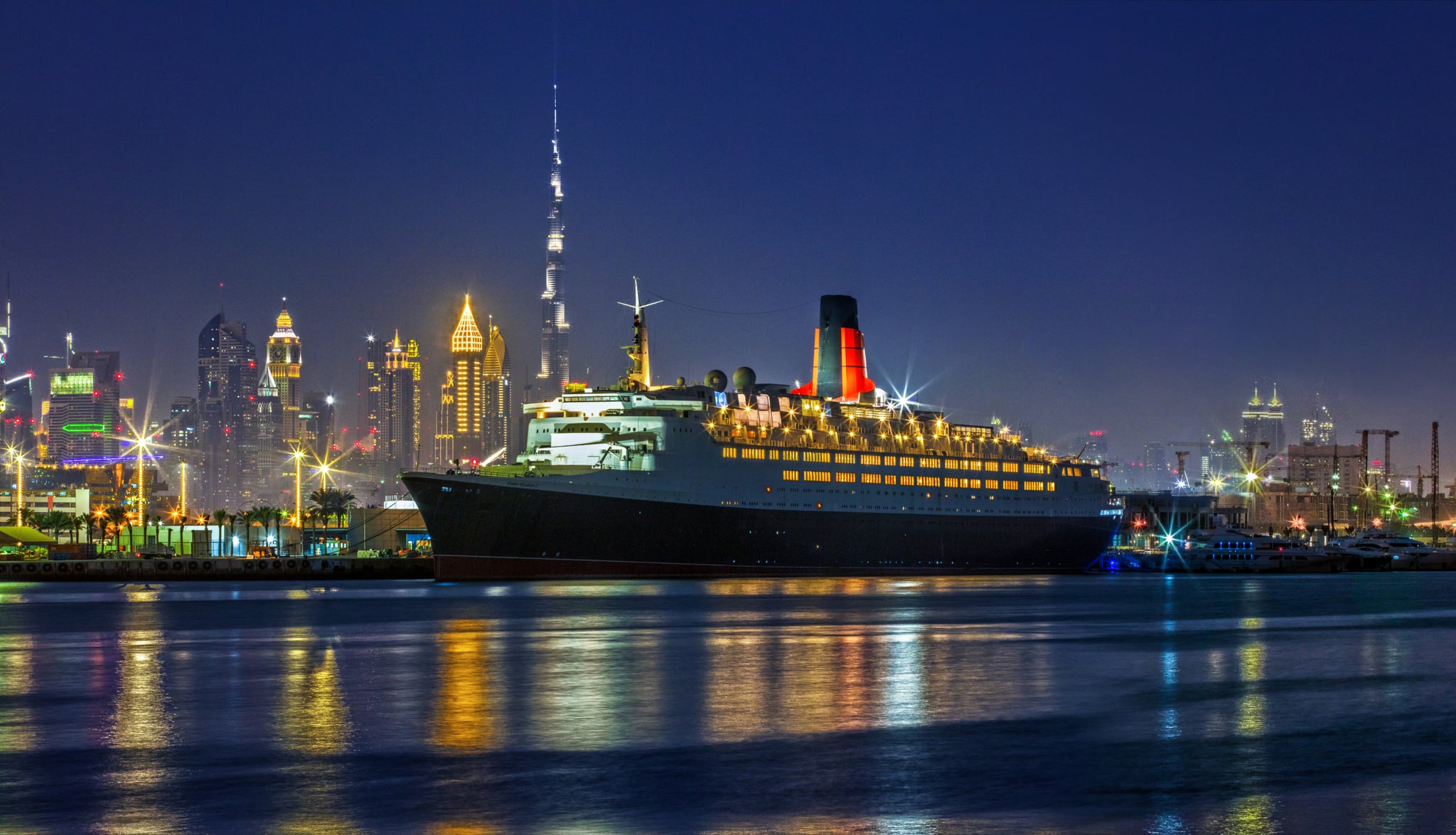 And let's say, this ship has history: Queen Elizabeth herself named the ship after her mother in 1967 in front of 30,000 people. In the span of the ship's lifetime, it has completed 1,400 trips, sailed more than 6 million nautical miles, completed 25 tours around the world, and played host to almost 2.5 million people before making Dubai her final resting place.
We get to enjoy QE II's rich history but now with WiFi and a host of modern amenities. Sounds like a win-win to us.
But just to give you a heads up - expect standard cruise ship accommodation sizes, which means, relatively small rooms. From as small as 17m2 (the standard) to 76m2 for Royal Suites, it's going to be cozy quarters. But if you want to live like royalty, splurge on one of them, named after the Queen's Mother and Grandmother, where you'll get a private veranda, conservatory, dining room (in case you can't be bothered to get dressed and hit one of the 13 dining venues available) and, of course, a super luxurious bedroom – fit for a Queen, naturally.
The Queen Elizabeth II will be fully operational starting October 2018. Can not wait.