Queen Rania Rohingya Refugees in Bangladesh
Another Arab Royal Is Supporting Rohingya Refugees in Bangladesh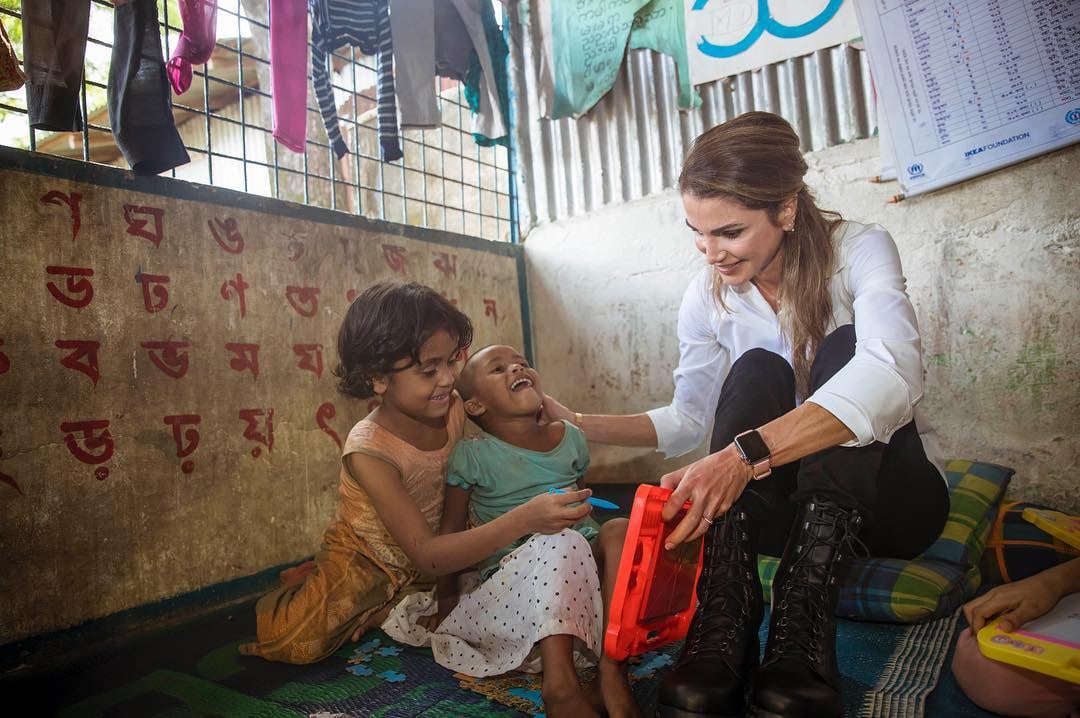 Earlier this week, the UAE's Princess Haya posted a photo to her Instagram account calling on "global powers" to step up and offer more aid and support to the hundred of thousands of Rohingya refugees that have fled Myanmar over the past few months.
The UAE has already been helping out. In addition to making public statements to bring attention to the cause, Sheikh Mohammed bin Rashid offered his private plane to transfer food and other relief items to over 600,000 refugees in Bangladesh.
It's not just the UAE royals who are shedding light on this important cause, though. Jordan's Queen Rania has also taken to her Instagram account to highlight the crisis, sharing a photo of her visit with Rohingya refugee children in Bangladesh. Like Princess Haya and Sheikh Mo, Queen Rania is using her position to call upon the international community to intervene.
"Almost 600,000 Rohingya Muslims have fled Myanmar to Bangladesh in the past two months. For years, the Rohingya people in Myanmar have been victims of discrimination, injustice, and oppression," she wrote. "Sadly, this systematic persecution of a religious minority is taking place in full view of the world. The international community must put an end to their suffering and safeguard their rights #Refugees #Crisis #Myanmar #Bangladesh."
In a follow up post, she spoke of the stories she heard while visiting with refugees, calling them "harrowing" and "heartbreaking."
The Arab royals are great examples of people in power using their voice and their platform to raise attention for a major international crisis!