Sheikh Hamdan on International Volunteer Day
Here's How Sheikh Hamdan Helped Out on International Volunteer Day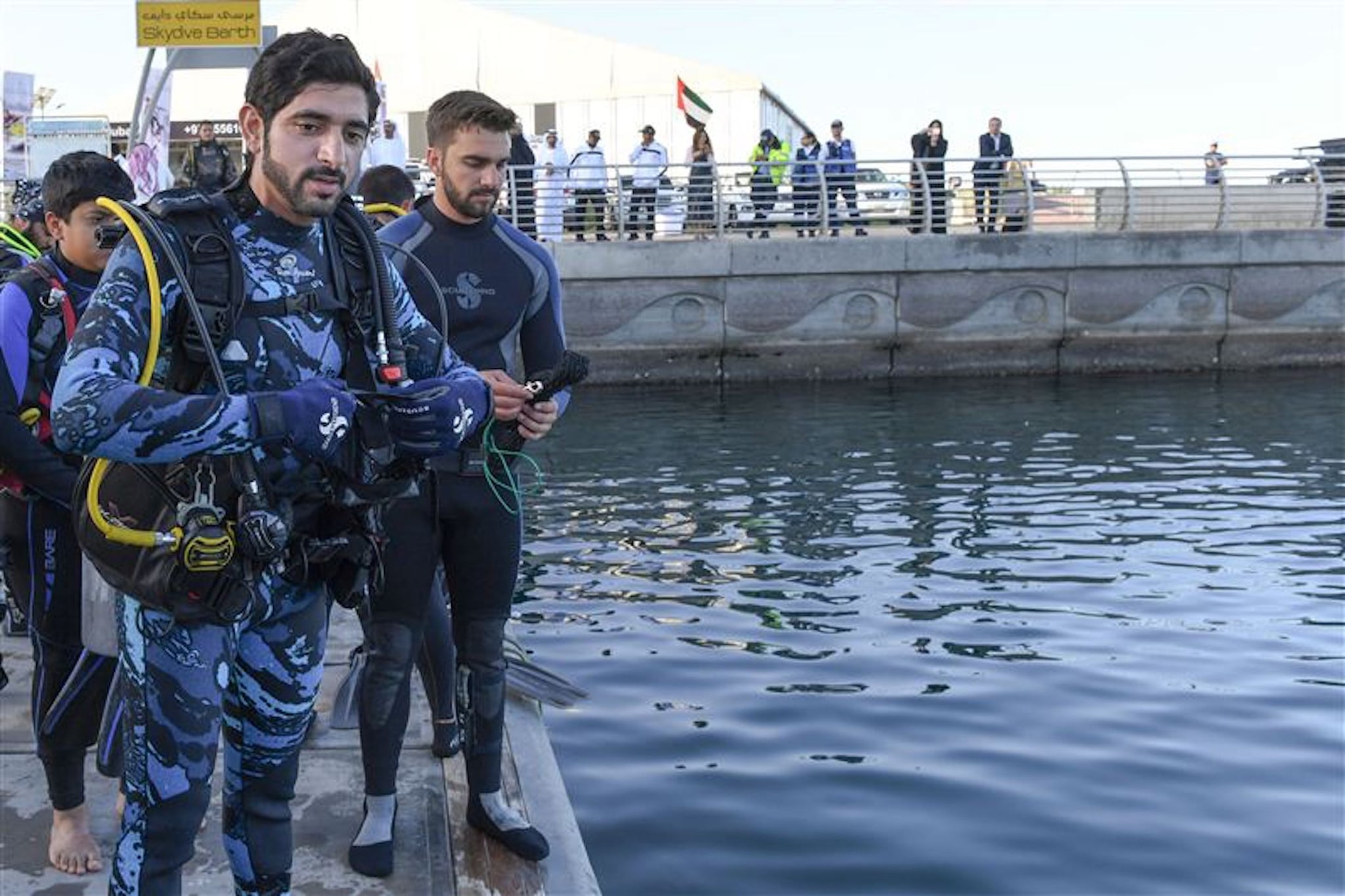 Sheikh Mohammad bin Rashid al Maktoum is all about giving back. Whether he's donating aid items to Rohingya refugees in Bangladesh or helping victims of this summer's hurricanes in the US, Sheikh Mo is quick to step up when help is needed-- both at home and abroad.
Now, on International Volunteer Day, Sheikh Mo's son, Sheikh Hamdan, is proving that the apple doesn't fall far from the tree.
.@HamdanMohammed volunteers in #Dubai marine-clean up dive #International_Volunteer_Day
https://t.co/pRe3nrIcA5 pic.twitter.com/hDUU32OjbD

— Dubai Media Office (@DXBMediaOffice) December 6, 2017
The occasion, which falls annually on December 5, is, according to the UN, a unique chance for volunteers and organizations to celebrate their efforts, to share their values, and to promote their work among their communities, non-governmental organizations (NGOs), United Nations agencies, government authorities and the private sector."
To add his part, Sheikh Hamdan combined one of his favorite activities-- a water sport-- with the chance to do good, joining 25 divers of different ages and nationalities to clean up Dubai's marine environment.
"I was delighted to have received the suggestion of diving and cleaning the marine environment from the Emirati child Rashed Marwan AlMarri and Indian child Hanan Mohammed Ali – both who are not older than 12 years old. This is a testament to our children's awareness of the importance of preserving marine environment and ensuring that future generations get to enjoy a healthy and clean environment in the years to come," he said.
Dubai, I heard you. Thank you for your incredible contributions. After careful consideration, I have chosen to dedicate my day to cleaning the sea. Making a difference to the environment starts with the small changes we make in our everyday lives. #International_Volunteer_Day pic.twitter.com/FBR9z9Rpj8

— Hamdan bin Mohammed (@HamdanMohammed) December 5, 2017
"Our city is our home. We are all responsible for its cleanliness and for sustaining its resources," Dubai's Crown Prince added. "This marks the first implementation of the thousands of ideas that we've received from the crowdsourcing platform launched last week. The activity conducted today not only raises awareness about the importance of preserving the environment but also effectively marries our vision for environmental volunteering and the country's efforts in this space."
Sheikh Hamdan stressed that volunteer work is integral to the country's success not only on International Volunteer day, but every day: "Volunteer work is one of the most important means for advancement in society, and its success depends on various factors - most importantly, a driven population that believes in volunteer work and its positive impact on society," he said.
The Year of Giving is almost over, but that doesn't mean it's time to stop doing our part!