Sheikh Mo is One of Instagram's Most Followed World Leaders
These Are The Most Followed World Leaders on Instagram, And of Course Sheikh Mo is One of Them
In the UAE, HH Sheikh Mohammed bin Rashid Al Maktoum, Vice President and Prime Minister of the country, is one of the most beloved figured on Instagram. But it turns out that it's not just his country-men that love keeping up with his travels, family life, and charity work...the rest of the world does, too!
In a new study published by twiplomacy, world leaders who use social media were ranked by the size of their followings. According to the study, "The heads of state and government, as well as foreign ministers of 140 countries, currently have personal and institutional accounts on Instagram, representing 72.5 percent of all 193 United Nations (UN) member states. One-hundred-eleven heads of state and government maintain personal profiles on the platform. On February 24, 2017, the Foreign Ministry of Azerbaijan (@AzerbaijanMFA) became the latest foreign ministry to set up an official Instagram account."
With a population of nearly 1.3 billion, it's not surprising that India's Prime Minister, Narendra Modi, is the most followed world leader on Instagram, with 6.8 million followers. Closely following is US President Donald Trump with 6.3 million followers. Jordan's hugely popular Queen Rania comes in 5th on the list with 3.1 million followers, and in 8th place is Sheikh Mo, with 2.3 million followers.
See the complete list below, and check out the findings of the study right here.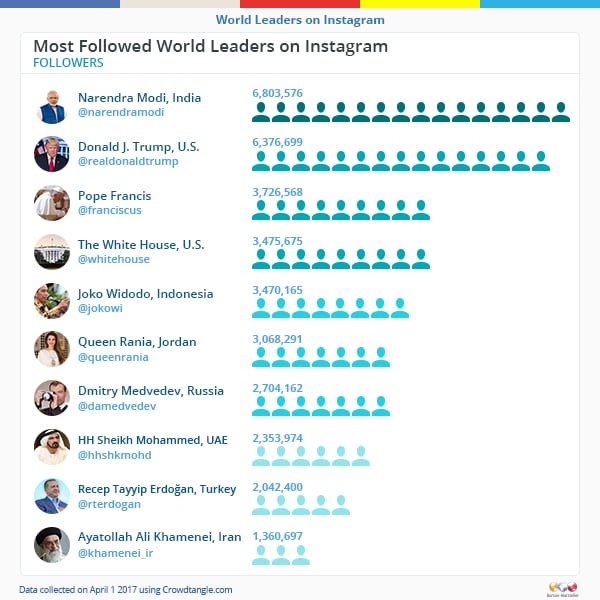 Image Source: twiplomacy