Sheikh Mo Visits Mohammed bin Rashid Space Centre
Sheikh Mo Stopped by to Congratulate These Emirati Engineers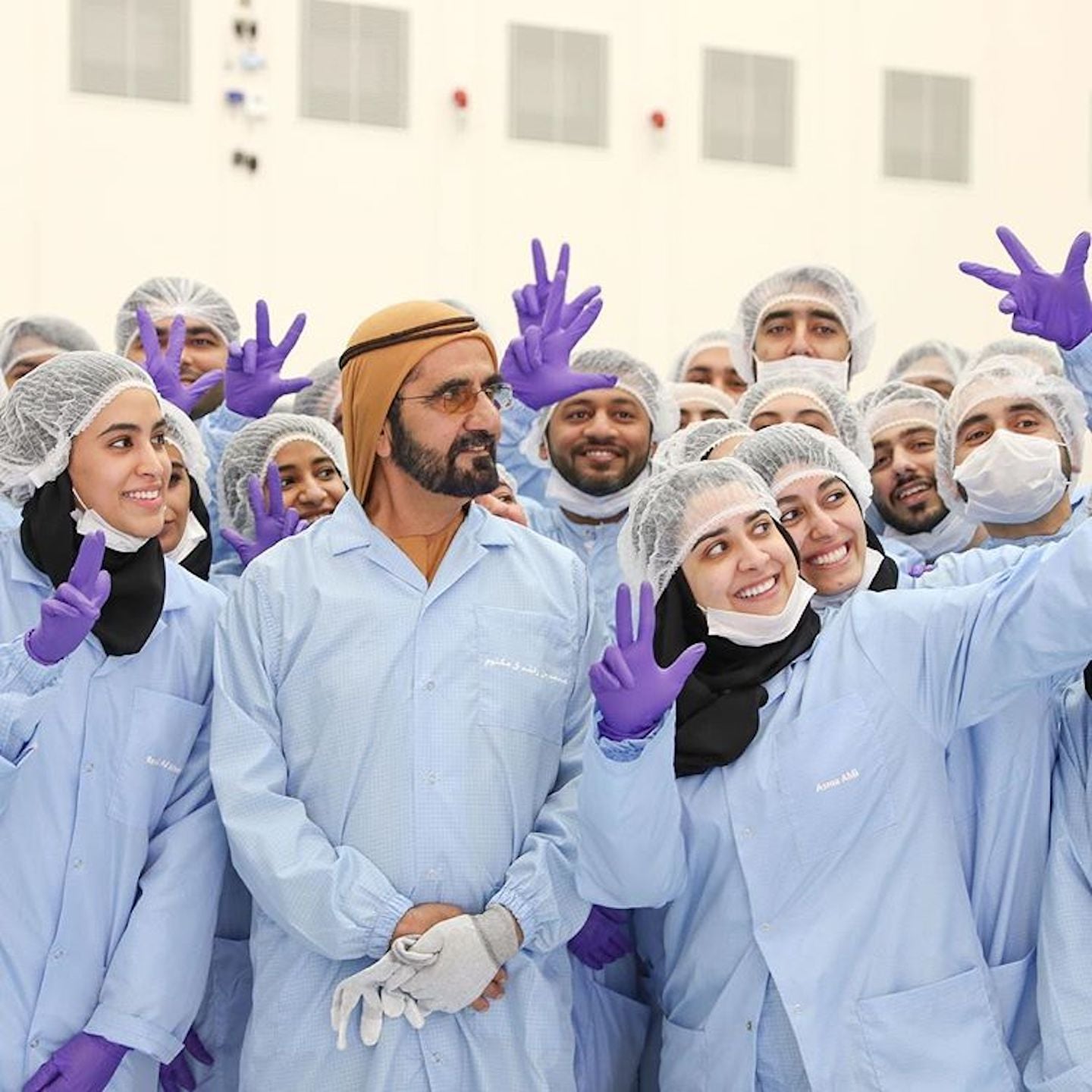 Sheikh Mohammed bin Rashid Al Maktoum, Vice President and Prime Minister of the UAE and Ruler of Dubai, took a break from his busy schedule to check up on the KhalifaSat project at the Mohammed bin Rashid Space Center (MBRSC).
The KhalifaSat is the first satellite to be fully built by Emirari engineers. Once a series of tests are completed, the satellite will be launched later this year.
"Emirati engineers are the first in the Arab world to construct a satellite without foreign assistance. This is a major achievement that signifies the high level of capabilities UAE youth have acquired in space technologies," Sheikh Mo said.
. @HHShkMohd inspects progress of KhalifaSat project pic.twitter.com/WsjMc0wWZg

— Dubai Media Office (@DXBMediaOffice) February 3, 2018
"The high level of expertise that Emirati scientists and engineers have developed creates a strong foundation for the future scientific and technological development of the UAE," Sheikh Mo added. "We are confident that the nation's space industry sector will continue its strong growth, and emerge as a key component of our economy. The development of KhalifaSat is not only a source of pride for Emiratis and Arabs, but also a global achievement that will benefit humanity, and offer scientific solutions for development globally."
Sheikh Mo's eldest son, Sheikh Hamdan, also shared the proud moment on his Instagram account. Alongside a photo of his father smiling with a group of the engineers, he wrote, " هذه قصة الامارات .. هذه قصتنا .. This picture tells a thousand stories .. The women story in UAE .. the youth empowerment ... the scientific achievements of our country ... the happiness in their eyes .. the leadership of HH .. the fatherly look in his eyes .. the future of UAE .. all in one picture. ❤️"
Sheikh Mo also Tweeted a photo of the gathering.
قطاع التصنيع الفضائي سيواصل نموه .. وسنواصل دعمه .. ووجهنا بتصنيع أقمار صناعية بدقة أعلى .. شبابنا أثبتوا قدرة وكفاءة ورجولة في ميدان التصنيع الفضائي .. وسيشكلون مع زملائهم من العلماء والباحثين نواة لمستقبل علمي عربي راسخ pic.twitter.com/6YbeboPrnS

— HH Sheikh Mohammed (@HHShkMohd) February 3, 2018
Once completed, the satellite will be sent to Japan and launched from there.
According to Khaleej Times, "when placed into a Low Earth Orbit of approximately 613km, the satellite will proceed to capture detailed imagery capable of competing with the highest industry standards. The images beamed back to earth by KhalifaSat will be among the most detailed commercially available, with a GSD of 0.7m Panchromatic, and 2.98m GSD in four multispectral bands."