Sheikh Mohammad Bin Zayed Al Nahyan and Donald Trump
Here's How Donald Trump Welcomed Abu Dhabi's Crown Prince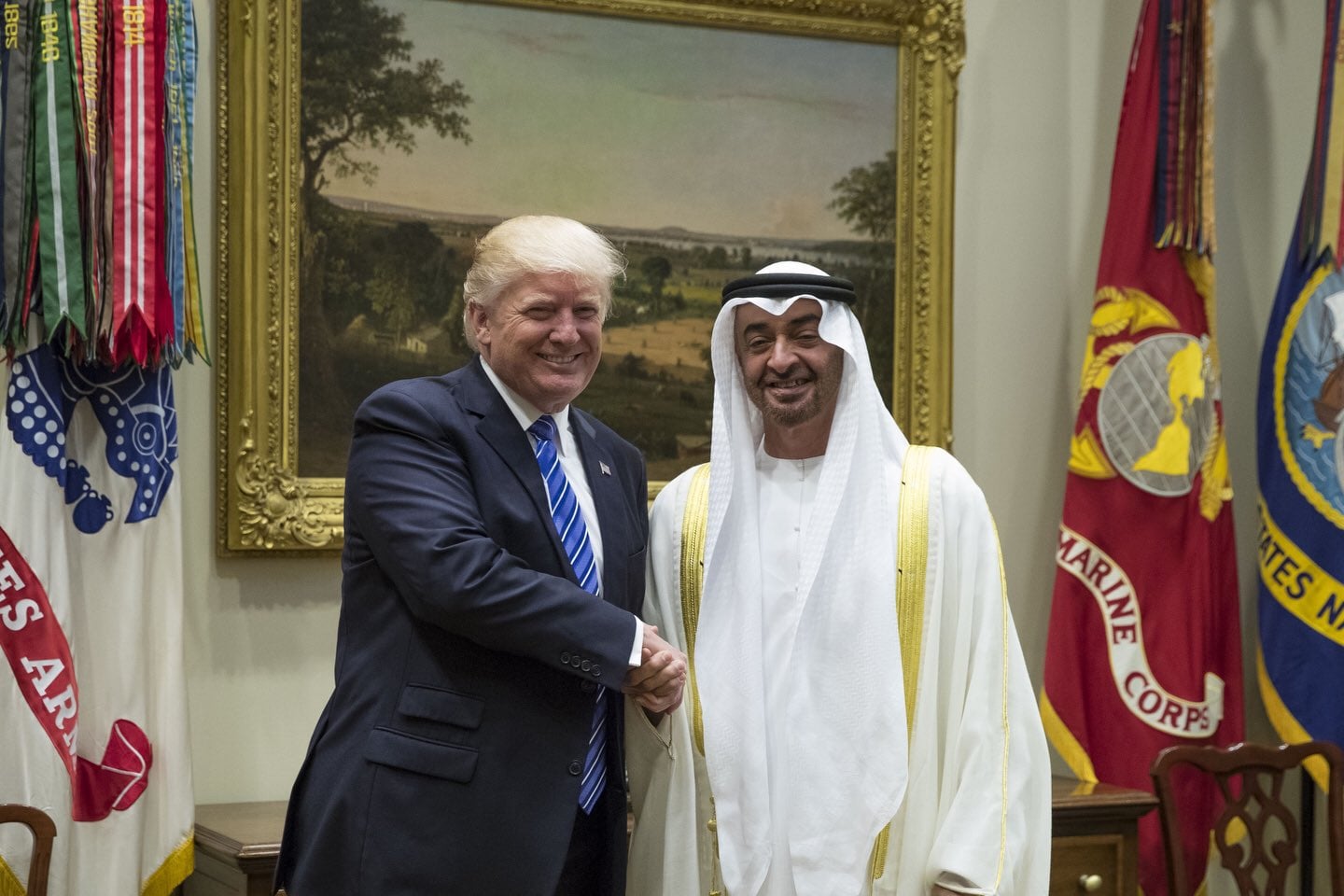 On Monday evening (UAE time), Sheikh Mohammad Bin Zayed Al Nahyan, Crown Prince of Abu Dhabi and Deputy Supreme Commander of the UAE Armed Forces, met with US president Donald Trump in Washington, DC. Welcoming the Crown Prince to the White House, Trump said "It is a great pleasure to have Shaikh Mohammad with us today … an outstanding person whom I respect. I know how much he loves his country and I believe he loves the US as well."
Mohamed bin Zayed arrives at The White House, greeted by @POTUS, Donald Trump. pic.twitter.com/NT00gjPFe8

— محمد بن زايد (@MohamedBinZayed) May 15, 2017
According to Gulf News, "The two leaders discussed ties of friendship and cooperation in political, economic and military spheres and ways to enhance strategic bilateral relations."
Sheikh Mohammad is in Washington for two days along with a large delegation with the UAE, and his visit comes just before Trump is set to head to Saudi Arabia where he will host three summits-- including a GCC mid-year summit, at which the leaders of the UAE, Qatar, Oman, Kuwait and Bahrain will be in attendance. It will also be the president's first trip abroad since taking office.
Mohamed bin Zayed, President Trump discuss enhancing strategic bilateral ties, regional & international issues pic.twitter.com/1216UGTKag

— محمد بن زايد (@MohamedBinZayed) May 15, 2017
After their meeting in the Oval Office, Sean Spicer, Trump's press secretary, announced a defense cooperation agreement between the US and the UAE. ""The [US] president hopes to work together even more closely to resolve regional conflicts that [have] raged across the region for too long," he added. Sheikh Mohammed, Crown Prince of Abu Dhabi and Deputy Supreme Commander of the Armed Forces, is " a strong partner of the United States and a leader in the Middle East on a number of important topics including defence cooperation, regional security and counterterrorism".
After getting off to a rocky start, let's hope this is the beginning of a more positive relationship between Trump and the Middle East!
Image Source: Twitter user MBZNews