The Story Behind Viral Photo from Protests
The Photographer Behind This Viral Photo Explains How He Captured The Moment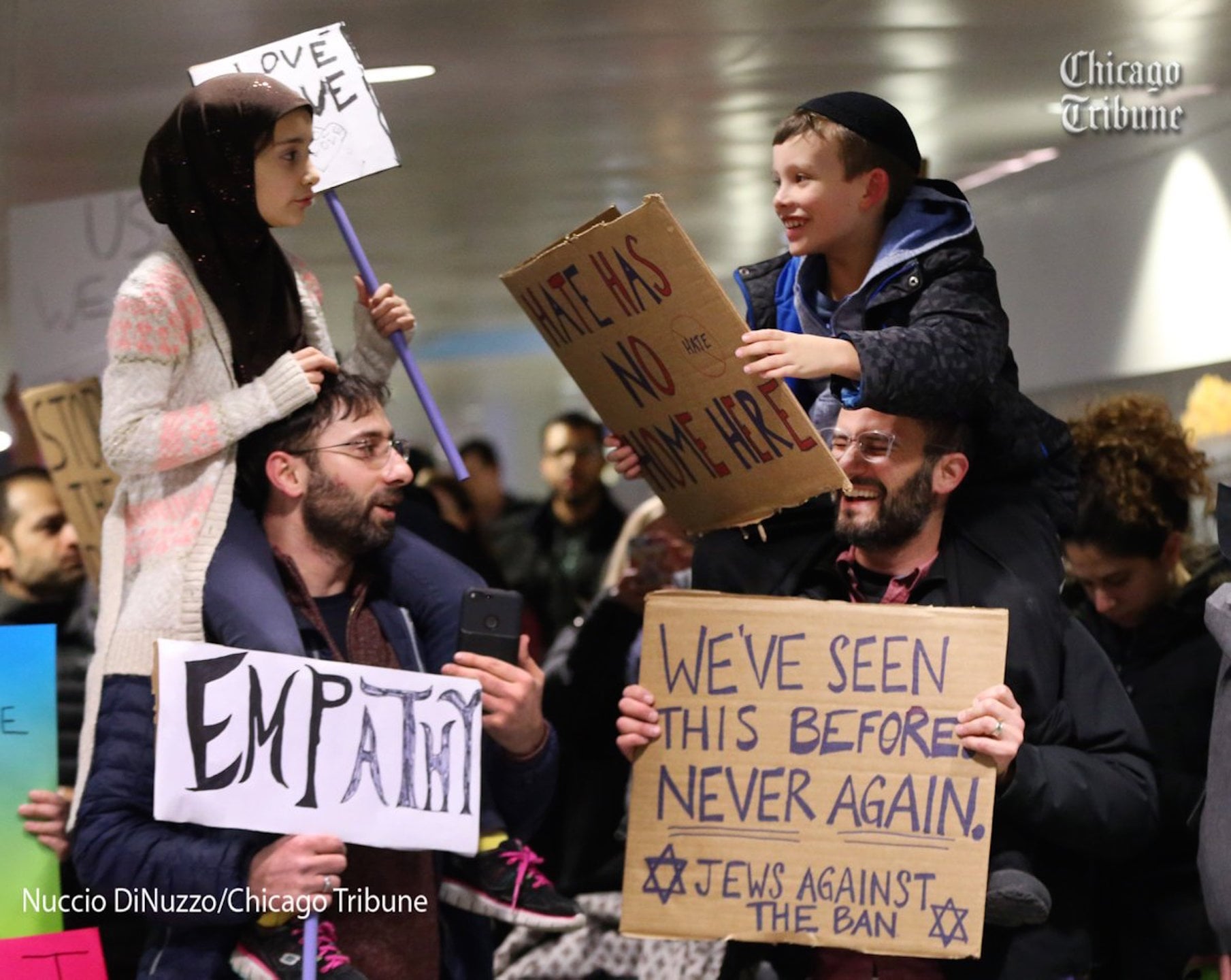 When Chicago Tribune photographer Nuccio DiNuzzo was sent to O'Hare airport on the 3rd day of protests, which have been taking place at airports across the US, he didn't expect much. He had been to the first two days of the protests, too, and more than 1,500 people had turned out to reject President Trump's ban on immigrants from seven Muslim majority countries. On the 3rd day, though, there were only a few dozen protesters at O'Hare's terminal 5.
"All of a sudden, I saw two girls holding signs. They were wearing hijabs," he told Time. "I always have an eye out for children in protests like that. That was my first picture. I asked their dad for their names. They had baked some cookies to bring to the attorneys. I thought that was great," DiNuzzo said, of the photo that's since gone viral.
"Then, the father grabbed one of the girls and put her on his shoulders. "I started shooting pictures of that," he continued. "And then, I see this other boy with a signed to the left of one of the girls. It kept getting better and better. The boy's father picked him up and put him on his shoulders."
DiNuzzo watched, waiting for the two children--one in a hijab and one in a yarmulke--to look at each other. When the moment happened, he captured it and Tweeted it, and has since gotten over 7,000 retweets and 10,000 likes.
Though DiNuzzo has been a photographer with the Tribune for 25 years, this photo had a particularly universal message. "It makes people feel good," he says. "It's affecting people emotionally." And that's what photography is all about, he adds. "You want to get right to their heart."
"Untitled" #MuslimBan #chicago pic.twitter.com/Vvm4zo9Icp

— Nuccio DiNuzzo (@nuccio_dinuzzo) January 31, 2017