Things to Do in Dubai in May
Everything to Love About Dubai in May
The whether has already taken a turn for the worse, but there's still a bit of time left to enjoy the outdoors. While some events have already head inside for the season, we've rounded up the essential activities you need to add to your May calendar.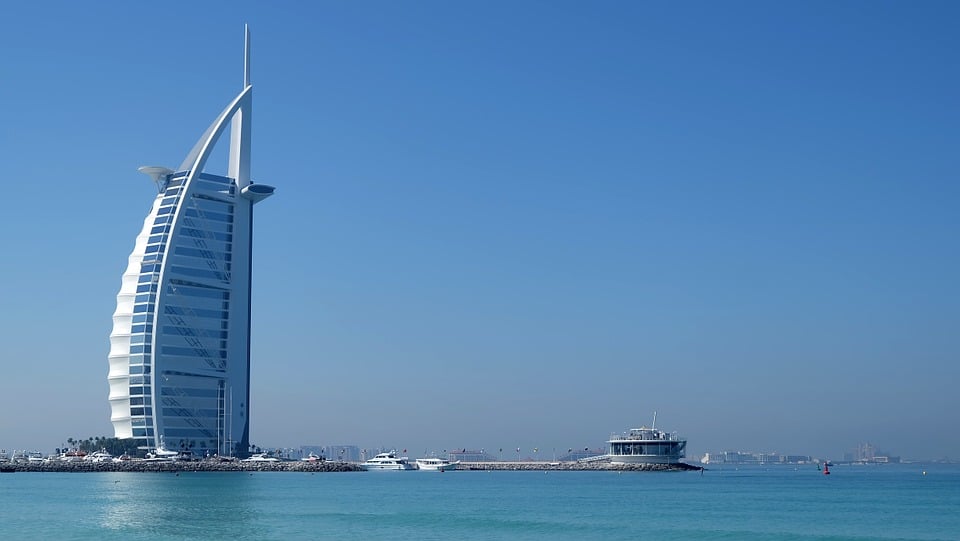 "Tota Maina Ki Kahani" Live
Indian comedy-drama Tota Maina Ki Kahani has arrived in Dubai, and this hilarious show is sure to keep Hindi-speaking audiences laughing over the course of its two day run. The cast includes acclaimed Bollywood artists Himani Shivpuri and Manish Thakker.
May 4 and 5, DUCTAC, Mall of the Emirates
Fashion Swap Shop
Head to the Fashion Swap shop pop-up for a night of shopping and swapping, and enjoy free massages and manicures as you trade in your gently-used items!
May 2, garden on 8, Media One Hotel
Mascaro Scaro Debuts in the UAE
On May 4, Spanish sculptor Mascaro Scaro will make his UAE debut by unveiling a fleet of 27 iron and bronze boat installations, which will remain on display at Abu Dhabi's Warehouse421 through September 4. The artist will give a talk to introduce his work on May 4.
May 4, Warehouse421, Abu Dhabi
Cinco de Mayo at Loca
Celebrate Cinco de Mayo at Mexican restuarant Loca, located in Souk al Bahar. Enjoy unlimited tacos and margaritas for only 250 dhs per person, and since the party runs from noon until 2am, you can celebrate all day long!
Loca, Souk Al Bahar
International No Diet Day
Of all the invented holidays, this might be the best. Throw all diet rules out the window on May 6 and indulge in all your favorites. Though you can celebrate this glorious day anywhere you choose, Original Wings and Rings is offering a buy-one-get-one deal on burgers.
May 6, Original Wings and Rings, DIFC
Jaguar LED Light Show
Beginning on May 3, Juagar will launch an exclusive light show on the facade of the Burj Khalifa to celebrate the launch of the new Jaguar F-Pace in the Middle East. The light show will appear nightly on the Burj Khalifa through the 9th of the month.
May 3-9, The Dubai Mall Promenade
Sharjah Bridal Fair
The Sharjah International Bridal Fair will run from May 19-22 at the Al Jawaher Reception and Convention Centre. The fair, which is the first of its kind in the UAE, will feature a number of exhibitions to help in all areas of wedding planning
May 19, Al Jawaher Reception and Convention Centre, Sharjah
Children International Film Festival
With screenings and workshops for both international and student-made films, this week-long festival offers something for all members of the family. Get more details and a full schedule here.
Through May 7, Knowledge Village Conference Centre
The Voice Kids Live!
Winners of the kid version of the popular singing competition The Voice will perform live on May 6 at Le Meridien in Dubai. Performers include first place winner, 12-year-old Lebanese girl Lynn al Hayek, and runner up, Zein Abdulla, who is a Syrian refugee.
May 6, Le Meridien Dubai
8th Annual Dubai Tango Festival
The Dubai Tango Festival will descend upon Dubai for the 8th year, and tango dancers from all over the world will head to the city for competitions, workshops, and workshops. See the full schedule and purchase tickets here.
May 18-21, The Meydan Hotel
Professional Squash Association Finals
The Professional Squash Association will host its world series finals in Dubai this year, and glass squash courts will be set up in Burj Park for the event. Set against the Burj Khalifa and the Dubai fountains, spectators will be able to take in amazing views throughout this four-day-long sporting event.
May 24-28, Burj Park
La Vie En Rose
French soprano Sara Gouzy and Spanish tenor Joel Prieto will arrive in Dubai this month to perform some of the greatest and most well-known arias and songs at the Ony & Only Royal Mirage. Tickets begin at 250 Dhs and can be purchased here.
May 13, One & Only Royal Mirage
Gaucho's Interactive Cinema Night
The family friendly film Chef, starring Jon Favreau and Sofia Vergara, will be featured at this month's installement of Gaucho's Interactive Cinema Night, and guests will enjoy Cuban sandwiches and a Mexican surprise from Gaucho chef Juan Pablo.
May 8, Gaucho Dubai