Tunsair Off Racist Passenger
A Racist Passenger Messed With The Wrong Flight Crew and Others Should Lead by Example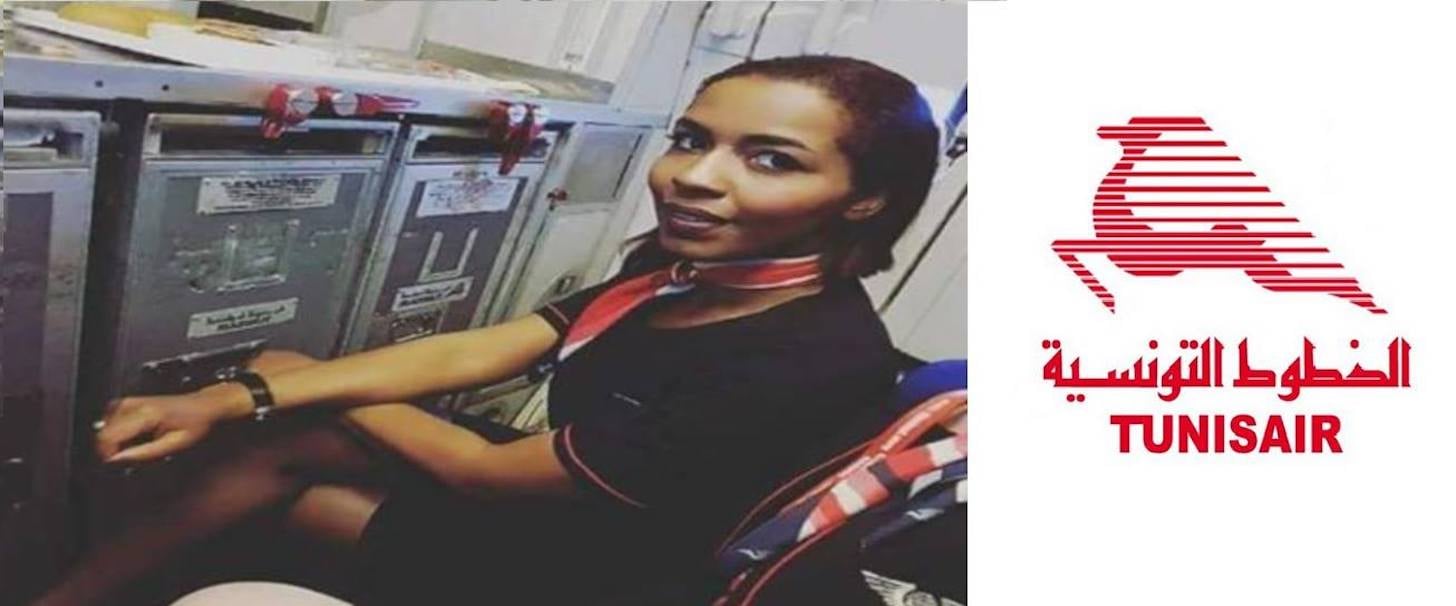 A racist passenger got what she deserved on a Tunisair flight recently.
The incident happened when a Tunisian stewardess was trying to resolve a problem for a passenger on a flight from Tunis to Istanbul, but her offer of help was met with racial abused instead.
According to the stewardess, Ghofrane Binous, who took to her Facebook account to describe the incident, the passenger couldn't find space in the overhead compartment above their seat to stow away their hang luggage, and requested that an elderly male passenger's luggage be moved. Binous was called over to sort it out, and when she offered to wait with the female passenger until they could figure out a space for her luggage, the woman said she doesn't need help from a stewardess who is black and daft. Her contemptuous attitude caused Binous to cry. When word got to the captain of the flight, he demanded that the passenger be removed from the plane. This caused a delay in departure but apparently the other passengers didn't mind and in fact cheered when the racist passenger was removed from the flight.
Racism is a criminal offense in Tunisia, where around 15 percent of the 10.8 million population are black. Last year, the Tunisian parliament voted unanimously to criminalize discrimination, especially racism, The Arab Weekly said.
Binous also met with a Parliament's Rights Committee, who promised to help her take legal action and also sent a request to Tunisair to take action as well. In her Facebook post, Binous thanks the Head Pilot and Co-Pilot, her colleagues and the rest of the passengers on board for supporting her.
It comes soon after a California coffee shop refused to serve a man for his Islamophobic comments.
من بريد الصفحة ⬇️⬇️⬇️ اليوم:12/05/2018 الموظفه هذي تعرضت للشتم من قبل مواطنه تونسيه..قالتلها تفضل شد بلاصتك تو نلقالك بلاصه للباgاج،قامت الراكبه تسب في الخطوط التونسيه و من جملة السب قالتلها (مسوده ملوده) خاطرها سمره.. الي عجبني في المضيفه ما سبتهاش اما مسكينه شدتها البكيا و خرجت..التوانسه كي العاده ما سكتوش كان كي جا الكابيتان و هبطها(المسافره) هي و دبشها و قالها اطلع في طياره اخرى خاطر هذي فيها المسوده برافو تونيسار👍🏻👌🏻👏🏻 #BX

Posted by ‎توانسا في فرنسا‎ on Saturday, May 12, 2018