Turkish Airlines Helps Woman Deliver a Baby Mid-Flight
Turkish Airlines Took Customer Service to Another Level By Helping a Woman Deliver a Baby Mid-Flight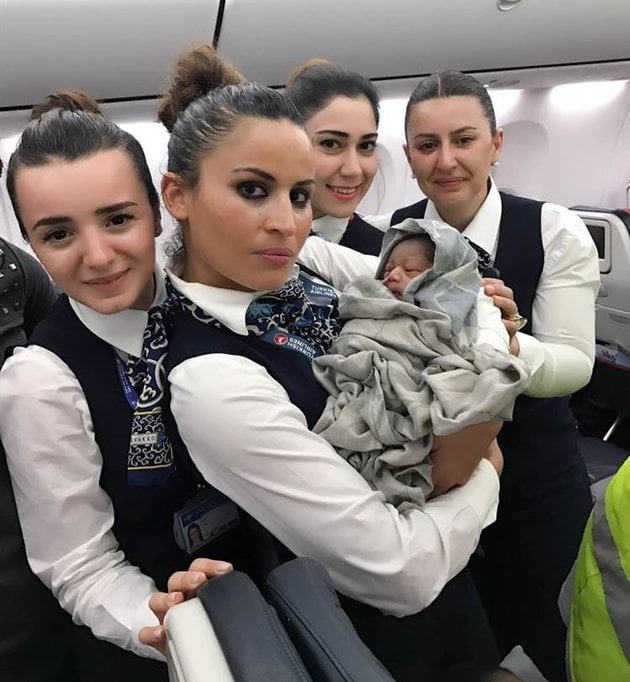 This is one hell of a fly baby!
A Turkish Airlines flight landed with one extra passenger mid-flight, and its crew couldn't have been more ecstatic.
The Boeing 737 had already taken off from Guinea's capital Conakry to Istanbul, when a woman, who was 28-weeks pregnant, began experiencing labor pains. That's when the flight attendants and the passengers of Turkish airlines stepped in to help the woman deliver a baby girl, who was named Kadiju.
Welcome on board Princess! Applause goes to our cabin crew! 👏🏻👶🏽 pic.twitter.com/FFPI16Jqgt

— Turkish Airlines (@TurkishAirlines) April 7, 2017
Upon landing, the mother and the beautiful child were taken to a Burkina Faso hospital and both are said to be in good health.
The photos posted on social media by the airline have since taken the internet by storm. It captured the precious girl being swaddled in a blanket while surrounded by the members of the crew as they are almost unable to contain their joy.
In case you're, just like us, wondering about the rules pertaining to expectant women flying, according to Turkish Airlines website, moms that are less than 28 weeks along are free to travel without pause. Others who are between 28 weeks to 35 weeks are required to get a doctor's note that state them fit to travel.
Guess, a certain airline can learn a thing or two when it comes to handling the situation of additional passengers. United, are you listening?