What To Do With Visitors in Dubai
The Painless Guide to Hosting Visitors in Dubai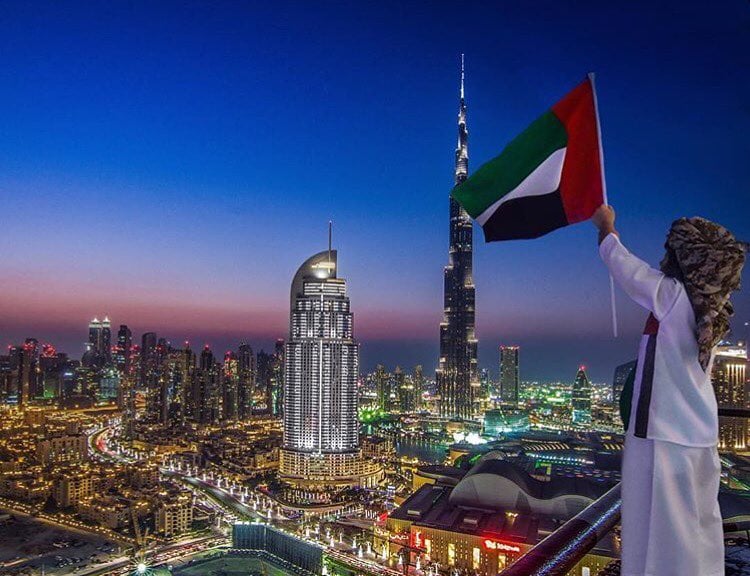 Since moving to Dubai two years ago, people have come out of the woodwork asking to visit me. While I love having guests and showing them around the city that I've come to call home, it gets a bit exhausting...I mean, there are only so many times one can go to the observation deck at the Burj Khalifa, and I hit my limit many, many months ago.
There is a way for your guests to have a good time and get the most out of the city without boring yourself to death (no more desert safaris, please!!), and I think I've got it down to a science.
Step One: Make it a Short Visit
There is absolutely no need to spend more than four nights as a tourist in Dubai, and limiting the number of days your guests stay with you makes it less stressful, and helps form a more concise and compact itinerary for when they're in town. Most of my guests come from the US, so it's hard to ask them to take a 15-hour flight and then send them away before they've even kicked the jet lag, but I've got a solution for that, too: recommend visitors from make a stop before or after Dubai, so they get two trips in one.
Step Two: The Main Sights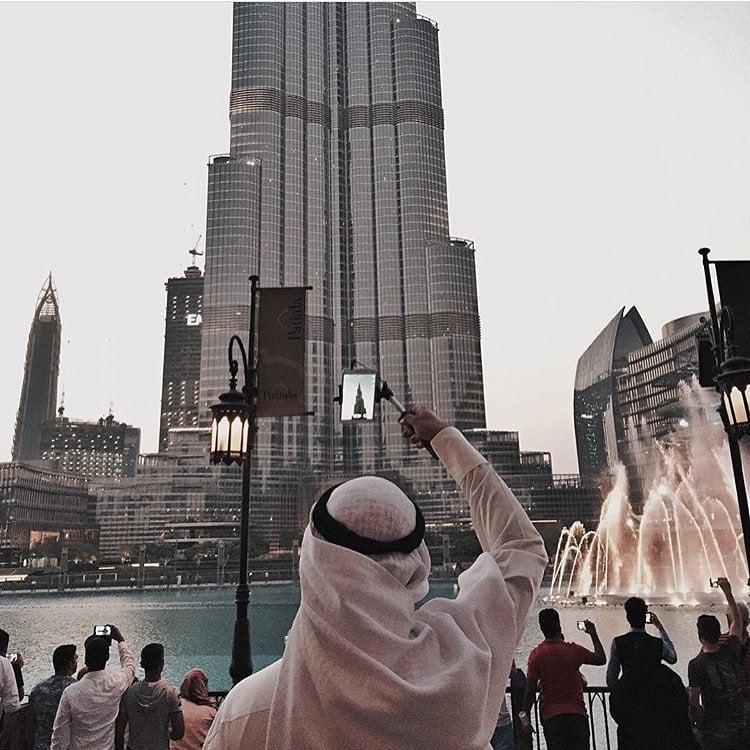 So your guests have arrived in Dubai, and it's time to begin showing them around. Start with the major attractions. In the morning, go to Mall of the Emirates. Let your guests look through the glass overlooking Ski Dubai. You will see skiers and snowboarders and if you're lucky, you might see a penguin. It's pretty crazy to see even if you don't hit the slopes, but if your guests insist, let them do this without you. They do not need a chaperone to go skiing.
Head to Madinat Jumeirah for lunch. Let them wander around the Souk, take photos of the Burj Al Arab, and see the man-made canal that runs through the complex.
Continue your tour of the malls and head to Dubai Mall. Be prepared with a plethora of facts, and take them through the mall in a strategic way. No one needs to get lost in there. Enter through the main entrance and head to the aquarium. Let them take pictures with the sting rays swimming in the background. Tell them how you can scuba dive in the aquarium or even take a glass-bottom boat tour. Do not let them buy tickets to actually enter; this will take hours.
Let them stroll around the mall a bit.
Next head to the ice skating rink, also a photo opp. From here, head to the waterfall, and explain that this is one of the most Instagrammed spots on earth. Now is also a good time to tell them about the #mydubai hashtag. Tourists love it. Exit the mall using the bridge that connects the mall to the Address Hotel. You can tell your guests about the fire that destroyed the tower on New Years Eve 2015. This bridge is an excellent and not-crowded spot to take photos of the Burj Khalifa.
Take the elevator down through Fortnum and Mason, and stroll toward the fountain. If it's after 6pm, you'll be able to catch a fountain show every 30 minutes. Book in advance, and have dinner at Em Sherif (The Address Downtown) or Abd El Wahab (Souk Al Bahar). Request outdoor seating so you can watch the fountain, and the Burj twinkling in the background. Before leaving, go into Souk Al Bahar and let your guests hold the falcon, who is photo-ready and waiting with his handler in the lobby every night. Fun fact: the falcon rotates daily, and they commute from a falcon farm in Sharjah.
Step Three: Beach Day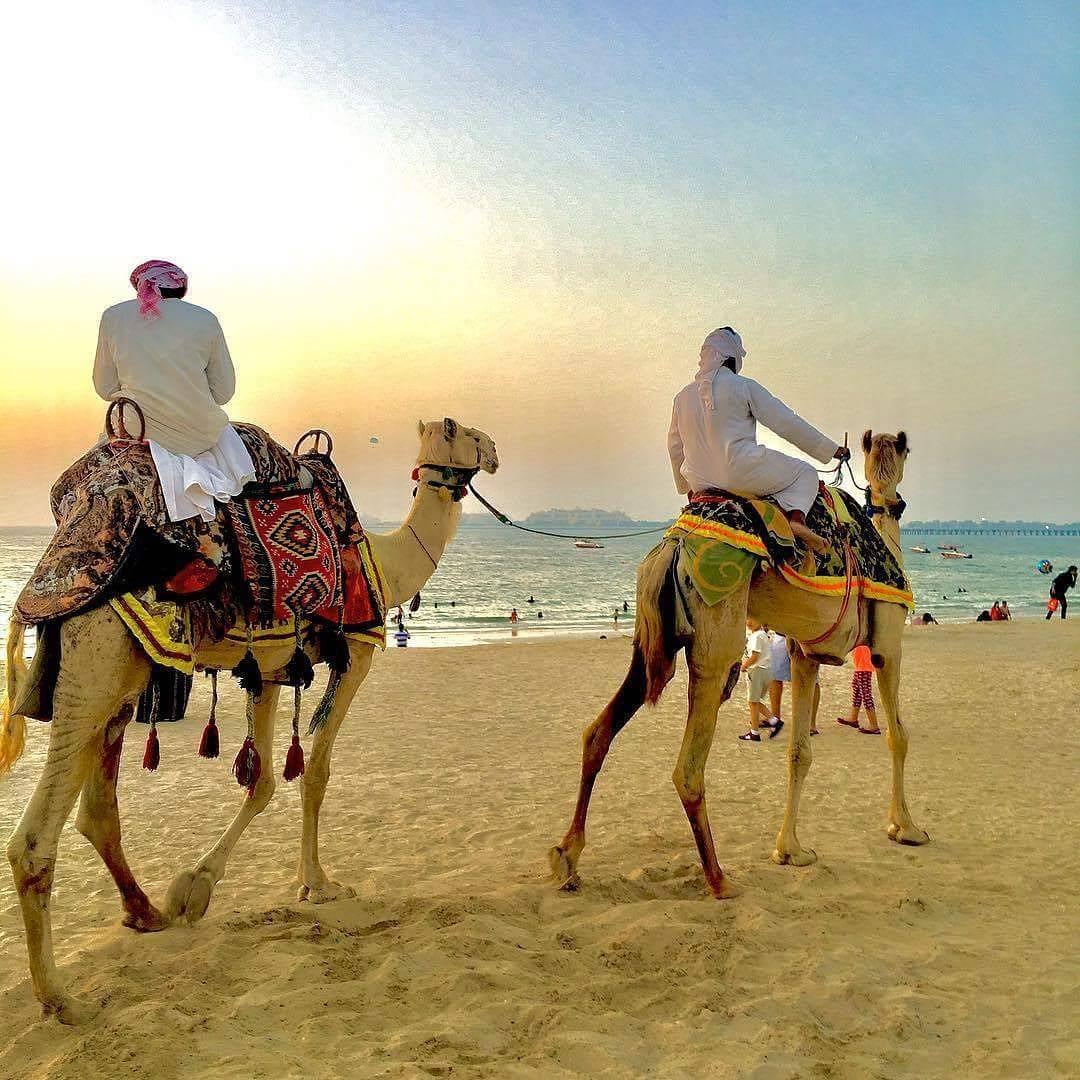 Though Kite Beach is where most locals and expats spend their weekends, JBR is better for tourists. Head there early to get a good spot, and spend the day relaxing on the beach. Restaurant and shopping options can keep you busy for a few hours, but the real secret to JBR is that it's the best place to see a camel without heading out into the desert. Walk down the beach to the Ritz Carlton, where two resident camels sit throughout the day. Take photos with the camels and their bedouin guides.
For dinner, head to Ravi. This Dubai establishment shows guests a part of the city they wouldn't have seen otherwise, and the butter chicken really is to die for.
Step Four: Old Dubai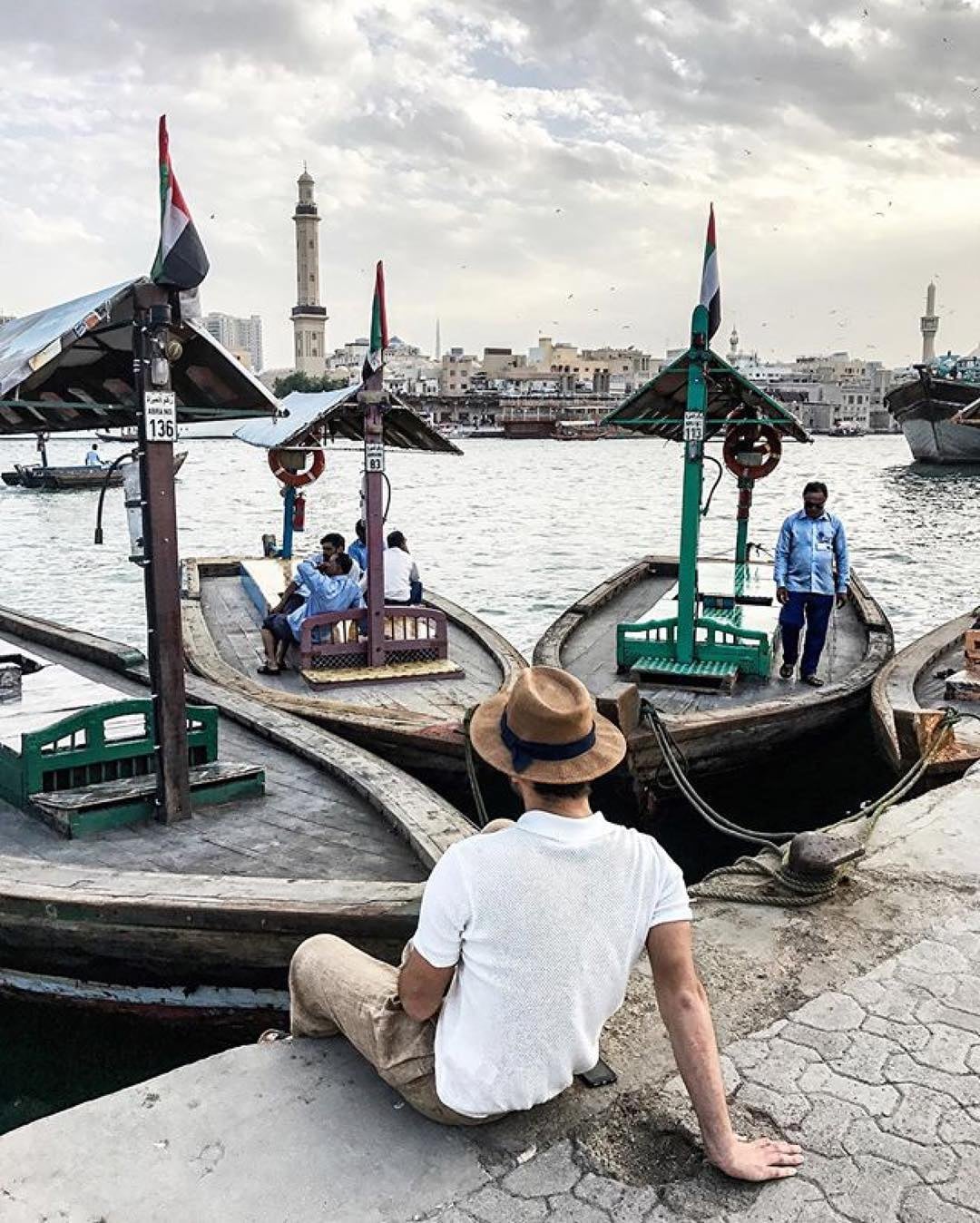 Today is the day you explore the old part of town...ALL DAY. Take a taxi to the gold souk, and get heckled by men trying to sell fake bags and watches. Walk towards the water through the spice souk. Smell preserved lemons; buy saffron.
At the creek, pay Dhs 1 and hop on an old abra boat. People still commute from opposite sides of the creek on the traditional Arab boat, and it's actually pretty cool. The abra will drop you off near the souks, where you can spend some time wandering around.
I like to kill downtime with a stroll around the Marina, but you could really spend hours at the souks, so it depends on your timing.
For dinner, head to Bastakiya. Start with dinner at Al Ustad Special Kabab, another old Dubai favorite. Mention that Sheikh Mo is spotted here often, and search the photo-covered walls for his picture. Order kababs and the chicken soup-- it's surprisingly delicious. Exit the restaurant and walk towards the roundabout. Cross the street and explore old Bastakiya. This handy self-guided walking tour from National Geographic can help fill you in on the history of the district, and will also make sure you see all the key spots. Make sure you stop by the XVA Gallery and Hotel for a drink and to see some regional contemporary art.
Step Five: Abu Dhabi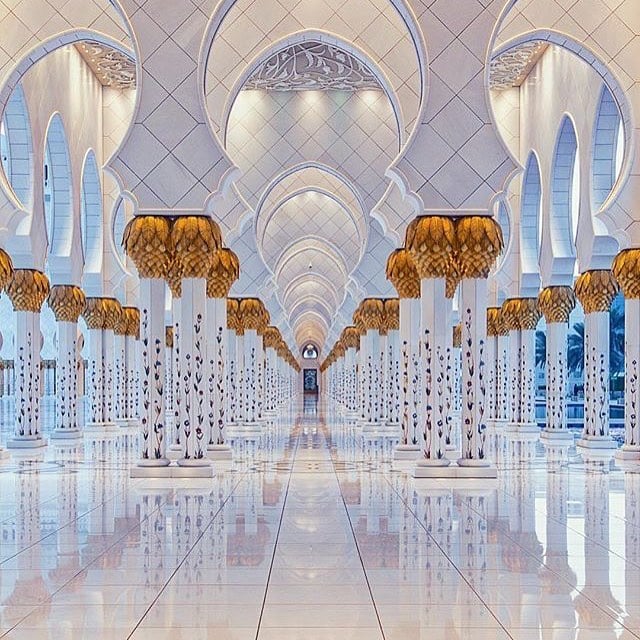 Though the utterly underwhelming drive from Dubai to Abu Dhabi can be tedious, the Sheikh Zayed Grand Mosque is a must-see on a visit to the UAE. You can do the trip in half a day. Leave Dubai early, drive 45 minutes to the mosque, and you can be back by lunchtime. If you're feeling ambitious, you can add one of two things to the itinerary, and your guests will be forever grateful.
1. Go kayaking in the Abu Dhabi mangroves. Book an 1.5 hour long tour here, and get ready to be wowed by wildlife you never knew existed in the UAE.
2. Take your guests to the desert. While a desert safari takes up a lot of time (and is a little too gimickey for my tastes) there are ways to see the desert in a more authentic way. Book a half-day tour with luxury tour operator Platinum Heritage, and instead of dune bashing and a Disney-esque bedouin dinner, you'll be driven in vintage Land Rovers from the 1940s through the Dubai Desert Conservation Reserve, where you'll have plenty of chances for dune-jumping pictures. You might even see an Arabian oryx roaming around.
Step Six: Send Them Home!
It's over! While it's great seeing friends and family from back home, it's also great to get back to your regular life in Dubai: pool days, normal hours at work, and binge watching Netflix, here we come!