World's Best Youth Hub Emirates Towers
The UAE Royals Just Opened the World's Best Youth Hub in Dubai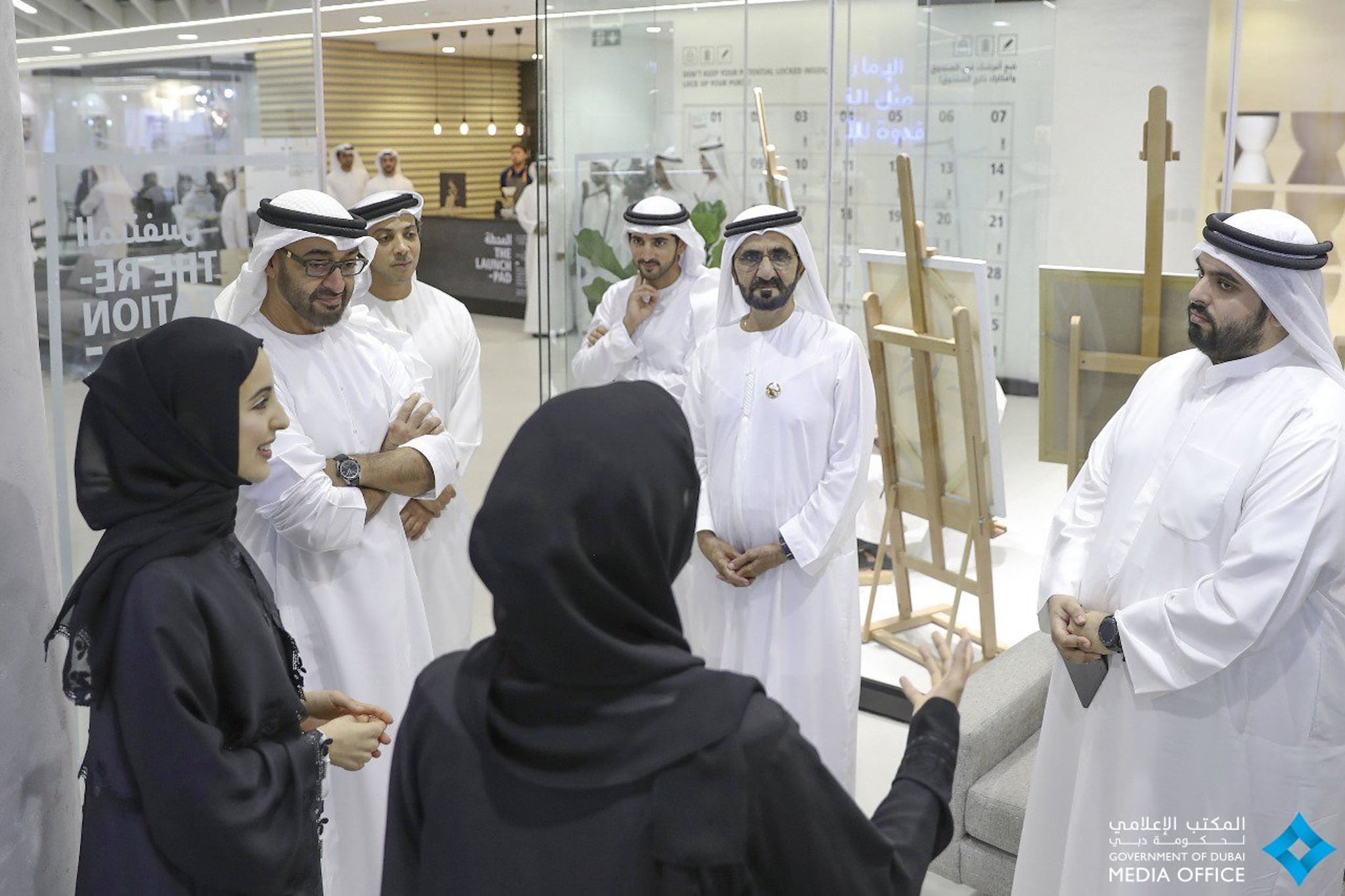 It's only Monday, but Sheikh Mo is already having quite the busy week!
After opening up the world's first fully-automated police station over the weekend, the UAE royal is back at it-- and this time he was joined by his family.
On Sunday afternoon, Sheikh Mohammad Bin Rashid Al Maktoum was joined by Sheikh Mohammad Bin Zayed Al Nahyan at Emirates Towers to open the 'world's best youth hub.'
According to Gulf News, the center consists of "areas designated for young media professionals, entrepreneurs, young researchers and programmers. It houses offices and meeting halls for young people, spaces for young entrepreneurs, a library to enrich their knowledge, a laboratory to develop solutions and host brainstorming sessions, a youth cafe and a theater for youth events."
The first of its kind in the region, Sheikh Mo spoke about the importance of recognizing and fostering Emirati youth and other young people in the country.
"My brother Sheikh Mohammad Bin Zayed and I are very pleased to open the youth center. We are here to send message to the nation's youths that they have a big responsibility lying ahead. We also meant to communicate a message to all officials that they need to pay special attention to young people and give them a role in shouldering part of the nation's responsibilities," he said.
Pics: @HHShkMohd, Mohamed bin Zayed inaugurate World's Best Youth Center in #Dubai #UAE pic.twitter.com/8XwbAuudrg

— Dubai Media Office (@DXBMediaOffice) September 17, 2017
Sheikh Mohammad Bin Zayed echoed the Vice President's sentiments: "All our youths have the responsibility to serve their nation, but our young citizens, who study abroad, have a double responsibility. This is because they represent their country-with its ethics, identity, values and sublimity, and it is their duty to be the best envoys of their country," he said.
"The center is yet another addition and serves as an incubator for young people to foster their skills and talents. Investing in their potential is a key pillar for the development of our country."
The center is just another great example of how the UAE is fostering their next generation of leaders!
Image Source: Dubai Media Office