Zayed Future Energy Prize 2018
Sheikh Zayed Face Was Illuminated With 2,400 Solar Lanterns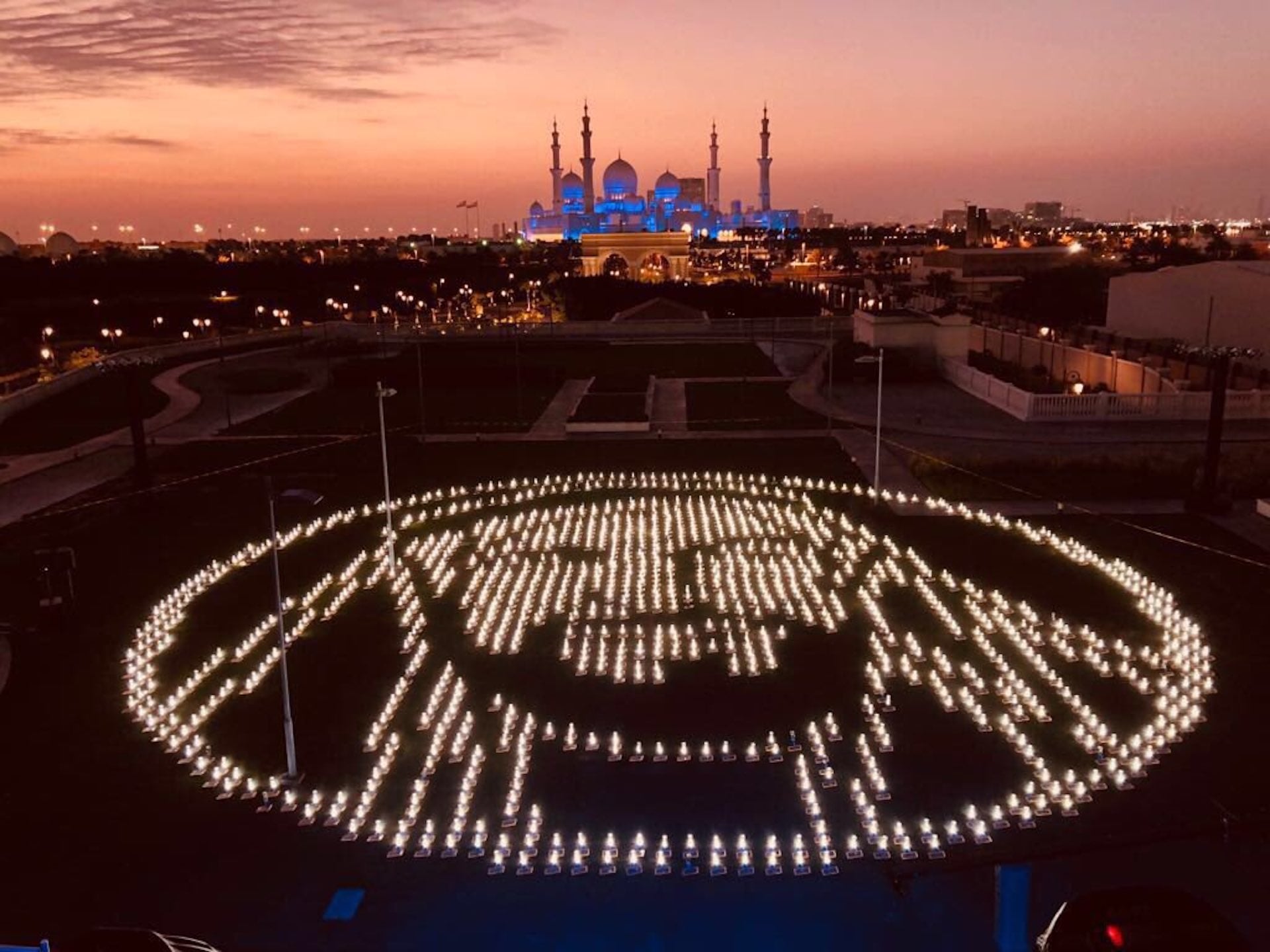 The Year of Zayed kicked off on January 1, and a Guinness World Record-breaking laser light show ushered in the momentous year.
A number of other initiatives have been unveiled over the past week, including limited edition NOL Cardslimited edition NOL Cards, a special Year of Zayed license plate, and a memorial set to be built in Abu Dhabi.
Dubai Cares even kicked off a scavenger hunt earlier this week, honoring the life and legacy of Sheikh Zayed Bin Sultan Al Nahyan.
The hunt asks participants to uncover 15 hidden "light bulbs" that have been scattered across Dubai, each which represents the idea that "knowledge is a light that never fades."
Now, another world record has been broken in honor of the momentous year, and it's pretty cool to see.
On Wednesday in Abu Dhabi, 2,400 solar lanterns formed the face of the late Sheikh's face, lighting the sky near the founding father's legacy mosque.
The 2,400 lanterns were lit as a tribute to Sheikh Zayed after the annual Zayed Future Energy Prize earned a Guinness World Record for the largest environmental sustainability lesson.
According to The National, 282 students from across the country took part in the event in Abu Dhabi.
The record-breaking lesson was presented by Illac Angelo Diaz, executive director of Liter of Light. Liter of Light is the non-profit organization that won the Zayed Future Energy Prize in 2015.
According to The National, "the 30-minute lecture explained how young people can help to reduce energy poverty while also challenging them to devise solutions that will bring about a more sustainable future."
"The last decade has seen the lives of millions of people positively impacted by the prize's many winners, of whom Liter of Light is truly a shining example," said Dr Nawal Al Hosany, Director of the Zayed Future Energy Program.
"Today's gathering highlights the critical importance of youth in driving forward the renewable energy and sustainability conversation, and the power they have as change agents, now and for the future," he said.
See pictures below!
#yearofzayed#lightupthefuture #zfep #عام_زايد#أبوظبي#الإمارات pic.twitter.com/tlCfHFLDLU

— أحمد عقل (@ahmadakl2454) January 10, 2018
#ZFEP2018 #YearofZayed #myAD #abudhabi @ZFEP_AR @ZFEP pic.twitter.com/oHHIBYmUrI

— عيناوية (@3ainawya68) January 10, 2018
year of Zayed ❤️ #LightUpTheFuture pic.twitter.com/H9aKpjLYB8

— 🎌 (@amma_97) January 10, 2018