Advice For New Moms Going Back to Work
7 Tips That Make Going Back to Work After Maternity Leave Easier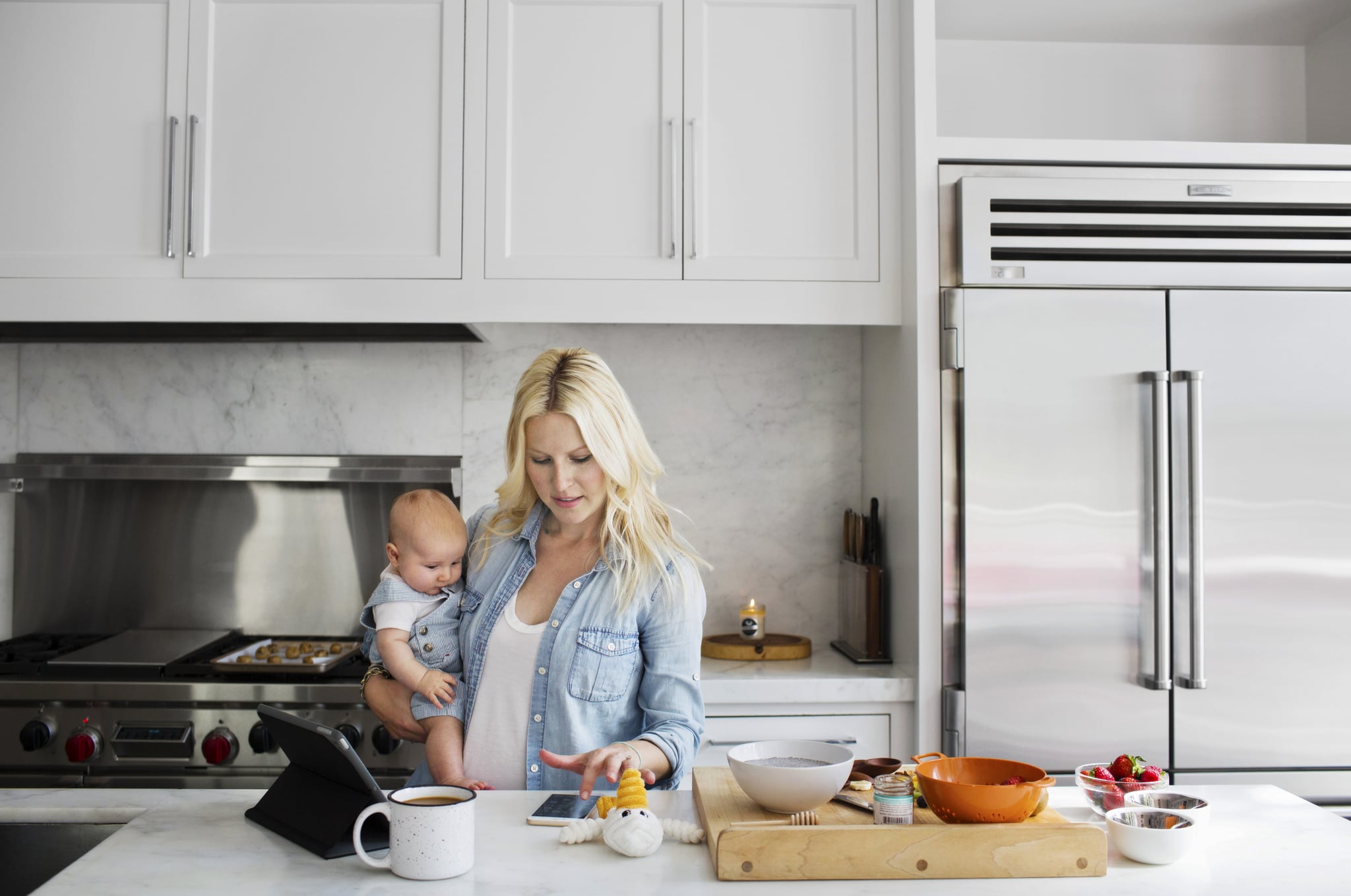 Before you return to work from maternity leave, you're going to want to get as much support as possible. And I'm not just talking about childcare.
Between the emotional effects, the potential pumping logistics, and the physical stress of it all, you can't underestimate how big of a transition it will be. My own sister made her transition back to the office after each of her three kids look so seamless that I just didn't anticipate how complicated it could really be (read: I cried on my lunch breaks and spilled literal milk because I didn't have the proper pumping parts).
Now that I've done it twice, I have an arsenal of advice that I've texted to more than a few friends before their own returns to the working world.
1. Go Easy On Yourself
This applies as equally to practical matters like pumping as it does to more complicated ones like maintaining your relationship with your partner. The transition back to work is just that, a transition (aka a major stressor). Expect it to be hard and don't expect it to go perfectly. It might take you longer to get back into the swing of things at work than you thought it would, you might be snappier at your partner than you normally are, you might not make it to the gym as much as you used to. It's OK. You're figuring out your new normal and that doesn't happen overnight. Give yourself a grace period to adjust. Try to ignore that giant laundry pile, take some commitments off your calendar, and generally just don't expect so much from yourself. This basically applies to all of motherhood.
2. Don't Combine Going Back to Work With Other Big Changes
Of course this can't always be helped, but you should try to avoid it if at all possible. It's enough just getting into a new groove without any additional stress (see above) and pushing yourself to the breaking point at this time in your life is a bad idea. The weeks before and after you return to work are NOT the time to wean from nursing or move to a new house. Or cut your hair, for that matter.
3. Get Your Childcare in Place Early
Quality childcare is hard to find, which is why you should start your search long before you reboot your company computer. And once you find the right fit for your family, test it out. This will help you work out any issues, determine if your choice really is the right one, and give you and your baby a chance to get comfortable with one of the biggest changes in your new normal. You'll feel immensely better on your first day back if you don't have to worry as much about who (or where) you left your little one with. You'll still worry to some degree (I even did with my son in my mother-in-law's care!), but feeling confident in your childcare setup will help ease those irrational fears and anxieties and allow you to focus on your job.
4. Write Everything Down
Research may suggest otherwise, but in my experience, "baby brain" is a real thing. I was more forgetful, felt less productive, and had a harder time concentrating after having both of my children. Unfortunate timing because you've never needed to be more efficient at work than when childcare pickup or nanny scheduling prevents you from staying even a few minutes late to get your job done. The only thing that saved me were lists. I wrote down notes about what I needed to take with me to work on my phone (pumping parts!), left notepads of reminders for my nanny, used stickies on my computer to keep track of my to-dos, and sent myself grocery lists in emails. Come to think of it, I actually haven't stopped doing this.
5. Keep Extra Pumping Parts at the Office
If you'll be pumping at work, you want to be extra prepared. Twice I had to rush between Walgreens and City Target in desperate search of Medela milk storage bags only to find Lansinoh brand, which I then discovered are not actually compatible with Medela parts. After that I kept at least one backup of each pump part as well as a box of milk storage bags in my filing cabinet. I also kept a roll of paper towels and pack of wipes for those inevitable mishaps.
6. Ask For Updates
You might think that seeing pictures of your baby looking happy without you will make you sad (and it might), but it'll also make you feel better about being gone. Knowing they are just fine in another person's care allows you to keep your eye on the prize at work and not worry as much about how they're doing without you. Ask your childcare provider to text a few pictures or updates during the day. It always put a smile on my face when I got a photo of my son out for a walk in the stroller and eased my mind when I saw a text that documented how well his afternoon nap went.
7. Book Time Off
It can be tricky to request time off after you've just returned from an extended absence, but if you can swing it, get some PTO on the calendar. Even having just one day on the horizon that you know you'll get to spend with your baby will give you something to work towards. I took my first day off after maternity leave out of necessity (childcare problems, of course) but that random weekday spent soaking up my little guy was priceless and I've made a point to do it again (and again) since then.
Image Source: POPSUGAR Photography / Sheila Gim