Alex Guarnaschelli's Weeknight Dinner Hack
Psst! Chef Alex Guarnaschelli's Weeknight Dinner Hack Is WAY Easier Than Meal Prepping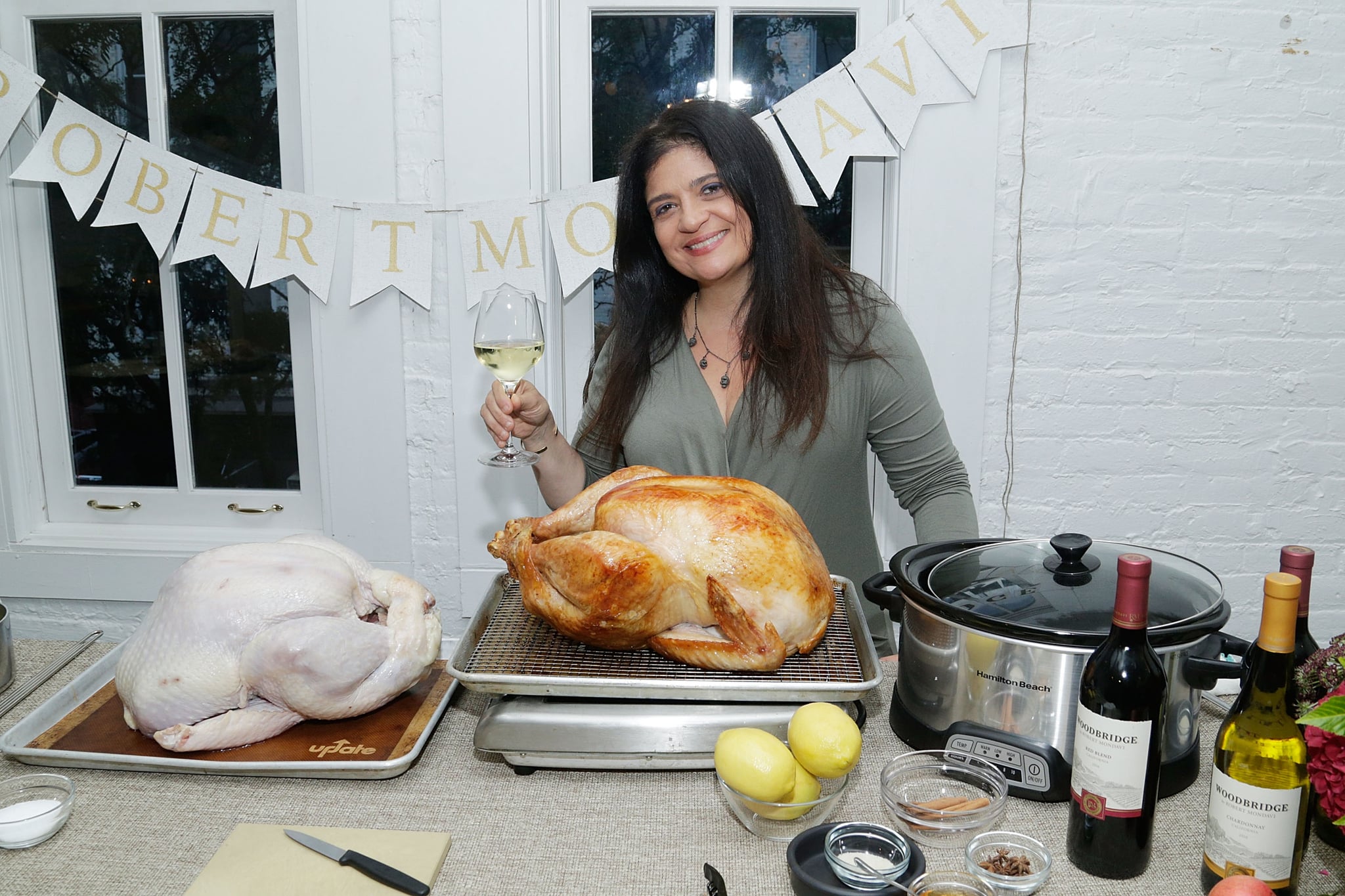 Between raising a 10-year-old daughter and being a celebrity chef and Food Network star, Alex Guarnaschelli has a heck of a lot on her plate. And after a long day as a judge on Chopped, sometimes the last thing she wants to do is come straight home and make dinner. But rather than blocking out an entire weekend afternoon to meal prep, she resorts to her secret weapons: sauces and dressings.
"I'm a really big sauce person," Alex told POPSUGAR. "And that's just the chef in me but I think it's something other people can do, too, obviously. I have a few sauces and vinaigrettes in the fridge at all times."
And we're not talking about sauces with dozens of ingredients. Busy parents can go the easy route with simple options that won't eat up a ton of time or just buy some of their favorites at the grocery store.
"My go-tos are a basic mustard vinaigrette, a caesary variation, and a lemon-yogurt dressing," she explained. "Generally, those are probably my three favorites. I also always have some marinara of some kind, which is the Italian-American in me, as well as something with capers and pickles or olive oil in it."
She also said that there's nothing wrong with changing things up and experimenting, explaining that some weeks she'll opt for a salsa, a chimichurri, or even a mole sauce instead if she's in the mood.
"Then I can just cook a piece of chicken or sear a pork chop and throw a dollop of sauce on there."
After you stock up on a few of your favorites, all you need to do is pick a protein and go from there.
"Then I can just cook a piece of chicken or sear a pork chop and throw a dollop of sauce on there," Alex said. "Sometimes I just make pasta. Sometimes I make a salad and just throw the dressing on it . . . I'll pretty much put [dressing] on anything, like a piece of fish, some cauliflower steak, a giant hunk of broccoli, even cabbage slaw."
And although whipping up a few of her favorite dressings is what works for Alex in a pinch, she realizes it might not be the perfect solution for every family.
"I read a lot in the magazines about moms having go-to meals and menus. I can understand the search for that . . . I do think that a lot of people like planning a full meal," she said. "I'm not discouraging that either, by the way. I have friends who make a chart and they have the week planned out. They like doing that because then they don't have to think about it. That works, too!"
If your household is anything like ours (read: chaotic), what your squad is craving can change in a pinch — even as far as Mom and Dad are concerned. Alex said that as a working mom, she's found herself in a similar situation.
"You know what, I planned chicken, pork chops, and zoodles this week, but I accidentally ate pork carnitas for lunch and I don't want to eat pork again for dinner," she said. "There has to be a little breathing room. If you have those bases, then you get these bursts of flavor you can throw on anything."
Alex's biggest meal prep takeaway? Just do what's best for your family and don't ever be too hard on yourself.
"People are always confessing to chefs, saying things like, 'I don't cook' or 'I'm not a cook.' And I'm like, 'It's OK, nobody is arresting you,'" she said with a laugh. "Forgive yourself, forgive your flaws, and do what you like!"