Baby's First Cow's Milk: 4 Tips for Making the Transition
Baby's First Cow's Milk: 4 Tips for Making the Transition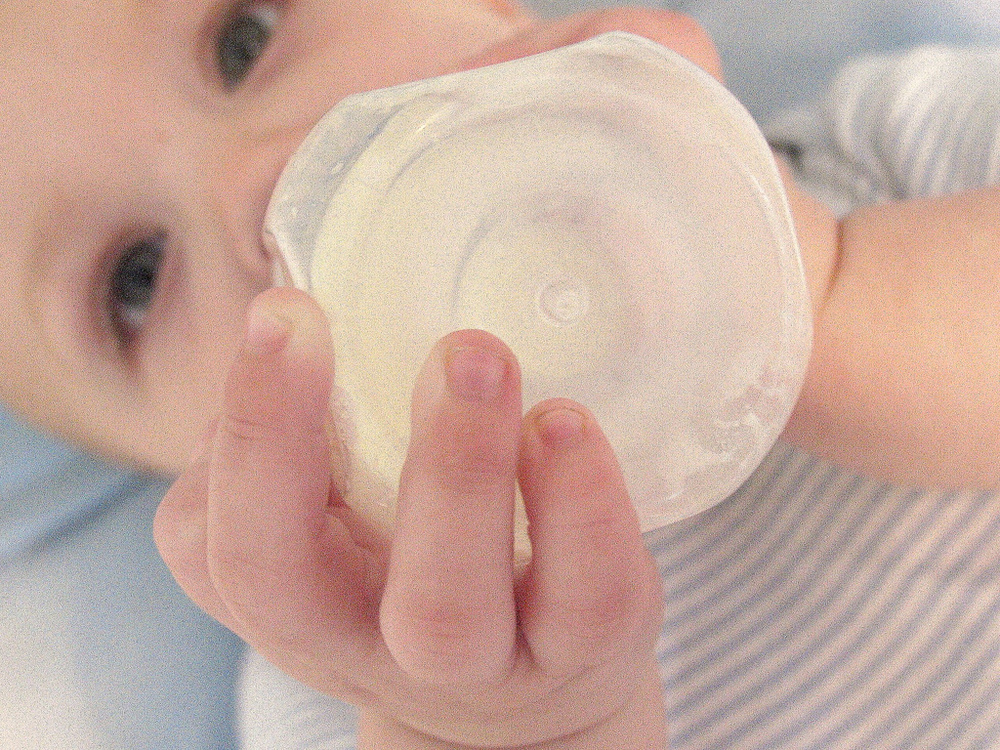 �
From formula fans to "breast is best" proponents, the majority of moms eventually introduce their children to cow's milk. To help make your bub's transition smooth and safe, we've gathered Circle of Moms members' top tips on incorporating cow's milk into a baby's diet—from the American Academy of Pediatrics recommendations on age and type of milk, to advice about allergy symptoms, to tricks for babies who refuse cow's milk. Drink up!
1. When to Start...and What to Buy
The American Academy of Pediatrics (AAP) recommends that babies over 12 months old with a healthy diet can receive up to 32 oz. per day of whole cow's milk. The AAP recommends full fat milk instead of low-fat (1%) or nonfat/skim milk until the age of 2.
When exactly beyond the one-year mark you actually start your baby on cow's milk is a personal choice to make with the help of your pediatrician. Some Circle of Moms members, like Virginian mother Jennifer B., introduce cow's milk as early as possible: "I started my son on whole milk…on his first birthday. He loved it and thankfully it was an easy transition." Others wait several more months, or even longer into the child's second year if they've decided to breastfeed.
2. Start Cow's Milk Gradually
You've heard of "baby steps" - in this case, it's "baby sips." Introducing milk gradually to a child who's used to breast milk or formula can help her tummy and taste buds become accustomed to the new beverage. "Introduce it slowly," advises Callie R., a mom in Kansas. "Try replacing one cup of formula with a cup of milk. Or cut it half and half. Just remember that any sudden drastic change (all formula to all milk) in a kid's diet can cause an upset tummy." Jodi A., a mother of four, agreed, also noting that the gradual introduction "helps them adjust to the difference in taste and texture."
3. What To Do If Your Baby Refuses Cow's Milk
Uh oh...the milk's fresh but your baby's face is decidedly sour! If your baby doesn't initially like cow's milk, try these tips from Circle of Mom members for making the milk more palatable or interesting: Kayla O., a mom in Wisconsin, found warming the milk was the trick for her son: "I had to put the milk in the microwave for 30 seconds then give it to him. It always helped." Making the cow's milk taste more similar to the formula or breast milk can also help, as Rebekah F., a mother of one in Washington, shared: "I had a friend who used sugar-free syrups to sweeten it (breastmilk being sweeter than cow's) and then tapered it off slowly." Other moms suggested using straws and different kinds of sippy cups to make drinking the milk more fun.
4. Watch for a Milk Allergy
Keep a careful lookout for symptoms of lactose or dairy intolerance. Rashes, gastrointestinal or stomach upset, vomiting and diarrhea can all indicate a milk allergy. Karen A., whose daughter and son both had a dairy intolerance, cautioned that it's important to be ready for that possibility: "Be prepared - know what the symptoms are for lactose or dairy intolerance and have a back-up plan ready!" If your child does have a milk allergy, your pediatrician can recommend alternatives to cow's milk.
Looking for more information on feeding your child? Got a great tip we missed?
With everything from conversations on breastfeeding and when to start milk or solid foods to communities focused on swapping favorite recipes and sharing advice on raising kids with food allergies, Circle of Moms is a friendly, helpful place for discussing all kinds of food topics with fellow moms.