The Bully Effect on Cartoon Network
The Bully Effect May Be the Most Important Thing Your Kids Ever Watch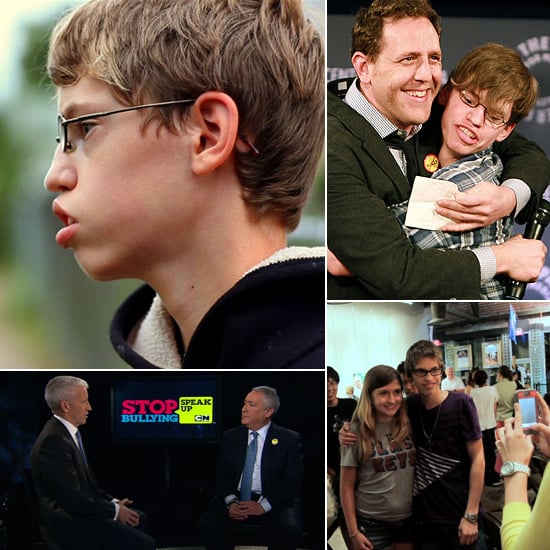 If you do one thing with your kids this weekend, it should be tuning into Cartoon Network's The Bully Effect. Having previewed the half-hour documentary, I can attest that not only is it moving and eye-opening, but also, the takeaway will change the way that your kids think and act for the better.
Produced by CNN in partnership with Cartoon Network's ongoing Stop Bullying: Speak Up initiative, The Bully Effect chronicles the life of 14-year-old Alex Libby, who many of us were first introduced to in Lee Hirsch's 2012 film, Bully. Hirsch observed and empathized with the then-12-year-old teen, who was emotionally and physically bullied by his peers, and took a stand. Over the past year, not only has Libby's self-confidence skyrocketed, but he's also become an advocate against bullying, appearing on national television and even visiting the White House.
"For three years now through Stop Bullying: Speak Up, Cartoon Network has served to provide valuable resources and materials to help educate and empower kids to speak up whenever bullying occurs," says Cartoon Network President Stuart Snyder. "Our first documentary, Speak Up, illustrated what kids could do practically to help other kids who've experienced bullying. The Bully Effect takes that message one step further, demonstrating how powerful empathy and understanding can be in helping to turn someone's life around."
The documentary will air on Sunday, April 28 at 5:30 p.m. and 8 p.m. EST. Immediately following each telecast, author and bullying-prevention expert Rosalind Wiseman will host online chat sessions at StopBullyingSpeakUp.com to answer questions from kids, parents, and educators. Tune in, and get the dialogue going in your own home.