Your kids will love these quick and easy pizza bites, perfect for a snack or light lunch!
Homemade Pizza Bites
From Sarah Lipoff, LilSugar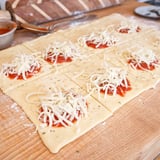 Ingredients
1 8-ounce tube refrigerated crescent rolls
1/2 cup pizza sauce
1 cup shredded mozzarella cheese
Italian seasoning
Flour
Directions
Start by lightly dusting your work area with flour, which keeps your crust from sticking. Invite your child to help open the crescent rolls and then roll out in a rectangle. Preheat your oven to 375F.
Gently pinch all the seams, creating a flat rectangle of dough. Your child can even get out the rolling pin and give the crust a quick roll to ensure there are no holes.
Use the pizza cutter to first cut the dough in half vertically, and then the halves in half, creating four strips. Now your child can cut the dough in half horizontally, creating eight small rectangles.
Now place a spoonful of the pizza sauce toward the bottom of each rectangle and top with a big pinch of the shredded mozzarella cheese. Your child can also add any of his favorite pizza toppings to the bites such as sliced olives, a round of pepperoni, or even chopped mushrooms! Sprinkle with Italian seasoning to finish.
Gently fold over the crusts, creating a pocket, and then secure by pressing the tongs of a fork around the edges of the dough. Place the bites on a cookie sheet.
Prick the tops of each homemade pizza bite with the tongs of the fork and then bake for 10 to 12 minutes.
Information
Category

Snacks