Letting Go of Perfection as a Parent
I Wrote the Book on Entertaining — Now I Serve Eggos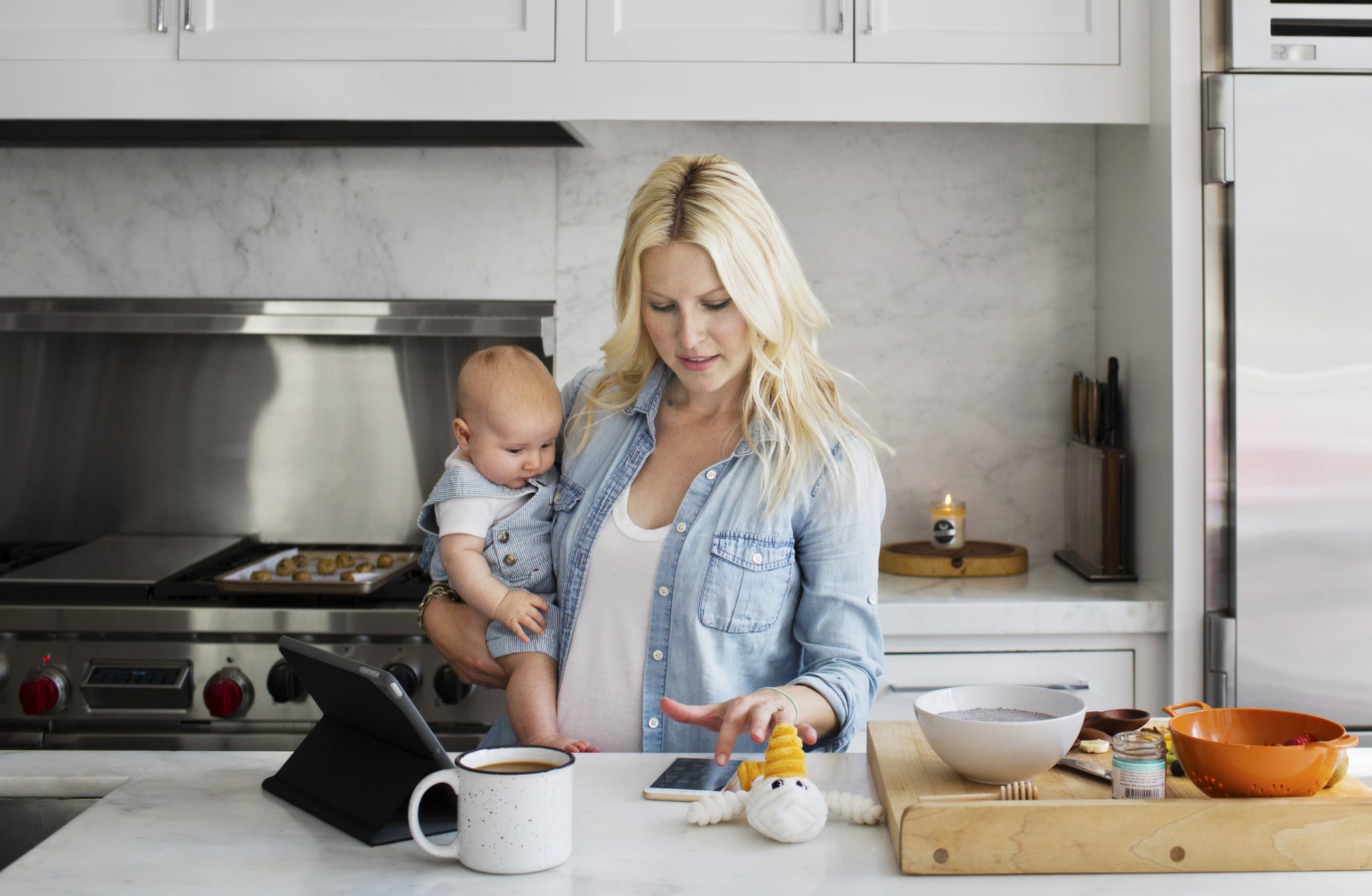 The following story, "I Wrote the Book on Entertaining; Now I Serve Eggos" by Alyssa Shelasky, was originally published on Boomdash.
Crispy chicken, arugula salad, purples grapes, homemade "Compost Cookies," and a chill-able red; also, groovy, mismatched dishes, glassware—and personalities.
That's how I used to entertain. It was always a deliberate, beautiful mess. An Instagramable mess. I even wrote a book, Apron Anxiety, about how throwing dinner parties was the best possible therapy—at least for my brand of head and heart.
Suffice to say, inviting friends over in a luscious, decadent way was a huge, healthy part of my identity.
Until I had Hazel.
On October 3rd, 2015, my kitchen, and by extension my entire apartment, became a much less attractive environment. We all know the deal: half-eaten applesauce packets, blocks that breed more blocks, scattered remnants of doctor kits and kitchen sets, sparkly balls, sparkly wands, sparkly eyeliner (how'd she find that?!), etc. My oath to be European with only 4 wooden toys never stuck, but the Fig Newtons caked daily on the bottom of my UGG slippers sure do.
My Dumbo, Brooklyn apartment, a one-bedroom, is small. Even when I clean up, it's dirty. Even when I light my Dyptique candles, lay out my favorite Pendleton sheets, and fill a cake plate with delectables sent from good people who want me to write about them—it's a shitshow.
So, I stopped having friends over pretty early on. I was too embarrassed. The thing that forever made me proud, my home, became the thing that made me most self-conscious. The whole thing upset me tremendously.
All winter long, I made all my playdates at other people's apartments. I mostly stopped cooking, except for Hazel's meals. To fuel my Apron Anxiety urges, I'd bring over bakery-bought cannolis or farmer's market flowers. But it wasn't as fun as it sounds. Hauling a toddler around the city, every day or so, via public transportation is physically exhausting. No. It's hell.
But at least my ego was preserved. Right?
By springtime, a few more friends had babies. My sister delivered my amazing niece, Phoebe. My innate desire to invite women over to cook for them, to nurture them, and to invite their children into Hazel's secret garden, began to override my obsession with the style—or lack of—of my stupid digs.
It didn't hurt that my boyfriend started bringing home tulips, and that sunlight hits my apartment like the sweetest kiss. With the windows cracked open and the rock music on, my apartment started to feel kind of cool again. Even with the dolls and crayons and tea-cups.
I tested my sea legs with our neighbors, who had all hosted us so many times over the winter that it was getting uncomfortable. As a single mom who works full-time from home, I never had a second to cook or bake for them, so I had to let that go, even though it pained me to do so.
I'd pull together whatever I had in the fridge. Sometimes that was a hunk of Brie and some Granny Smiths; sometimes it was one Corona and half a Kind Bar. Obviously, no one cared! It was all about our kids, who will hopefully be lifelong friends, playing and bonding.
But I wasn't totally cured. For a while, I'd only invite the neighbs over after the apartment had been professionally cleaned (twice a month — something I will always find the budget for). Eventually, I let that go, too. I guess you can say, I entered the "F*ck it!" stage of playdates. Again, no one cared!
Last weekend, one of my most sophisticated friends — she's from London and runs a fashion label — wound up in my neighborhood with her young son in the morning. As a testament to my new attitude, I said, "Come right up!"
My bed was not made. The laundry was not done. I doubt the toilet was flushed. Tulips, gonners. The sink had a suspicious smell. My daughter's crib had a strawberry popsicle melting in the middle of it. This was a rock-bottom scene.
But, Hazel. Ah. Hazel was glorious. As was my friend's magnificent son. The kids had so much fun digging through her furry, feathered things. Both just under two, they kissed, hugged, danced, went wild and only wacked each other twice.
As we loosely watched our little ones, while catching up on love and life, I made my friend — wait for it — instant coffee and a frozen Eggo waffle. The waffle came without any syrup, because does it sound like I have room for syrup in my life? We used butter. The whole meal was bought at CVS.
It was a beautiful breakfast, a beautiful mess.
Image Source: POPSUGAR Photography / Sheila Gim