Mila Kunis's Parenting
8 Things About Mila Kunis's Parenting That Prove "Bad Moms" Are the Best Kind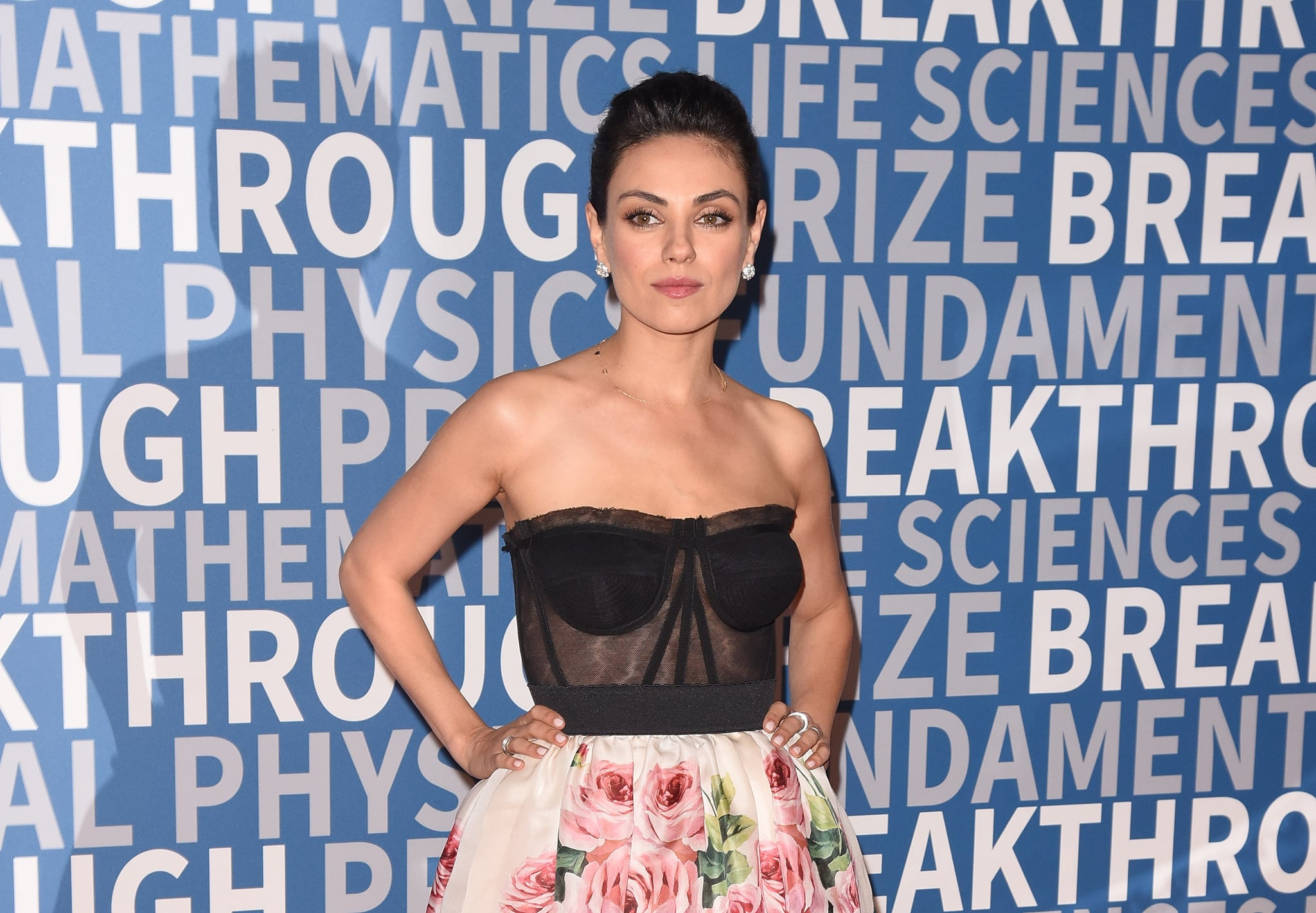 Mila Kunis has been one of my personal long-time girl crushes ever since I saw my first episode of That '70s Show, but now that she's a parent — or a "Bad Mom," if you will — there are so many more reasons to love the actress. Aside from the fact that she's super relatable and unafraid of the mom-shamers, there are a few standout things about the way she parents her two children — 3-year-old daughter Wyatt and 1-year-old son Dimitri — with husband Ashton Kutcher that set her apart from some of our other favorite celebrity moms.
Ahead, some of the things about her parenting style that you may not have known but will likely respect as much as I do.
1. Although she always looks like she has it together, Mila's "ragged tired" just like the rest of us.
Parenting is exhausting, and just because celebrities happen to look polished and put-together most of the time, they still feel the strains of parenting just like typical moms. Mila is certainly no exception to this, and she's not afraid to admit as much. "What motherhood shows you is how selfless you can get," Mila explained in Marie Claire's November 2017 cover story. "I'm ragged tired. Who cares? My kids are healthy, I'm happy."
2. Her ideal day as a mother is relatable as hell, not to mention a working mom's dream.
Working moms are the everyday superheroes overlooked by comic-book creators. Because Mila spends so much time away from her kids filming and for other work obligations, the actress feels as many of us do and would love to spend lazy mornings hanging out with her kids instead of running from place to place. In an interview with Marie Claire, Mila shared what her ideal day as a mother would look like, and it didn't involve any red carpets or makeup chairs — rather, it looked a hell of a lot like the everyday lives of moms all over the world (many of whom take this type of quiet, simple lifestyle for granted).
"My ideal day consists of waking up around 7 a.m. because that for me is sleeping in," she said. "Doing a giant kid pile in bed with my husband, putting on some cartoons, getting an extra 30 minutes of sleep, rolling out of bed, doing breakfast while staying in our pajamas, and then maybe going to the zoo or the aquarium or park, sans paparazzi. That would be my ideal day."
3. She doesn't share photos of her kids and feels they should decide whether or not to be in the public eye.
There's a reason we never see photos of Wyatt and Dimitri floating around on the internet or on TV — Mila and Ashton have chosen to keep them out of the public eye. And it's for an insanely respectable reason that even noncelebrity moms can get behind.
"We don't share any photos of our kids publicly because we feel that being public is a personal choice," Ashton said of his and Mila's shared belief in an interview with Arianna Huffington. "My wife and I have chosen a career where we're in the public light, but my kids have not so I think they have the right to choose that. I actually don't think they should have images of them as children that somebody could potentially blackmail them with . . . It's their private life. It's not mine to give away."
4. She and Ashton don't give their kids Christmas gifts.
During the 2017 holiday season, Mila revealed in an interview with Entertainment Tonight that it was the first year she and Ashton were instating a "no Christmas gifts" rule for their two kids.
"So far, our tradition is no presents for the kids," Kunis said. "We're instituting it this year because when the kids are [younger than] one, it doesn't really matter. Last year when we celebrated Christmas, Wyatt was two, and it was too much. We didn't give her anything — it was the grandparents. The kid no longer appreciates the one gift. They don't even know what they're expecting; they're just expecting stuff. We've told our parents, 'We're begging you — if you have to give her something, pick one gift. Otherwise, we'd like to take a charitable donation, to the Children's Hospital or a pet [or] whatever you want.' That's our new tradition."
5. When breastfeeding, she'd nurse just about anywhere.
Among some of the biggest parenting controversies is the choice to breastfeed in public, and while Mila supports every mother's choice for their own children, she opted to breastfeed everywhere.
"There were many times where I didn't bring a cover with me, and so I just did it in a restaurant, in the subway, in the park, at airports, and in planes," she told Vanity Fair. "Why did I do it in public? Because I had to feed my child. She's hungry. I need to feed her whether it's out of a bottle or out of my boob no matter where I was . . . It always made my husband and I feel a little weird. It took us a little back because people actually looked at us in a shameful [way], and we were like, 'Oh my God,' because it's so not a sexual act. It didn't matter to me what other people thought. That's what I chose to do, but I think it's unfortunate that people are so hard on women who choose to do it and do it in public."
6. She isn't afraid to admit she makes parenting mistakes.
There's no denying that most parents make plenty of mistakes on a daily basis — parenting is hard — and Mila is no exception to that rule. Before heading on a two-hour road trip to visit her husband on set, Mila loaded baby Wyatt into the car and started on the drive. She was feeling proud of herself for loading everything they'd need into the car, until she peeked at Wyatt in the rearview mirror and realized that her happy baby was completely unbuckled.
"I was like, oh, f*ck me," she told Babble. "And I'm on the 101, and she's just like blah, like fine in her car seat, nothing, no strap whatsoever. And I think I just turned white." Although she pulled over immediately to strap Wyatt in correctly, it wasn't until about a year later that she realized she shouldn't beat herself up over the mistake so harshly, because her husband ended up making the same exact error. "And I was like thank God . . . I wasn't alone."
7. To avoid hitting a parenting breaking point, she copes like many of us — by having a drink or two (or three).
It's become quite the stereotype, that moms love to indulge in a few glasses of wine to cope with the chaos of parenting, and for a lot of moms, including Mila, that's a sure fact. In an interview with POPSUGAR when Wyatt was just over a year old, Mila and her Bad Moms costars Kristen Bell and Kathryn Hahn got real about what they turn to when the going gets tough. "Alcohol. Lots of alcohol," Mila joked. "I only have one little human. She's not so bad. These two [motions to her costars] got two. I have an amazing husband and my parents live in the same town as I do. But she's only 17 months old. She's rambunctious, but she's not there yet where she's 2-and-a-half and I'm like, 'Holy sh*t, this is a demon baby.'"
8. She doesn't get involved in the mama drama.
In the same interview, the three actresses discussed what it's like to deal with judgmental moms, and even though Mila's daughter wasn't quite old enough for the actress to experience the moms of the school PTA as her Bad Moms character did, she shared a few thoughts on the subject of mom shaming.
"It's the competitive energy that is so destructive," she said. "It's just like [Kristen] said, we're all in it together. You only are a mommy in this way for such a brief amount of time anyway that you don't wanna look back and be like, 'Why did I care about that stupid nonsense?'"